Edge-Termination and Core-Modification Effects of Hexagonal Nanosheet Graphene
Department of Chemistry, Tamkang University, Tamsui, New Taipei City 25137, Taiwan
*
Authors to whom correspondence should be addressed.
Received: 9 December 2013 / Revised: 29 January 2014 / Accepted: 10 February 2014 / Published: 21 February 2014
Abstract
Optimized geometries and electronic structures of two different hexagonal grapheme nanosheets (HGNSs), with armchair (
n
-A-HGNS,
n
= 3–11) and zigzag (
n
-Z-HGNS,
n
= 1–8) edges have been calculated by using the GGA/PBE method implemented in the SIESTA package, with the DZP basis set, where
n
represents the number of peripheral rings. The computed HOMO-LUMO energy gap (E
g
= E
LUMO
− E
HOMO
) decreases for fully H-terminated A- and Z-HGNSs with increasing
n
,
i.e.
, with increasing nanosheet size and
pπ
-orbitals being widely delocalized over the sheet surface. The full terminations, calculated with various functional groups, including the electron-withdrawing (F-, Cl-, and CN-) and -donating (OH-, and SH-) substitutions, were addressed. Significant lowering of E
HOMO
and E
LUMO
was obtained for CN-terminated HGNS as compared to those for H-terminated ones due to the mesomeric effect. The calculated E
g
value decreases with increasing
n
for all terminations, whereby for the SH-termination in HGNS, the termination effect becomes less significant with increasing
n
. Further, the calculation results for stabilities of HGNS oxides support the tendency toward the oxidative reactivity at the edge site of the sheet, which shows most pronounced C-C bond length alternation, by chemical modification. Physical properties of HGNSs with various numbers of the core-defects, which can be obtained by strong oxidation, were also investigated. Their structures can change drastically from planar to saddle-like shapes. These conformations could be used as stationary phases with controlled interaction in the separation methods such as HPLC and the other chemical analysis techniques.
View Full-Text
►

▼

Figures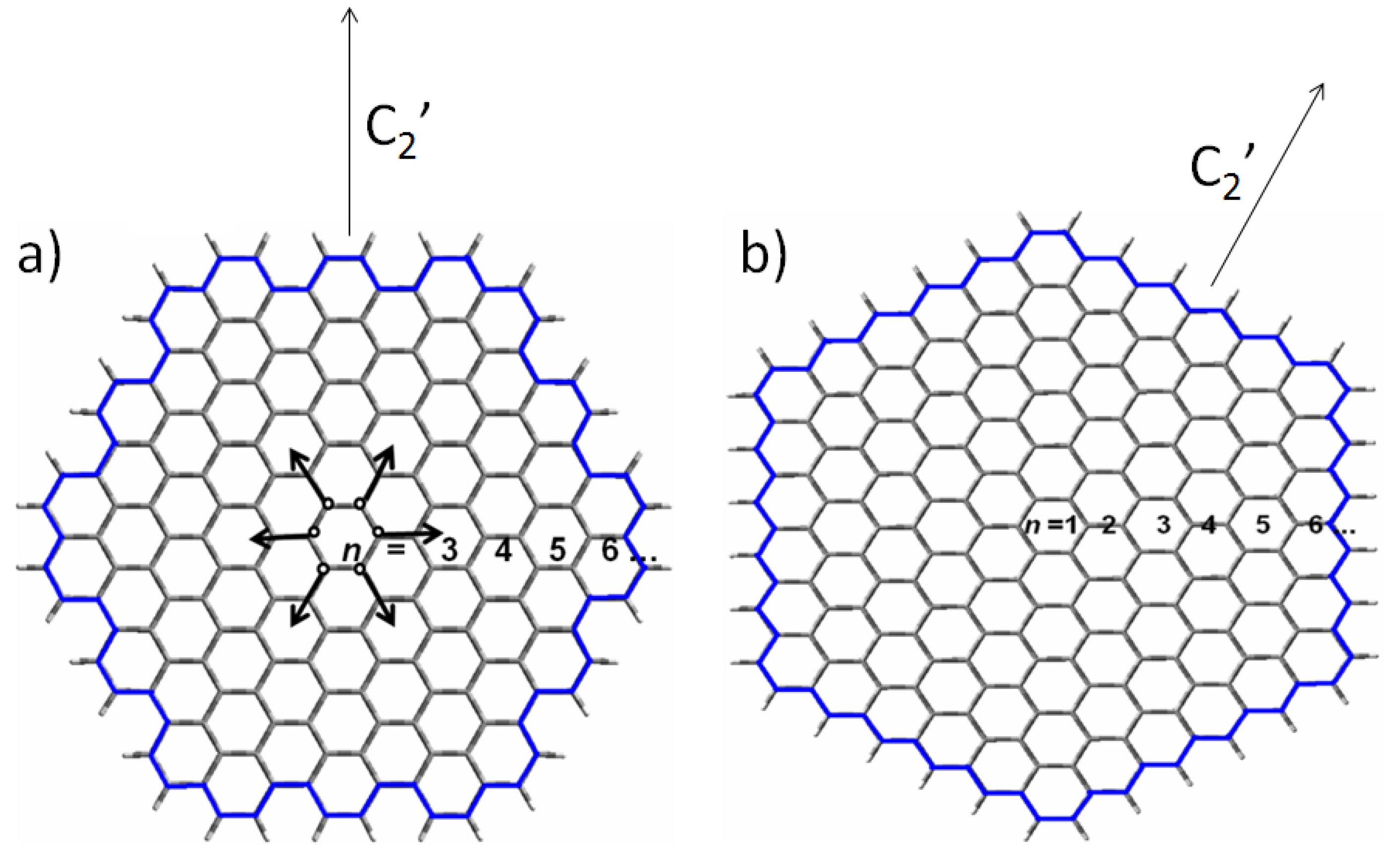 Figure 1

Share & Cite This Article
MDPI and ACS Style
Deng, J.-P.; Chen, W.-H.; Chiu, S.-P.; Lin, C.-H.; Wang, B.-C. Edge-Termination and Core-Modification Effects of Hexagonal Nanosheet Graphene. Molecules 2014, 19, 2361-2373.
Related Articles
Comments
[Return to top]