Novel Spiroannulated 3-Benzofuranones. Synthesis and Inhibition of the Human Peptidyl Prolyl cis/trans Isomerase Pin1
1
Department of Chemistry, University of Düsseldorf, Universitätstr. 1, D-40225 Düsseldorf, Germany
2
Max-Planck Research Unit for Enzymology of Protein Folding, Weinbergweg 22, D-06120 Halle, Germany
*
Author to whom correspondence should be addressed.
Received: 3 April 2008 / Revised: 22 April 2007 / Accepted: 23 April 2008 / Published: 29 April 2008
Abstract
The novel 3H-spiro[1-benzofuran-2-cyclopentan]-3-one skeleton has been madeaccessible by different routes. One- and two-step protocols lead to tricyclic and tetracyclicbenzofuranones 2 and 3, respectively. A four-step synthesis to spirocompound 4 isdescribed. The novel spirocyclic benzofuranones display modest to no inhibition of thehuman peptidyl prolyl cis/trans isomerase Pin1.
View Full-Text
►

▼

Figures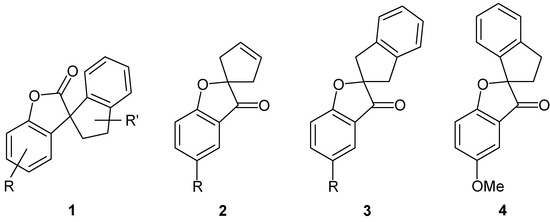 Figure 1

Share & Cite This Article
MDPI and ACS Style
Braun, M.; Hessamian-Alinejad, A.; De Lacroix, B.F.; Alvarez, B.H.; Fischer, G. Novel Spiroannulated 3-Benzofuranones. Synthesis and Inhibition of the Human Peptidyl Prolyl cis/trans Isomerase Pin1. Molecules 2008, 13, 995-1003.
Related Articles
Comments
[Return to top]