Efficacy of DA-7218, a New Oxazolidinone Prodrug, in the Treatment of Experimental Actinomycetoma Produced by Nocardia brasiliensis
1
Servicio de Dermatología, Hospital Universitario "Dr. José E. González" Ave. Madero y Gonzalitos S/N Col. Mitras Centro Monterrey, N.L. México 64460
2
Departamento de Química Analítica, Facultad de Medicina, Universidad Autónoma de Nuevo León, San Nicolás de los Garza, Nuevo León, Mexico
3
Centro de Investigación Biomédica del Noreste (CIBIN) del IMSS, 2 de Abril y San Luis Potosí, Col. Independencia, Monterrey, N.L., México 64720
4
Research Laboratory, Dong-A Pharmaceutical Co., Ltd., Yongin, and College of Pharmacy, Sungkyunkwan University, Suwon, South Korea
*
Author to whom correspondence should be addressed.
Received: 2 November 2007 / Revised: 29 December 2007 / Accepted: 29 December 2007 / Published: 11 January 2008
(This article belongs to the Special Issue
Prodrugs
)
Abstract
Two recently synthesized oxazolidinones: (R)-3-(4-(2-(2-methyltetrazol-5-yl)-pyridin-5-yl)-3-fluorophenyl)-5-hydroxymethyloxazolidin-2-one (DA-7157) and itscorresponding pro-drug (R)-3-(4-(2-(2-methyltetrazol-5-yl)-pyridin-5-yl)-3-fluorophenyl)-2-oxo-5-oxazolidinyl) methyl disodium phosphate (DA-7218), have shown very goodactivity against several Gram positive bacteria, including Nocardia and Mycobacterium. Inthe present work we evaluated the therapeutic in vivo effects of DA-7218 on Nocardiabrasiliensis. We first determined the plasma concentration of the prodrug in BALB/c miceusing several doses and then tested its activity in an in vivo experimental actinomycetomamurine model. At the end of treatment, there was a statistically significant differencebetween the three drug receiving groups (25, 12.5 and 5 mg/kg) and the control group(saline solution) (p=0.001), proving that DA-7218 is effective for the treatment of experimental murine actinomycetoma. This compound could be a potential option forpatients affected with mycetoma by Nocardia brasiliensis.
View Full-Text
►

▼

Figures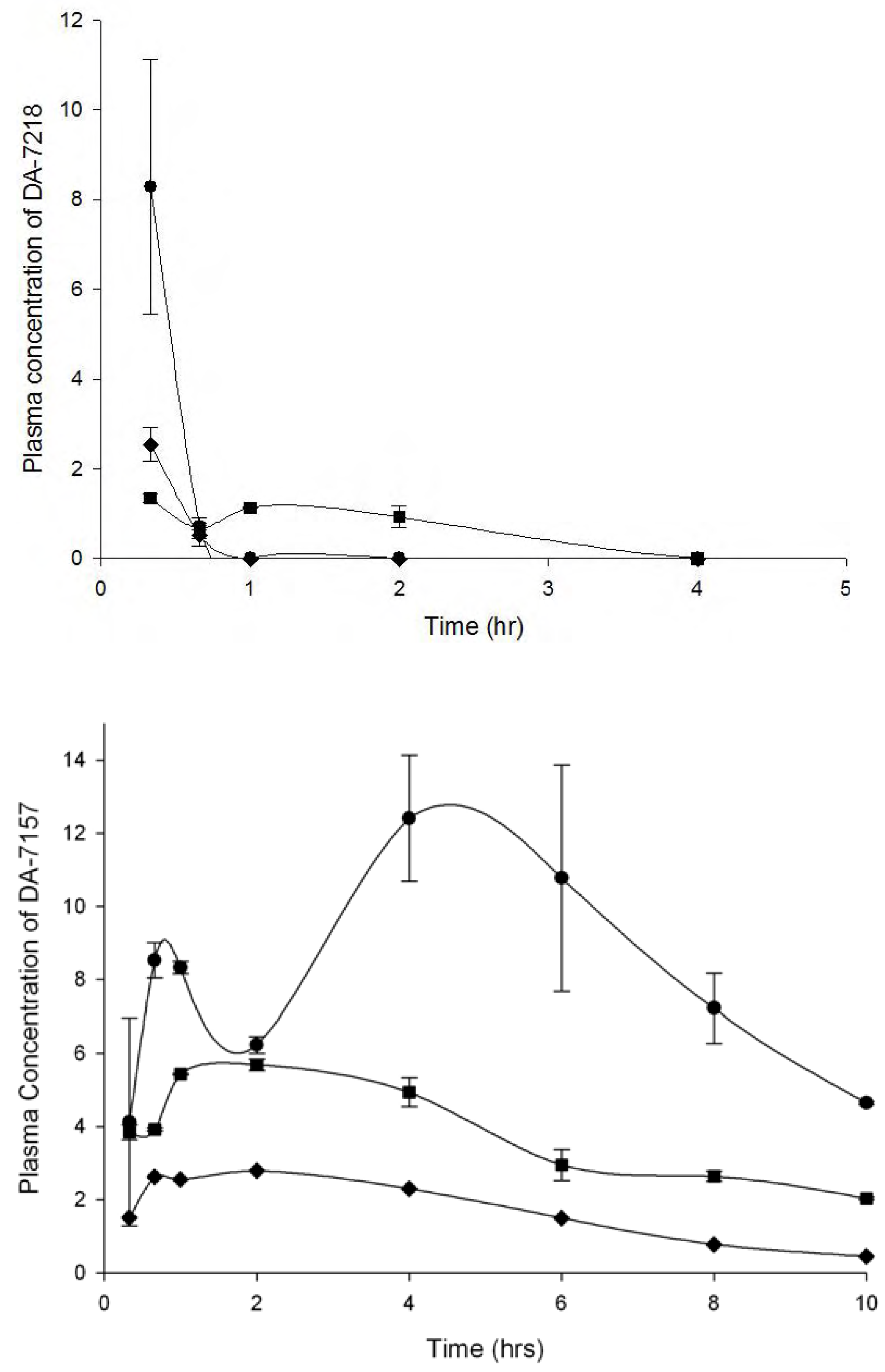 Figure 1

Share & Cite This Article
MDPI and ACS Style
Espinoza-González, N.A.; Welsh, O.; De Torres, N.W.; Cavazos-Rocha, N.; Ocampo-Candiani, J.; Said-Fernandez, S.; Lozano-Garza, G.; Choi, S.-H.; Vera-Cabrera, L. Efficacy of DA-7218, a New Oxazolidinone Prodrug, in the Treatment of Experimental Actinomycetoma Produced by Nocardia brasiliensis. Molecules 2008, 13, 31-40.
Related Articles
Comments
[Return to top]