Design and Synthesis of Novel N-Benzylidenesulfonohydrazide Inhibitors of MurC and MurD as Potential Antibacterial Agents
1
University of Ljubljana, Faculty of Pharmacy, Aškerčeva 7, 1000 Ljubljana, Slovenia
2
Enveloppes Bactériennes et Antibiotiques, IBBMC, UMR 8619 CNRS, Univ Paris-Sud, 91405 Orsay, France
3
"Jožef Stefan" Institute, Jamova 39, 1000 Ljubljana, Slovenia
*
Author to whom correspondence should be addressed.
Received: 19 November 2007 / Revised: 23 December 2007 / Accepted: 23 December 2007 / Published: 11 January 2008
Abstract
A series of novel N-benzylidenesulfonohydrazide compounds were designedand synthesized as inhibitors of UDP-N-acetylmuramic acid:L-alanine ligase (MurC) andUDP-N-acetylmuramoyl-L-alanine:D-glutamate ligase (MurD) from E. coli, involved inthe biosynthesis of bacterial cell-walls. Some compounds possessed inhibitory activityagainst both enzymes with IC
50
values as low as 30 μM. In addition, a new, one-potsynthesis of amidobenzaldehydes is reported.
View Full-Text
►

▼

Figures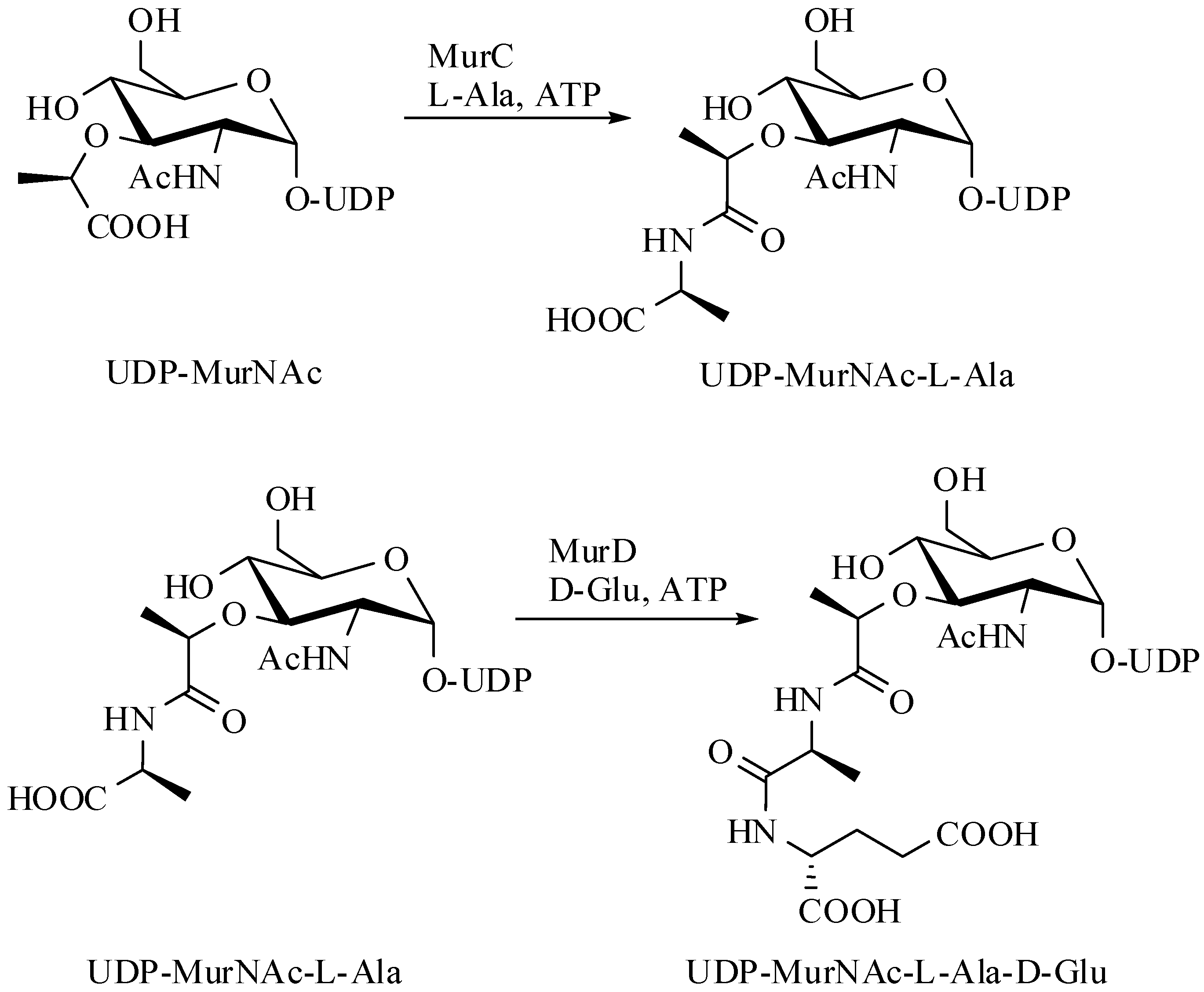 Figure 1

Share & Cite This Article
MDPI and ACS Style
Frlan, R.; Kovač, A.; Blanot, D.; Gobec, S.; Pečar, S.; Obreza, A. Design and Synthesis of Novel N-Benzylidenesulfonohydrazide Inhibitors of MurC and MurD as Potential Antibacterial Agents. Molecules 2008, 13, 11-30.
Related Articles
Comments
[Return to top]