Synthesis, Tautomeric States and Crystal Structure of (Z)-Ethyl 2-Cyano-2-(3H-Quinazoline-4-ylidene) Acetate and (Z)-Ethyl 2-Cyano-2-(2-Methyl-3H-Quinazoline-4-ylidene) Acetate
Institute of the Chemistry of Plant Substances AS RUz, Uzbekistan
*
Author to whom correspondence should be addressed.
Received: 10 June 2005 / Revised: 29 June 2005 / Accepted: 30 June 2005 / Published: 30 September 2005
Abstract
The new compounds (Z)-ethyl 2-cyano-2-(3H- and 2-methyl-3H-quinazoline-4-ylidene) acetate (1 and 2, respectively) were synthesized by multi-step reactions. Thestructures in a solution have been determined by
1
H-NMR spectroscopy and in the crystalform by X-ray analysis. Molecule 1 crystallized in a primitive monoclinic cell, spacegroup Р2
1/c
. The cell dimensions are a=7.970(6) å, b=7.061(2) å, c=20.537(7) å,β=97.69(5)°, V=1145.3(10) å
3
. Molecule 2 crystallized in a triclinic cell, space group P-1, the cell dimensions are a=8.196(5) å, b=8.997(6) å, c=9.435(4) å, α=74.22(4)°,β=89.75(4)°, γ=74.07(5)°, V=641.9(6) å
3
. In both compounds the presence of intra-molecular NH---O=C hydrogen bonding between the nitrogen atom in position 3 of thequinazoline ring and a carbonyl group of the ethyl cyanoacetate residue was proven byquantum-chemical,
1
H-NMR and X-ray methods.
View Full-Text
►

▼

Figures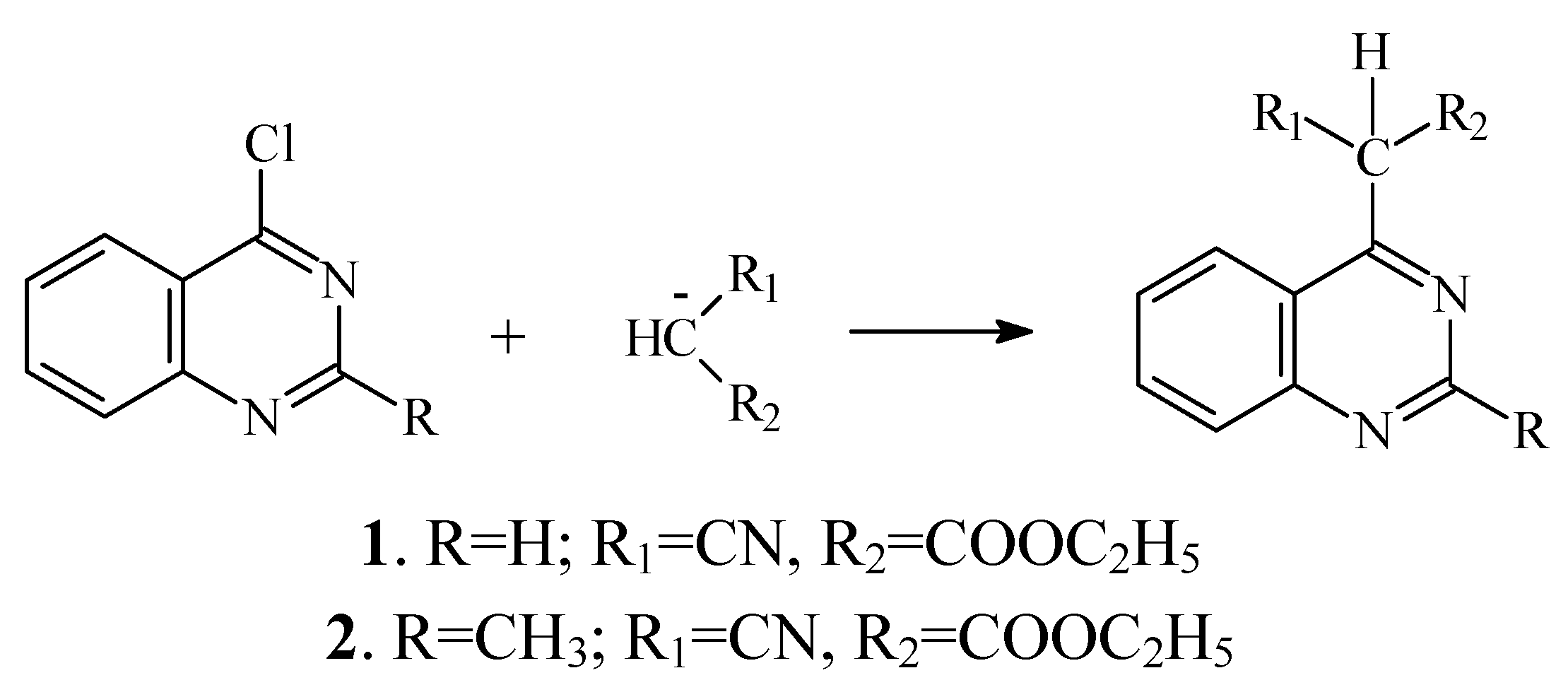 Figure 1

Share & Cite This Article
MDPI and ACS Style
Tulyasheva, M.; Rasulev, B.; Tojiboev, A.; Turgunov, K.; Tashkhodjaev, B.; Abdullaev, N.; Shakhidoyatov, K. Synthesis, Tautomeric States and Crystal Structure of (Z)-Ethyl 2-Cyano-2-(3H-Quinazoline-4-ylidene) Acetate and (Z)-Ethyl 2-Cyano-2-(2-Methyl-3H-Quinazoline-4-ylidene) Acetate. Molecules 2005, 10, 1209-1217.
Related Articles
Comments
[Return to top]