Expression of Cowpea VuWRKY21 and VuWRKY87 Genes in Arabidopsis thaliana Confers Plant Tolerance to Salt Stress
Abstract
WRKY transcription factors play a pivotal role in regulating stress signaling pathways, including those associated with salt stress response. The present work characterized the effects of two WRKY genes from
Vigna unguiculata
, namely
VuWRKY21
and
VuWRKY87
, on enhancing plant salinity tolerance.
[...] Read more.
WRKY transcription factors play a pivotal role in regulating stress signaling pathways, including those associated with salt stress response. The present work characterized the effects of two WRKY genes from
Vigna unguiculata
, namely
VuWRKY21
and
VuWRKY87
, on enhancing plant salinity tolerance. Under salt stress conditions,
Arabidopsis
lines expressing
VuWRKY21
or
VuWRKY87
showed elevated expression of genes participating in saline stress response pathways and reduced oxidative stress induced by reactive oxygen species (ROS). Among the salt-responsive genes in
Arabidopsis
,
AtP5CS1
,
AtNHX1
,
AtRD29A
,
AtSOS3
,
AtSOS2
, and
AtSOS1
exhibited modulated expression levels after stress imposition. Furthermore, compared to wild-type plants, at most evaluated times, transgenic lines, on average, presented lower H
2
O
2
content while displaying higher content of SOD (EC: 1.15.1.1) and CAT (EC: 1.11.1.6) at early stages of salt stress. These findings suggest that the expression of both
VuWRKY
genes in
Arabidopsis
, particularly
VuWRKY21
, activated genes involved in salinity tolerance.
Full article
►

▼

Show Figures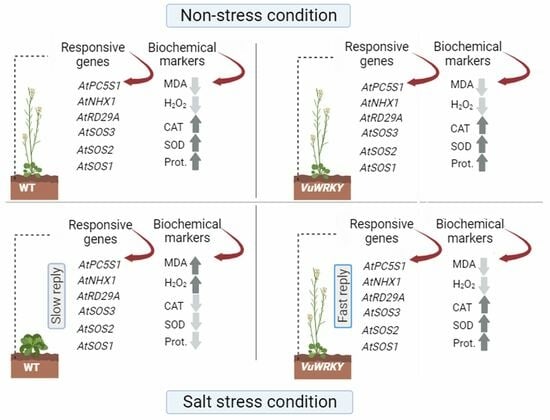 Graphical abstract