A Benchmark for the Evaluation of Corner Detectors
Viewed by 489
Abstract
Corners are an important kind of image feature and play a crucial role in solving various tasks. Over the past few decades, a great number of corner detectors have been proposed. However, there is no benchmark dataset with labeled ground-truth corners and unified
[...] Read more.
Corners are an important kind of image feature and play a crucial role in solving various tasks. Over the past few decades, a great number of corner detectors have been proposed. However, there is no benchmark dataset with labeled ground-truth corners and unified metrics to evaluate their corner detection performance. In this paper, we build three benchmark datasets for corner detection. The first two consist of those binary and gray-value images that have been commonly used in previous corner detection studies. The third one contains a set of urban images, called the Urban-Corner dataset. For each test image in these three datasets, the ground-truth corners are manually labeled as objectively as possible with the assistance of a line segment detector. Then, a set of benchmark evaluation metrics is suggested, including five conventional ones: the precision, the recall, the arithmetic mean of precision and recall (APR), the F score, the localization error (Le), and a new one proposed in this work called the
repeatability referenced to ground truth
(RGT). Finally, a comprehensive evaluation of current state-of-the-art corner detectors is conducted.
Full article
►

▼

Show Figures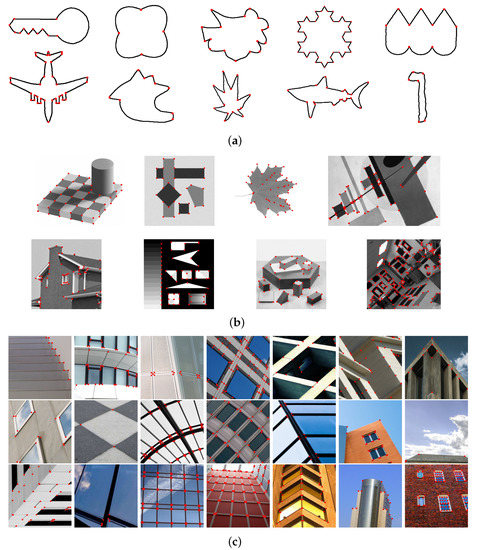 Figure 1