Conferences
Upcoming MDPI Conferences (2)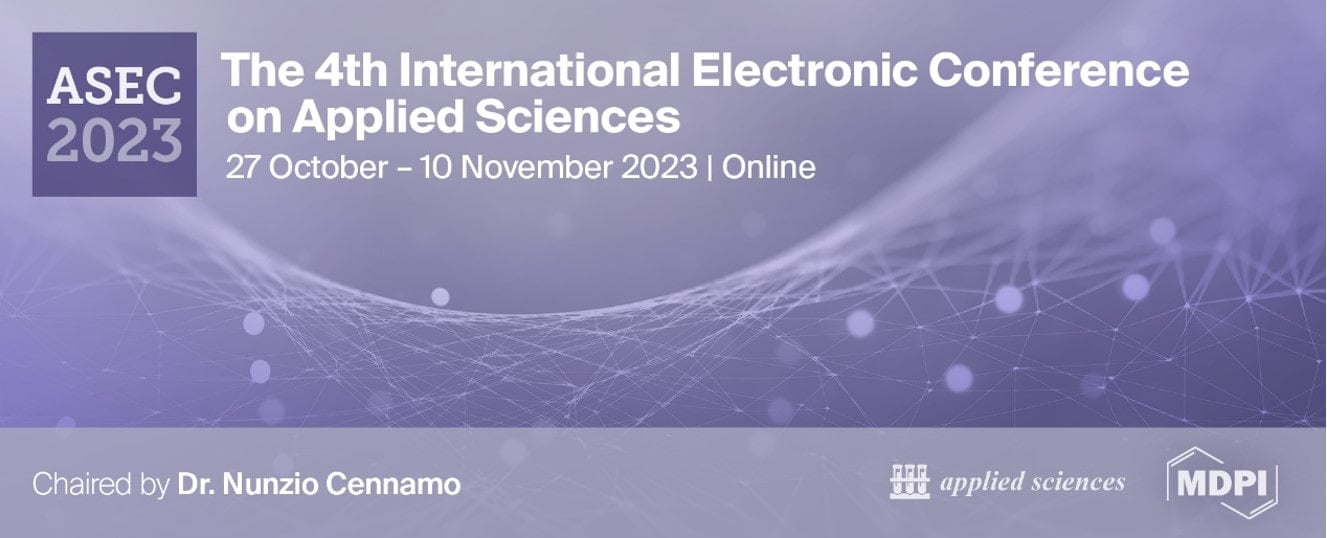 27 October–10 November 2023
The 4th International Electronic Conference on Applied Sciences (ASEC2023)
Online
We are pleased to announce that the 4th International Electronic Conference on Applied Sciences (ASEC2023), chaired by Dr. Nunzio Cennamo, will be held on https://asec2023.sciforum.net/ from 27 October to 10 November 2023.
ASEC2023 offers you the opportunity to participate in this international, scholarly conference without any concerns of expenditures regarding travel—all you need is your computer and access to the Internet. We would like to invite you to "attend" this conference by presenting your latest work. There is no registration fee. This online conference will make your presentation accessible to hundreds of researchers worldwide, with the active engagement of the audience in question and answer sessions, in addition to discussion groups that will take place online.
The conference is divided into 10 themes. You are welcome to submit your articles to this conference.
A. Applied Biosciences, Chemistry, Materials Science, and Bioengineering;
B. Computing, Internet of Things, and Artificial Intelligence;
C. Electronics, Optoelectronics and Communications Engineering;
D. Electrical and Energy Sciences, Technology, and Mechanical and Aerospace Engineering;
E. Environmental, Civil Engineering, and Earth Sciences;
F. Applied Nanosciences, Sensors, Instrumentation, and Measurement Science;
G. Food Science and Technology;
H. Applied Dentistry and Oral Sciences;
I. A Student Session;
J. Posters.
We hope you will be able to join this exciting event, which is organized and sponsored by MDPI, a scholarly open access publisher (https://www.mdpi.com/), and the journal Applied Sciences (ISSN: 2076-3417, Impact Factor: 2.838 (2021)).
Paper Submission Guidelines:
You will be able to submit an abstract first. After acceptance, you will be able to upload a proceedings paper (3–6 pages), a poster, a slides presentation (in PDF), or a short video presentation (max. 3–5 minutes) before the full submission deadline. All accepted proceedings papers will be published in one dedicated volume in the MDPI Proceedings journal Engineering Proceedings (SCOPUS Indexed; ISSN: 2673-4591). The publication of proceedings papers is free of charge. A conference Special Issue (upcoming) will be published in the open access journal Applied Sciences (Impact Factor:2.838). Conference participants are encouraged to submit a full paper to the dedicated Special Issue.
In addition, to acknowledge the support of the conference's esteemed authors and recognize their outstanding scientific accomplishments, we are pleased to launch the Best Contribution Award and Best Student Award. For more information about the procedure for submission, peer review, revision, and acceptance of conference proceedings papers, please refer to the section "Instructions for Authors".
Timeline:
Abstract Submission: 6th July 2023
Notification of Acceptance: 27th July 2023
Proceedings Paper Submission Deadline: 28th August 2023
Conference: 27 October–10 November 2023
We look forward to receiving your research papers and to welcoming you to the 4th edition of the e-conference.
To find out more about the conference, please visit the following link: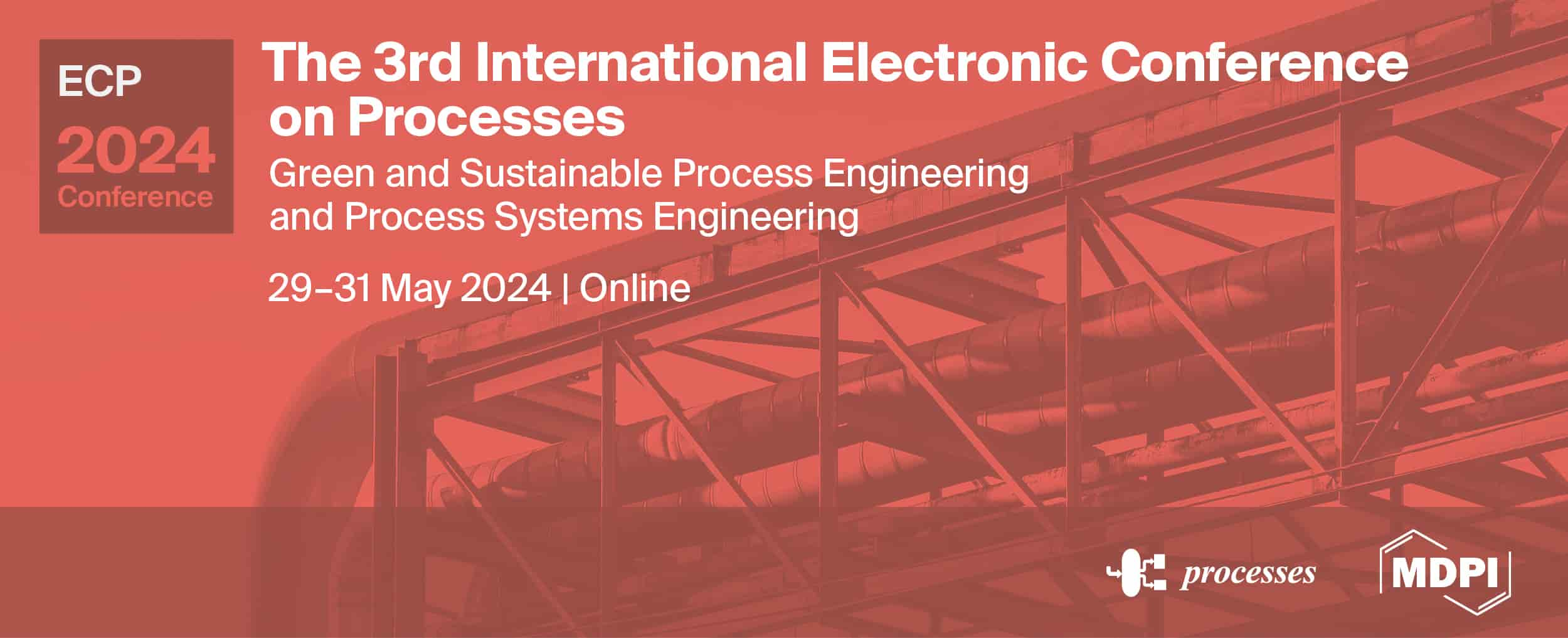 29–31 May 2024
The 3rd International Electronic Conference on Processes
Online
We cordially invite you to attend this event organized by Processes (ISSN: 2227-9717, Impact Factor: 3.5). It will take place virtually on 29–31 May 2024, Central European Time.
Conference Chairs
Prof. Dr. Giancarlo Cravotto, University of Turin, Italy
The Topics of Interest
S1. Environmental and Green Processes;
S2. Energy Systems;
S3. Food Processes;
S4. Chemical Processes and Systems;
S5. Process Control and Monitoring.
Important Dates
Deadline for Abstract Submission: 29th January 2024
Notification of Acceptance: 28th February 2024
Deadline for Early Bird Registration: 5th March 2024
Deadline for Covering Author Registration: 1st May 2024
Guide for Authors
To submit your abstract, please click on the following link: https://sciforum.net/user/submission/create/936
To register for the event, please click on the following link: https://ecp2024.sciforum.net/#registration
For details regarding Abstract Submission, Poster and Slide Submission, and Publication Opportunities, you may refer to the "Instructions for Authors" section: https://ecp2024.sciforum.net/#instructions
For inquiries regarding submissions and sponsorship opportunities, please feel free to contact [email protected].
We look forward to seeing you at the 3rd International Electronic Conference on Processes (ECP 2024).
Applied Sciences announces selected third-party conferences. In case you would like to announce your own event on the Applied Sciences website, please fill out the following form to apply for the announcement of a conference or other academic event (seminar, workshop).
Upcoming Partner Conferences (8)