Amphiphilic P(OEGMA-co-DIPAEMA) Hyperbranched Copolymer/Magnetic Nanoparticle Hybrid Nanostructures by Co-Assembly
Abstract
This work presents the utilization of amphiphilic poly(oligo(ethylene glycol) methyl methacrylate)-
co
-poly(2-(diisopropylamino)ethyl methacrylate), P(OEGMA-
co
-DIPAEMA), hyperbranched (HB) copolymers, forming polymeric aggregates in aqueous media, as building nanocomponents and nanocarriers for the entrapment of magnetic cobalt ferrite nanoparticles (CoFe
2
O
4
[...] Read more.
This work presents the utilization of amphiphilic poly(oligo(ethylene glycol) methyl methacrylate)-
co
-poly(2-(diisopropylamino)ethyl methacrylate), P(OEGMA-
co
-DIPAEMA), hyperbranched (HB) copolymers, forming polymeric aggregates in aqueous media, as building nanocomponents and nanocarriers for the entrapment of magnetic cobalt ferrite nanoparticles (CoFe
2
O
4
, MNPs), and the hydrophobic drug curcumin (CUR) in their hydrophobic domains. Dynamic light scattering (DLS) and cryogenic transmission electron microscopy (cryo-TEM) techniques were used to evaluate the multifunctional hybrid nanostructures formed in aqueous media by co-assembly of the components and their solution properties. Magnetic nanoparticles (MNPs) or MNPs/CUR were co-assembled effectively with pre-existing polymer aggregates, leading to well-defined hybrid nanostructures. Magnetophoresis experiments revealed that the hybrid nanostructures retain the magnetic properties of MNPs after their co-assembly with the hyperbranched copolymers. The hybrid nanostructures demonstrate a significant colloidal stability under physiological conditions. Furthermore, MNPs/CUR-loaded aggregates displayed considerable fluorescence as demonstrated by fluorescence spectroscopy. These hybrid nanostructures could be promising candidates for drug delivery and bio-imaging applications.
Full article
►

▼

Show Figures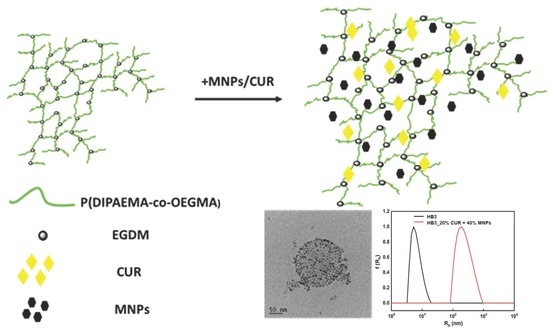 Graphical abstract