TiO2 Inverse Opals Modified by Ag Nanoparticles: A Synergic Effect of Enhanced Visible-Light Absorption and Efficient Charge Separation for Visible-Light Photocatalysis
Catalysts 2021, 11(7), 761; https://doi.org/10.3390/catal11070761 (registering DOI) - 23 Jun 2021
Abstract
This work reports on the synthesis, characterization, and photocatalytic performance of the TiO
2
inverse opal nanostructure (IP-TiO
2
) and the IP-TiO
2
modified by Ag nanoparticles (
[email protected]
2
). The IP-TiO
2
is fabricated using polystyrene spheres as the template and
[...] Read more.
This work reports on the synthesis, characterization, and photocatalytic performance of the TiO
2
inverse opal nanostructure (IP-TiO
2
) and the IP-TiO
2
modified by Ag nanoparticles (
[email protected]
2
). The IP-TiO
2
is fabricated using polystyrene spheres as the template and TiCl
4
as the precursor, and the
[email protected]
2
is realized by photoreduction method. The morphological, structural, and optical properties of the materials are investigated by scanning electron microscopy, X-ray diffraction, ultraviolet–visible (UV-VIS) absorption spectroscopy, and photoluminescence spectroscopy. Their photocatalytic performances are studied by the degradation of rifampicin antibiotic under the visible-light irradiation generated by an LED lamp. The results demonstrate that the IP-TiO
2
is composed of mesopores arranged in the honeycomb structure and strongly absorbs visible light in the wavelength range of 400–500 nm. This facilitates the visible-light catalytic activity of IP-TiO
2
, which is further enhanced by the surface modification by Ag nanoparticles. Our studies on the UV-VIS absorption and photoluminescent properties of the materials reveal that the presence of Ag nanoparticles not only enhances the visible-light absorption of IP-TiO
2
, but also reduces the recombination of photogenerated electrons and holes. These two factors create a synergic effect that causes the enhanced photocatalytic performance of
[email protected]
2
.
Full article
►

▼

Show Figures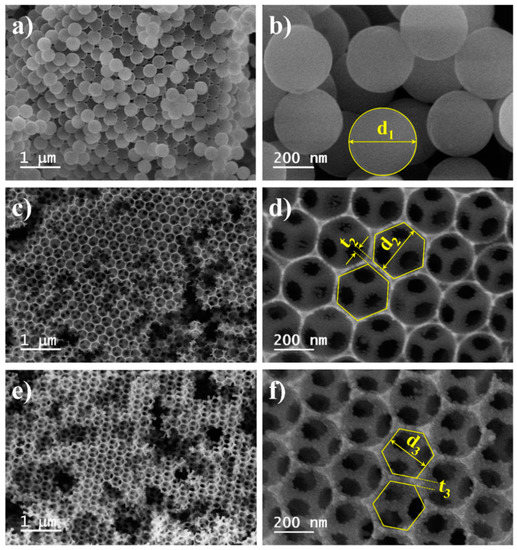 Figure 1