Internationalisation in Road Transport of Goods in Norway: Safety Outcomes, Risk Factors and Policy Implications
Institute of Transport Economics, Gaustadalléen 21, NO-0349 Oslo, Norway
*
Author to whom correspondence should be addressed.
Academic Editor: Claes Tingvall
Received: 15 March 2017 / Revised: 2 September 2017 / Accepted: 9 September 2017 / Published: 21 September 2017
Abstract
The European Union (EU) promotes a gradual lifting of restrictions on foreign hauliers involved in domestic road transport of goods (cabotage), and liberalization of the current road cabotage rules may further increase the proportion of foreign heavy goods vehicles (HGVs) on Norwegian roads. The aims of the present study are to: (1) Examine the safety outcomes of increasing internationalisation in (Norwegian) road transport of goods; and (2) Discuss the importance of potential risk factors related to increasing proportions of foreign HGVs on Norwegian roads. We use four data sources to shed light on the aims. Results show that foreign HGVs account for 6% of the average domestic transport in Norway, and 11% of the HGVs involved in personal injury accidents. Additionally, foreign HGVs have a three times higher risk of single vehicle accidents, and twice the risk of head-on collisions. Foreign HGV drivers also seem more likely to trigger fatal accidents. We conclude that two risk factors seem to be important: (1) experience with/competence on Norwegian roads and (2) winter driving. Thus, the safety challenge is not that the drivers are foreign, but that they to some extent lack experience with, and competence on, the Norwegian road networks and the challenges that these roads may pose (e.g., narrow roads with high gradients, many curves, snow and ice). Previous research from other countries has also found that lacking experience with national road networks is an important risk factor. Given our results on risk factors, we may hypothesize that if foreign HGV drivers get more experience and education on Norwegian driving conditions, then increased internationalization could perhaps be of less concern in road safety. When discussing the higher accident risk and lower experience of foreign HGV drivers in Norway, it is important to note that the reason for foreign HGV drivers, working for foreign hauliers, to drive in Norway is that there are customers of the goods in Norway. Interviewees stressed that the foreign driver is often the last link in a long and complex chain of actors involved in the transport. Although these actors have a legal responsibility to "contribute to safety," interviewees stated that this responsibility is vague and not clearly enforced. We therefore suggest the clarification of, and an increase in, the responsibilities of the different parties involved in goods transport, especially the transport buyers. This means to both ensure the experience and training of the drivers (e.g., preparing them properly to drive on winter roads), and to positively influence their transport safety in other ways (e.g., reducing stress and time-pressure).
View Full-Text
►

▼

Figures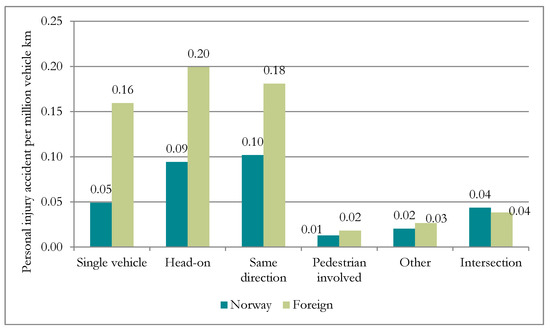 Figure 1
This is an open access article distributed under the
Creative Commons Attribution License
which permits unrestricted use, distribution, and reproduction in any medium, provided the original work is properly cited (CC BY 4.0).

Share & Cite This Article
MDPI and ACS Style
Nævestad, T.-O.; Phillips, R.O.; Meyer Levlin, G.; Hovi, I.B. Internationalisation in Road Transport of Goods in Norway: Safety Outcomes, Risk Factors and Policy Implications. Safety 2017, 3, 22.
Note that from the first issue of 2016, MDPI journals use article numbers instead of page numbers. See further details here.
Comments
[Return to top]