High-temperature Spin Crossover of a Solvent-Free Iron(II) Complex with the Linear Hexadentate Ligand [Fe(L2-3-2Ph)](AsF6)2 (L2-3-2Ph = bis[
N

-(1-Phenyl-1

H

-1,2,3-triazol-4-yl)methylidene-2-aminoethyl]-1,3-propanediamine)

Department of Chemistry, Faculty of Education, Gifu University, Yanagido 1-1, Gifu 501-1193, Japan

Received: 29 December 2018 / Revised: 18 January 2019 / Accepted: 20 January 2019 / Published: 1 February 2019
Abstract
A novel mononuclear iron(II) complex with a linear hexadentate N
6
ligand, containing two 1,2,3-triazole moieties, [Fe(L
2-3-2
Ph
)](AsF
6
)
2
(
1
), was synthesized (L
2-3-2
Ph
= bis[
N
-(1-Phenyl-1
H
-1,2,3-triazol-4-yl)methylidene-2-aminoethyl]-1,3-propanediamine). Variable-temperature magnetic susceptibility measurements revealed a gradual one-step spin crossover (SCO) between the high-spin (HS,
S
= 2) and low-spin (LS,
S
= 0) states above room temperature (
T
1/2
= 468 K). The spin transition was further confirmed by differential scanning calorimetry (DSC). A single-crystal X-ray diffraction study showed that the complex was in the LS state (
S
= 0) at room temperature (296 K). In the crystal lattice, a three-dimensional (3D) supramolecular network was formed by intermolecular CH⋯π and π–π interactions of neighboring complex cations [Fe(L
2-3-2
Ph
)]
2+
. AsF
6
−
ions were located interstitially in the 3D network of complex cations, with no solvent-accessible voids. The crystal structure at 448 K (mixture of HS and LS species) was also successfully determined thanks to the thermal stability of the solvent-free crystal.
View Full-Text
►

▼

Figures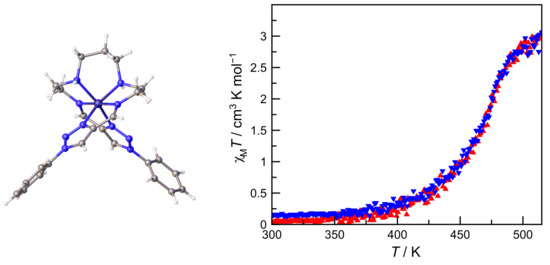 Graphical abstract
This is an open access article distributed under the
Creative Commons Attribution License
which permits unrestricted use, distribution, and reproduction in any medium, provided the original work is properly cited (CC BY 4.0).

Share & Cite This Article
MDPI and ACS Style
Hagiwara, H. High-temperature Spin Crossover of a Solvent-Free Iron(II) Complex with the Linear Hexadentate Ligand [Fe(L2-3-2Ph)](AsF6)2 (L2-3-2Ph = bis[N-(1-Phenyl-1H-1,2,3-triazol-4-yl)methylidene-2-aminoethyl]-1,3-propanediamine). Magnetochemistry 2019, 5, 10.
Note that from the first issue of 2016, MDPI journals use article numbers instead of page numbers. See further details here.
Related Articles
Comments
[Return to top]