Effect of Chemical Reaction and Heat Absorption on MHD Nanoliquid Flow Past a Stretching Sheet in the Presence of a Transverse Magnetic Field
1
School of Mathematics, Thapar Institute of Engineering & Technology, Patiala-147004, India
2
Department of Mathematics, School of Applied Sciences, Kalinga Institute of Industrial Technology, Bhubaneswar-751024, India
3
Department of Mathematics, Centurion University of Technology & Management, Bhubaneswar-752050, India
4
School of Mathematics, Statistics & Computer Science, University of KwaZulu-Natal, Private Bag X01, Scottsville 3209, Pietermaritzburg, South Africa
*
Author to whom correspondence should be addressed.
Received: 24 September 2017 / Revised: 22 February 2018 / Accepted: 24 February 2018 / Published: 27 February 2018
Abstract
In this paper, authors investigate homogeneous-heterogeneous chemical reaction and heat absorption effects on a two-dimensional steady hydromagnetic Newtonian nanoliquid flow along a continuously stretching sheet. The flow field is subjected to a uniform magnetic field acting in a direction perpendicular to the direction of nanoliquid flow. A mathematical model of the physical problem is presented involving nonlinear partial differential equations with appropriate boundary conditions. These equations are then transformed into nonlinear ordinary differential equations using a suitable similarity transformation. Finally, approximate solutions of the transformed equations are obtained using the spectral quasi-linearization method. Results of fluid velocity, fluid temperature, and species concentration are depicted graphically, while the values of skin friction and Nusselt number are presented in tabular form. Fluid flow models of this kind find applications in catalytic reactors involving chemical reactions, insulation systems, and in heat exchangers. The applied magnetic field has a retarding influence on the nanofluid velocity and species concentration, while it does not have any significant effect on the nanofluid temperature. The homogeneous and heterogeneous reactions tend to decrease the species concentration.
View Full-Text
►

▼

Figures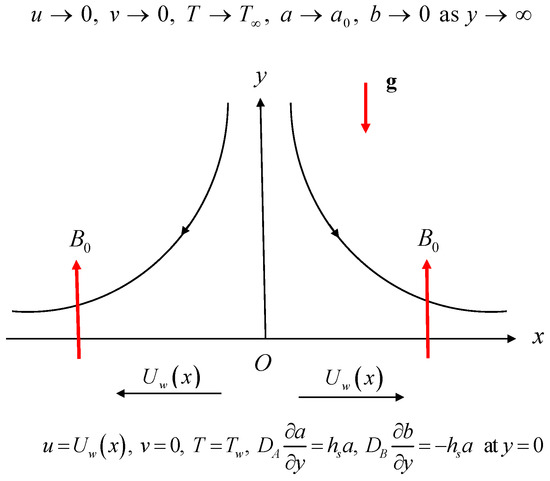 Figure 1
This is an open access article distributed under the
Creative Commons Attribution License
which permits unrestricted use, distribution, and reproduction in any medium, provided the original work is properly cited (CC BY 4.0).

Share & Cite This Article
MDPI and ACS Style
Nandkeolyar, R.; Mahatha, B.K.; Mahato, G.K.; Sibanda, P. Effect of Chemical Reaction and Heat Absorption on MHD Nanoliquid Flow Past a Stretching Sheet in the Presence of a Transverse Magnetic Field. Magnetochemistry 2018, 4, 18.
Note that from the first issue of 2016, MDPI journals use article numbers instead of page numbers. See further details here.
Related Articles
Comments
[Return to top]