Neutral Low-Dimensional Assemblies of a Mn(III) Schiff Base Complex and Octacyanotungstate(V): Synthesis, Characterization, and Magnetic Properties
1
Institute of Physics, Jagiellonian University, Lojasiewicza 11, PL-30348 Krakow, Poland
2
Laboratoire des Multimatériaux et Interfaces (UMR 5615), Université Claude Bernard Lyon 1, 69622 Villeurbanne Cedex, France
3
Shubnikov Institute of Crystallography of Federal Scientific Research Centre "Crystallography and Photonics" RAS, Leninsky prospect 59, 119333 Moscow, Russia
4
Nikolaev Institute of Inorganic Chemistry SB RAS, Lavrentiev Avenue 3, Novosibirsk 630090, Russia
*
Author to whom correspondence should be addressed.
Academic Editor: Coen de Graaf
Received: 1 February 2017 / Revised: 13 March 2017 / Accepted: 17 March 2017 / Published: 24 March 2017
Abstract
Two novel low-dimensional molecular magnetic materials were prepared by the self-assembly of 3d- and 5d-metal complexes. These are the first neutral heterobimetallic cyanobridged compounds involving one anisotropic Mn(III) Schiff base complex and one octacyanotungstate(V) per molecular unit. A slow diffusion of the constituents' solutions leads to the formation of the 0D crystalline complex
1
, due to coordination of a water molecule to the Mn center, which prevents polymer formation. A rapid mixing of reagents results in the precipitation of the microcrystalline powder of complex
2
, which based on the totality of experimental data, possesses a 1D polymeric structure. The magnetic studies have shown that antiferromagnetic exchange interactions prevail in
1
(
J
/
k
B
= −13.1(7) K,
D
= −3.0(1.3) K,
zJ
'
= −0.16(20) K and
g
av
= 2.00(1)); while the presence of the significant intramolecular Mn(III)–W(V) ferromagnetic coupling through cyanide bridge is characteristic for
2
(
J
/
k
B
=
46.1(5) K,
g
Mn
= 2.11(3), fixed
g
W
= 2.0). Due to the weak interchain interactions,
zJ
′/
k
B
= −0.8(2) K, and compound
2
is a metamagnet with the Néel temperature of 9.5 K undergoing a spin-flip transition at 2 kOe. The slow magnetization dynamics of
2
were investigated at a DC field of 0 and 2 kOe, giving the values of
τ
0
32(15) and 36(15) ps, respectively, well within the range typical for single-chain magnets (SCMs). The respective ∆
τ
/
k
B
values were 48.4(1.2) and 44.9(1.0) K.
View Full-Text
►

▼

Figures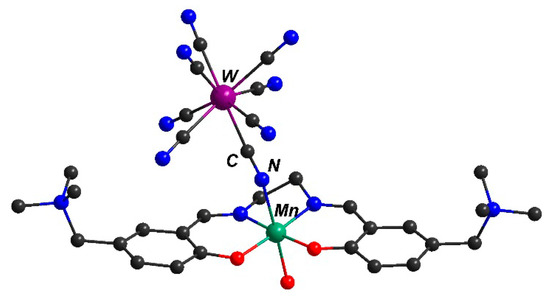 Figure 1
This is an open access article distributed under the
Creative Commons Attribution License
which permits unrestricted use, distribution, and reproduction in any medium, provided the original work is properly cited (CC BY 4.0).

Share & Cite This Article
MDPI and ACS Style
Majcher, A.M.; Pilet, G.; Mironov, V.S.; Vostrikova, K.E. Neutral Low-Dimensional Assemblies of a Mn(III) Schiff Base Complex and Octacyanotungstate(V): Synthesis, Characterization, and Magnetic Properties. Magnetochemistry 2017, 3, 16.
Note that from the first issue of 2016, MDPI journals use article numbers instead of page numbers. See further details here.
Related Articles
Comments
[Return to top]