Roles of Non-Coding RNA in Sugarcane-Microbe Interaction
1
Laboratório de Biologia Molecular de Plantas, Instituto de Bioquímica Médica Leopoldo de Meis, Universidade Federal do Rio de Janeiro, Rio de Janeiro 21941-901, Brazil
2
Universidade Federal da INTEGRAÇÃO Latino-Americana, Foz do Iguaçu 85866-000, Brazil
3
Laboratório de Química e Função de Proteínas e Peptídeos, Universidade Estadual do Norte Fluminense, Campos dos Goytacazes 28013-602, Brazil
4
Departamento de Ciência da Computação, Universidade de Brasília, Brasília 70910-900, Brazil
5
Departamento de Informática, Pontifícia Universidade Católica do Rio de Janeiro, Rio de Janeiro 22451-900, Brazil
6
Fasteris SA, 1228 Plan-les-Ouates, Switzerland
*
Author to whom correspondence should be addressed.
Received: 16 August 2017 / Revised: 11 December 2017 / Accepted: 19 December 2017 / Published: 20 December 2017
Abstract
Studies have highlighted the importance of non-coding RNA regulation in plant-microbe interaction. However, the roles of sugarcane microRNAs (miRNAs) in the regulation of disease responses have not been investigated. Firstly, we screened the sRNA transcriptome of sugarcane infected with
Acidovorax avenae
. Conserved and novel miRNAs were identified. Additionally, small interfering RNAs (siRNAs) were aligned to differentially expressed sequences from the sugarcane transcriptome. Interestingly, many siRNAs aligned to a transcript encoding a copper-transporter gene whose expression was induced in the presence of
A. avenae
, while the siRNAs were repressed in the presence of
A. avenae
. Moreover, a long intergenic non-coding RNA was identified as a potential target or decoy of miR408. To extend the bioinformatics analysis, we carried out independent inoculations and the expression patterns of six miRNAs were validated by quantitative reverse transcription-PCR (qRT-PCR). Among these miRNAs, miR408—a copper-microRNA—was downregulated. The cleavage of a putative miR408 target, a laccase, was confirmed by a modified 5′RACE (rapid amplification of cDNA ends) assay. MiR408 was also downregulated in samples infected with other pathogens, but it was upregulated in the presence of a beneficial diazotrophic bacteria. Our results suggest that regulation by miR408 is important in sugarcane sensing whether microorganisms are either pathogenic or beneficial, triggering specific miRNA-mediated regulatory mechanisms accordingly.
View Full-Text
►

▼

Figures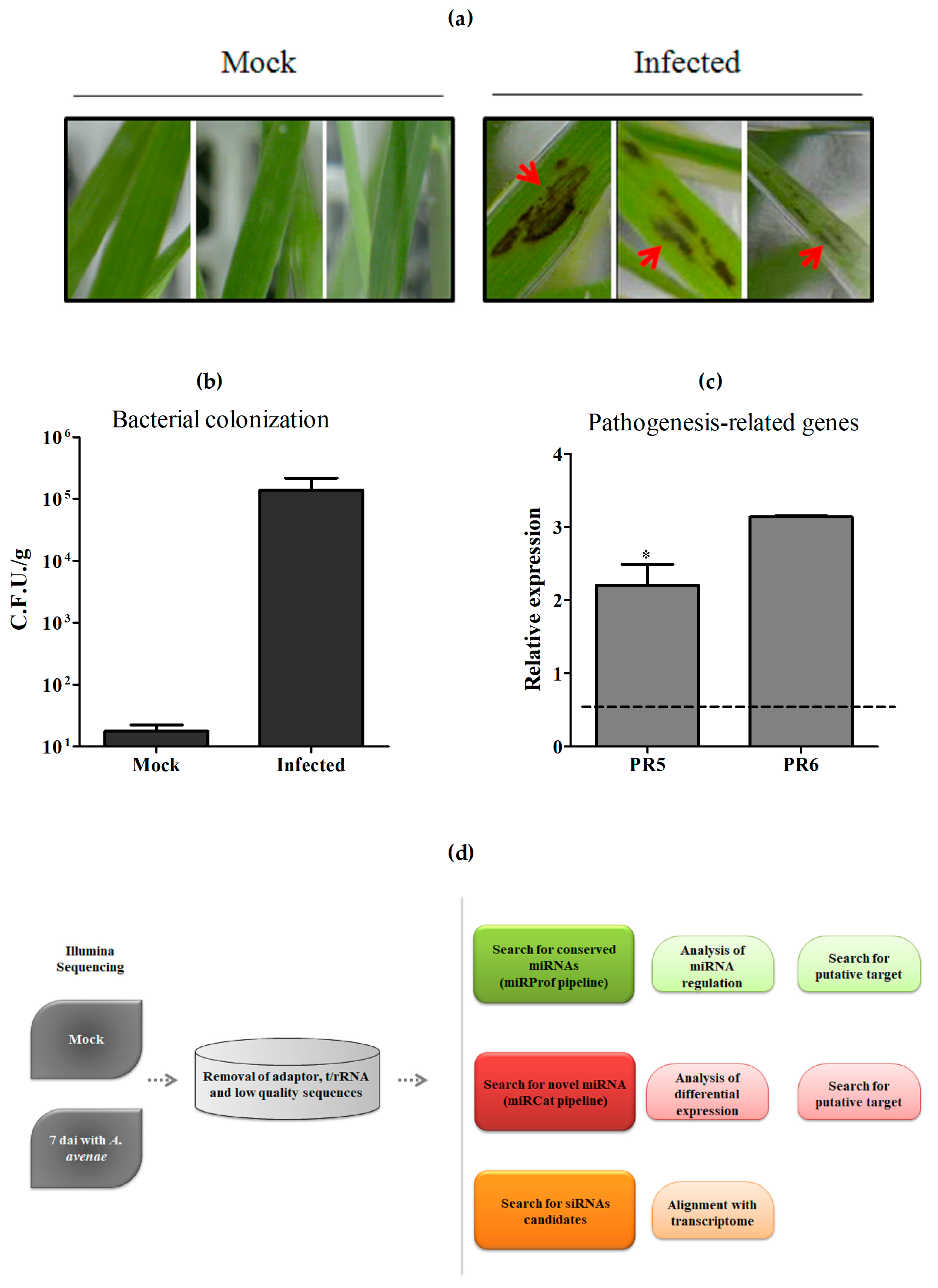 Figure 1
This is an open access article distributed under the
Creative Commons Attribution License
which permits unrestricted use, distribution, and reproduction in any medium, provided the original work is properly cited (CC BY 4.0).

Share & Cite This Article
MDPI and ACS Style
Thiebaut, F.; Rojas, C.A.; Grativol, C.; Calixto, E.P.R.; Motta, M.R.; Ballesteros, H.G.F.; Peixoto, B.; De Lima, B.N.S.; Vieira, L.M.; Walter, M.E.; De Armas, E.M.; Entenza, J.O.P.; Lifschitz, S.; Farinelli, L.; Hemerly, A.S.; Ferreira, P.C.G. Roles of Non-Coding RNA in Sugarcane-Microbe Interaction. Non-Coding RNA 2017, 3, 25.
Note that from the first issue of 2016, MDPI journals use article numbers instead of page numbers. See further details here.
Related Articles
Comments
[Return to top]