Analgesic and Anti-Inflammatory Activities of Quercetin-3-methoxy-4′-glucosyl-7-glucoside Isolated from Indian Medicinal Plant
Melothria heterophylla
1
Department of Pharmacy, NSHM Knowledge Campus, Kolkata-Group of Institutions, Kolkata 700053, India
2
Department of Pharmaceutical Technology, Jadavpur University, Kolkata 700032, India
3
Lake Erie College of Osteopathic Medicine, Bradenton, FL 34211, USA
*
Authors to whom correspondence should be addressed.
Received: 10 May 2019 / Accepted: 15 May 2019 / Published: 27 May 2019
Abstract
Background:
Melothria heterophylla
(family: Cucurbitaceae), commonly known as kudari, is used in the Indian traditional medicine to treat various inflammation-associated diseases, such as asthma, arthritis and pain. However, the anti-inflammatory active components of this plant have not been identified yet. The aim of this study was to investigate the potential analgesic and anti-inflammatory activities of a compound, quercetin-3-methoxy-4′-glucosyl-7-glucoside, isolated from
M. heterophylla
.
Methods:
The anti-inflammatory activity was determined using carrageenan- and dextran-induced rat paw edema as well as cotton pellet-induced granuloma in rats, whereas the analgesic activity was analyzed using acetic acid-induced writhing, hot plate and tail flick response in mice. The test compound was orally administered at a dose of 5, 10 or 15 mg/kg. The cyclooxygenase-1 (COX-1)- and COX-2-inhibitory capacity of the test compound was studied by enzyme immunosorbent assay.
Results:
Quercetin-3-methoxy-4′-glucosyl-7-glucoglucoside at 15 mg/kg exhibited a maximum inhibition of carrageenan-induced inflammation (50.3%,
p
< 0.05), dextran (52.8%,
p
< 0.05), and cotton pellets (41.4%,
p
< 0.05) compared to control animals. At the same dose, it showed a 73.1% inhibition (
p
< 0.05) of the pain threshold in acetic acid-induced writhing model. It also exhibited a considerable analgesic activity by prolonging the reaction time of the animals based on hot plate as well as tail flick response. The test compound was found to inhibit COX-1 (IC
50
2.76 µg/mL) and more efficiently, COX-2 (IC
50
1.99 µg/mL).
Conclusions:
Quercetin-3-methoxy-4′-glucosyl-7-glucoside possessed substantial analgesic and anti-inflammatory activities possibly due to inhibition of prostaglandin production, supporting the ethnomedicinal application of
M. heterophylla
to treat various inflammatory disorders.
View Full-Text
►

▼

Figures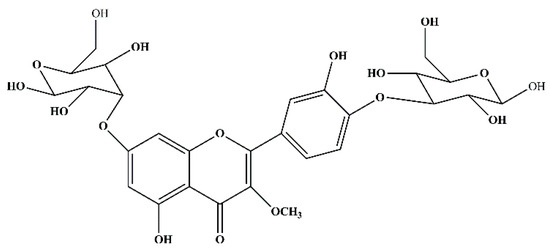 Figure 1
This is an open access article distributed under the
Creative Commons Attribution License
which permits unrestricted use, distribution, and reproduction in any medium, provided the original work is properly cited (CC BY 4.0).

Share & Cite This Article
MDPI and ACS Style
Mondal, A.; Maity, T.K.; Bishayee, A. Analgesic and Anti-Inflammatory Activities of Quercetin-3-methoxy-4′-glucosyl-7-glucoside Isolated from Indian Medicinal Plant Melothria heterophylla. Medicines 2019, 6, 59.
Note that from the first issue of 2016, MDPI journals use article numbers instead of page numbers. See further details here.
Related Articles
Comments
[Return to top]