Comparison between Two Assessment Tests for Oral Hygiene: Adenosine Triphosphate + Adenosine Monophosphate Swab Test and Bacteria Number Counting by Dielectrophoretic Impedance Measurement
Department of Prosthodontics and Oral Rehabilitation, Tokushima University, Graduate School of Biomedical Sciences, 3-18-15, Kuramoto, Tokushima 770-8504, Japan
*
Author to whom correspondence should be addressed.
Received: 22 October 2018 / Revised: 12 January 2019 / Accepted: 16 January 2019 / Published: 1 February 2019
Abstract
Objective assessments of oral hygiene are important to prevent oral and systemic diseases. Two objective assessment tests are available to assess oral hygiene; (1) the adenosine triphosphate (ATP) + adenosine monophosphate (AMP) swab test, which incorporates a luciferase assay and (2) a bacteria count using the dielectrophoretic impedance measurement (DEPIM) method. In this study, we compared the two tests using a subjective visual assessment by professional clinicians and investigated the clinical significance of these tests. Twenty-seven young participants (mean age 26.3 ± 3.2 years) and twenty-seven older participants (mean age 75.1 ± 5.9 years) were recruited. Oral bacteria were sampled from three areas, including the tongue dorsum, the buccal mucosa, and the faucal mucosa, and saliva was obtained using a cotton swab. The amount of ATP + AMP and the number of bacteria were measured by each specific apparatus. Additionally, one examiner assessed the overall condition of oral hygiene using the visual analog scale (VAS). In the ATP + AMP swab test, the means were highest in saliva. For the bacteria count, the means were higher in the tongue dorsum and saliva and lower in the faucal and buccal mucosa. The results of the subjective assessment of oral hygiene indicated that the VAS-value was 3.78 ± 0.97 for the young group and 3.35 ± 0.81 for the older group. No significant difference was observed between the two groups. Additionally, no significant relationship between the values of the ATP + AMP swab test and the bacteria count was found for any of the four sample sites. In the older group, the subjective assessment of oral hygiene was significantly correlated with the values of the ATP + AMP swab test (multiple correlation coefficient = 0.723,
p
= 0.002). In conclusion, the values provided by the ATP + AMP swab test were not always correlated to the bacteria count. The results of this study suggest that the subjective assessment of oral hygiene was more highly correlated with the results of the ATP + AMP swab test, as compared to the bacterial count assay.
View Full-Text
►

▼

Figures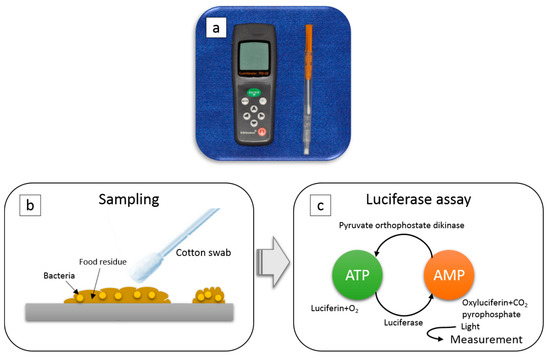 Figure 1
This is an open access article distributed under the
Creative Commons Attribution License
which permits unrestricted use, distribution, and reproduction in any medium, provided the original work is properly cited (CC BY 4.0).

Share & Cite This Article
MDPI and ACS Style
Iwawaki, Y.; Muraoka, Y.; Higashiyama, H.; Kishimoto, T.; Liu, L.; Goto, T.; Ichikawa, T. Comparison between Two Assessment Tests for Oral Hygiene: Adenosine Triphosphate + Adenosine Monophosphate Swab Test and Bacteria Number Counting by Dielectrophoretic Impedance Measurement. Dent. J. 2019, 7, 10.
Note that from the first issue of 2016, MDPI journals use article numbers instead of page numbers. See further details here.
Related Articles
Comments
[Return to top]