Dimethyloxonium and Methoxy Derivatives of
nido

-Carborane and Metal Complexes Thereof

1

A.N. Nesmeyanov Institute of Organoelement Compounds, Russian Academy of Sciences, 28 Vavilov Str., 119991 Moscow, Russia

2

Globalchempharm Company, Sadovo-Kurinskaya Str. 32-1, 123001 Moscow, Russia

3

Basic Department of Chemistry of Innovative Materials and Technologies, G.V. Plekhanov Russian University of Economics, 36 Stremyannyi Line, 117997 Moscow, Russia

*

Authors to whom correspondence should be addressed.

Received: 27 February 2019 / Revised: 21 March 2019 / Accepted: 22 March 2019 / Published: 27 March 2019
Abstract
9-Dimethyloxonium, 10-dimethyloxonium, 9-methoxy and 10-methoxy derivatives of
nido
-carborane (9-Me
2
O-7,8-C
2
B
9
H
11
, 10-Me
2
O-7,8-C
2
B
9
H
11
, [9-MeO-7,8-C
2
B
9
H
11
]
−
, and [10-MeO-7,8-C
2
B
9
H
11
]
−
, respectively) were prepared by the reaction of the parent
nido
-carborane [7,8-C
2
B
9
H
12
]
−
with mercury(II) chloride in a mixture of benzene and dimethoxymethane. Reactions of the 9 and 10-dimethyloxonium derivatives with triethylamine, pyridine, and 3-methyl-6-nitro-1
H
-indazole result in their N-methylation with the formation of the corresponding salts with 9 and 10-methoxy-
nido
-carborane anions. The reaction of the symmetrical methoxy derivative [10-MeO-7,8-C
2
B
9
H
11
]
−
with anhydrous FeCl
2
in tetrahydrofuran in the presence of
t
-BuOK results in the corresponding paramagnetic iron bis(dicarbollide) complex [8,8′-(MeO)
2
-3,3′-Fe(1,2-C
2
B
9
H
10
)
2
]
−
, whereas the similar reactions of the asymmetrical methoxy derivative [9-MeO-7,8-C
2
B
9
H
11
]
−
with FeCl
2
and CoCl
2
presumably produce the 4,7′-isomers [4,7′-(MeO)
2
-3,3′-M(1,2-C
2
B
9
H
10
)
2
]
−
(M = Fe, Co) rather than a mixture of
rac
-4,7′- and
meso
-4,4′-isomers.
View Full-Text
►

▼

Figures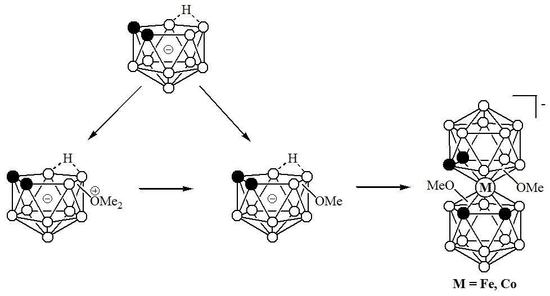 Graphical abstract
This is an open access article distributed under the
Creative Commons Attribution License
which permits unrestricted use, distribution, and reproduction in any medium, provided the original work is properly cited (CC BY 4.0).

Share & Cite This Article
MDPI and ACS Style
Stogniy, M.Y.; Erokhina, S.A.; Kosenko, I.D.; Semioshkin, A.A.; Sivaev, I.B. Dimethyloxonium and Methoxy Derivatives of nido-Carborane and Metal Complexes Thereof. Inorganics 2019, 7, 46.
Note that from the first issue of 2016, MDPI journals use article numbers instead of page numbers. See further details here.
Related Articles
Comments
[Return to top]