Serum Zinc Level in Asthmatic and Non-Asthmatic School Children
1
Department of Pediatrics, Hamad Medical Corporation, P.O. Box 3050, Doha, Qatar
2
Weill Cornell Medicine, P.O. Box 3050, Doha, Qatar
3
Department Laboratory Medicine and Pathology, Hamad Medical Corporation, P.O. Box 3050, Doha, Qatar
4
Medical Research Center, Hamad Medical Corporation, P.O. Box 3050, Doha, Qatar
*
Author to whom correspondence should be addressed.
Received: 20 January 2018 / Revised: 8 March 2018 / Accepted: 9 March 2018 / Published: 16 March 2018
Abstract
Asthma is one of the most common chronic disorders among children. Zinc (Zn) is an essential dietary antioxidant and may have a special role in assisting the airways of asthmatic subjects. The primary objective of this study was to measure serum Zn levels among asthmatic school children and to compare this to the serum Zn level in non-asthmatic children. The secondary objective was to investigate the relationship between Zn levels and the degree of asthma control. A cross-sectional study following forty asthmatic children and forty matched non-asthmatic children of both genders was conducted. Weight, height, body mass index (BMI), BMI Z-scores, serum Zn, hemoglobin, total protein, and albumin concentrations were measured in both groups. Serum immunoglobulin E (IgE) levels, the forced expiratory volume in 1 second (FEV1), and dosage of inhaled steroids were measured in asthmatic school children. The results show the mean Zn level among asthmatic children was 12.78 ± 1.8 μmol/L. Hypozincemia was detected in four asthmatic children. Asthma and control groups were matched in age, gender, and BMI Z score (
p
> 0.05). No significant difference was observed in Zn levels, hemoglobin, albumin, and total protein between both groups (
p
> 0.05). Among asthmatics, Zn levels were not significantly associated with the degree of asthma control (well controlled, mean Zn = 12.9 ± 1.5, partially controlled, mean Zn = 11.9 ± 1.6, and uncontrolled, mean Zn = 3.62 ± 2.2) (
p
= 0.053). The Zn level was not correlated with the FEV1 Z score. There was no significant association between Zn level and the dosage of inhaled steroids or IgE concentrations (
p
> 0.05). The findings show that Zn may not play a major role in the degree of asthma control. Larger studies are needed to confirm these results.
View Full-Text
►

▼

Figures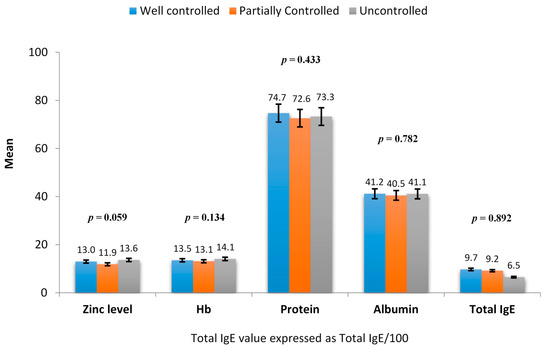 Figure 1
This is an open access article distributed under the
Creative Commons Attribution License
which permits unrestricted use, distribution, and reproduction in any medium, provided the original work is properly cited (CC BY 4.0).

Share & Cite This Article
MDPI and ACS Style
AbdulWahab, A.; Zeidan, A.; Avades, T.; Chandra, P.; Soliman, A. Serum Zinc Level in Asthmatic and Non-Asthmatic School Children. Children 2018, 5, 42.
Note that from the first issue of 2016, MDPI journals use article numbers instead of page numbers. See further details here.
Related Articles
Comments
[Return to top]