Resveratrol: A Double-Edged Sword in Health Benefits
1
Medical Ethics and Law Research Center, Shahid Beheshti University of Medical Sciences, Tehran 88777539, Iran
2
Student Research Committee, Shahid Beheshti University of Medical Sciences, Tehran 22439789, Iran
3
Department of Pharmaceutical Chemistry, H. N. B. Garhwal (A Central) University, Srinagar Garhwal 246174, Uttarakhand, India
4
Department of Biochemistry, H. N. B. Garhwal (A Central) University, Srinagar Garhwal 246174, Uttarakhand, India
5
Gazi University Faculty of Pharmacy Department of Pharmacognosy, Ankara 06330, Turkey
6
Department of Medical Parasitology, Zabol University of Medical Sciences, Zabol 61663335, Iran
7
Antimicrobial and Biocontrol Agents Unit, Department of Biochemistry, Faculty of Science, University of Yaounde 1, Ngoa Ekelle, Annex Fac. Sci, P.O. Box. 812, Yaounde-Cameroon
8
Faculty of Medicine, University of Porto, Alameda Prof. Hernâni Monteiro, Porto 4200-319, Portugal
9
Institute for Research and Innovation in Health (i3S), University of Porto, Porto 4200-135, Portugal
10
Phytochemistry Research Center, Shahid Beheshti University of Medical Sciences, Tehran 11369, Iran
11
Department of Chemistry, Richardson College for the Environmental Science Complex, The University of Winnipeg, Winnipeg, MB R3B 2G3, Canada
*
Authors to whom correspondence should be addressed.
Received: 14 August 2018 / Revised: 3 September 2018 / Accepted: 7 September 2018 / Published: 9 September 2018
Abstract
Resveratrol (3,5,4′-trihydroxy-trans-stilbene) belongs to polyphenols' stilbenoids group, possessing two phenol rings linked to each other by an ethylene bridge. This natural polyphenol has been detected in more than 70 plant species, especially in grapes' skin and seeds, and was found in discrete amounts in red wines and various human foods. It is a phytoalexin that acts against pathogens, including bacteria and fungi. As a natural food ingredient, numerous studies have demonstrated that resveratrol possesses a very high antioxidant potential. Resveratrol also exhibit antitumor activity, and is considered a potential candidate for prevention and treatment of several types of cancer. Indeed, resveratrol anticancer properties have been confirmed by many in vitro and in vivo studies, which shows that resveratrol is able to inhibit all carcinogenesis stages (e.g., initiation, promotion and progression). Even more, other bioactive effects, namely as anti-inflammatory, anticarcinogenic, cardioprotective, vasorelaxant, phytoestrogenic and neuroprotective have also been reported. Nonetheless, resveratrol application is still being a major challenge for pharmaceutical industry, due to its poor solubility and bioavailability, as well as adverse effects. In this sense, this review summarized current data on resveratrol pharmacological effects.
View Full-Text
►

▼

Figures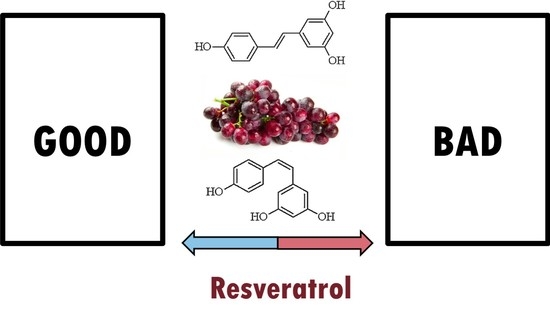 Graphical abstract
This is an open access article distributed under the
Creative Commons Attribution License
which permits unrestricted use, distribution, and reproduction in any medium, provided the original work is properly cited (CC BY 4.0).

Share & Cite This Article
MDPI and ACS Style
Salehi, B.; Mishra, A.P.; Nigam, M.; Sener, B.; Kilic, M.; Sharifi-Rad, M.; Fokou, P.V.T.; Martins, N.; Sharifi-Rad, J. Resveratrol: A Double-Edged Sword in Health Benefits. Biomedicines 2018, 6, 91.
Note that from the first issue of 2016, MDPI journals use article numbers instead of page numbers. See further details here.
Related Articles
Comments
[Return to top]