Evaluation of Chemical Strategies for Improving the Stability and Oral Toxicity of Insecticidal Peptides
1
Institute for Molecular Bioscience, The University of Queensland, St. Lucia, Brisbane QLD 4072, Australia
2
School of Life Sciences, University of Technology Sydney, Broadway, Sydney NSW 2007, Australia
3
Institute of Biological Chemistry, Faculty of Chemistry, University of Vienna, 1090 Vienna, Austria
4
Centre for Advanced Imaging, The University of Queensland, St. Lucia, Brisbane QLD 4072, Australia
5
Food and Environment Research Agency, York YO41 1LZ, UK
*
Authors to whom correspondence should be addressed.
Received: 6 August 2018 / Revised: 22 August 2018 / Accepted: 23 August 2018 / Published: 28 August 2018
Abstract
Spider venoms are a rich source of insecticidal peptide toxins. Their development as bioinsecticides has, however, been hampered due to concerns about potential lack of stability and oral bioactivity. We therefore systematically evaluated several synthetic strategies to increase the stability and oral potency of the potent insecticidal spider-venom peptide ω-HXTX-Hv1a (Hv1a). Selective chemical replacement of disulfide bridges with diselenide bonds and N- to C-terminal cyclization were anticipated to improve Hv1a resistance to proteolytic digestion, and thereby its activity when delivered orally. We found that native Hv1a is orally active in blowflies, but 91-fold less potent than when administered by injection. Introduction of a single diselenide bond had no effect on the susceptibility to scrambling or the oral activity of Hv1a. N- to C-terminal cyclization of the peptide backbone did not significantly improve the potency of Hv1a when injected into blowflies and it led to a significant decrease in oral activity. We show that this is likely due to a dramatically reduced rate of translocation of cyclic Hv1a across the insect midgut, highlighting the importance of testing bioavailability in addition to toxin stability.
View Full-Text
►

▼

Figures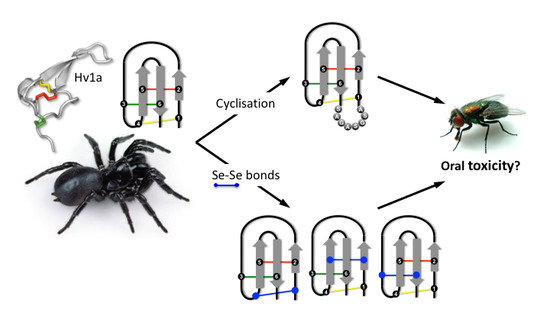 Graphical abstract
This is an open access article distributed under the
Creative Commons Attribution License
which permits unrestricted use, distribution, and reproduction in any medium, provided the original work is properly cited (CC BY 4.0).

Share & Cite This Article
MDPI and ACS Style
Herzig, V.; De Araujo, A.D.; Greenwood, K.P.; Chin, Y.K.-Y.; Windley, M.J.; Chong, Y.; Muttenthaler, M.; Mobli, M.; Audsley, N.; Nicholson, G.M.; Alewood, P.F.; King, G.F. Evaluation of Chemical Strategies for Improving the Stability and Oral Toxicity of Insecticidal Peptides. Biomedicines 2018, 6, 90.
Note that from the first issue of 2016, MDPI journals use article numbers instead of page numbers. See further details here.
Related Articles
Comments
[Return to top]