Lentivirus-Induced Dendritic Cells (iDC) for Immune-Regenerative Therapies in Cancer and Stem Cell Transplantation
Regenerative Immune Therapies Applied, Excellence Cluster Rebirth, Department of Hematology, Hemostasis, Oncology and Stem Cell Transplantation, Hannover Medical School, OE6862, Carl-Neuberg-Strasse 1, 30625 Hannover, Germany
Received: 14 April 2014 / Revised: 29 July 2014 / Accepted: 4 August 2014 / Published: 21 August 2014
Abstract
Conventional dendritic cells (cDC) are
ex vivo
differentiated professional antigen presenting cells capable of potently stimulating naïve T cells and with vast potential for immunotherapeutic applications. The manufacture of clinical-grade cDC is relatively complex and requires several days for completion. Clinical trials showed poor trafficking of cDC from subcutaneous injection sites to lymph nodes (LN), where DC can optimally stimulate naïve lymphocytes for long-lasting memory responses. We demonstrated in mouse and human systems that a single overnight
ex vivo
lentiviral (LV) gene transfer into DC precursors for production of combination of cytokines and antigens was capable to induce autonomous self-differentiation of antigen-loaded DC
in vitro
and
in vivo
. These highly viable induced DC (iDC) effectively migrated from the injected skin to LN, where they effectively activated
de novo
antigen-specific effector memory T cells. Two iDC modalities were validated in relevant animal models and are now in clinical development: Self-differentiated Myeloid-derived Antigen-presenting-cells Reactive against Tumors co-expressing GM-CSF/IL-4/TRP2 for melanoma immunotherapy in the autologous setting (SmartDCtrp2), and Self-differentiated Myeloid-derived Lentivirus-induced against human cytomegalovirus as an allogeneic matched adoptive cell after stem cell transplantation (SmyleDCpp65). The lentiviral vector design and packaging methodology has "evolved" continuously in order to simplify and optimize function and biosafety of
in vitro
and
in vivo
genetic reprogramming of iDC. Here, we address the challenges seeking for new creations of genetically programmed iDC and integrase-defective LV vaccines for immune regeneration.
View Full-Text
►

▼

Figures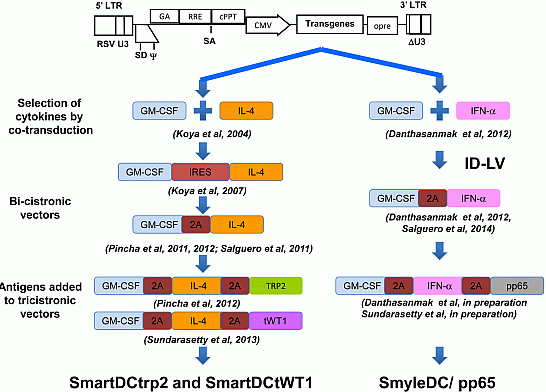 Graphical abstract

Share & Cite This Article
MDPI and ACS Style
Stripecke, R. Lentivirus-Induced Dendritic Cells (iDC) for Immune-Regenerative Therapies in Cancer and Stem Cell Transplantation. Biomedicines 2014, 2, 229-246.
Related Articles
Comments
[Return to top]