Mining for Oxysterols in Cyp7b1−/− Mouse Brain and Plasma: Relevance to Spastic Paraplegia Type 5
1
Swansea University Medical School, ILS1 Building, Singleton Park, Swansea SA2 8PP, UK
2
Institute for Global Food Security, Queens University Belfast, Stranmillis Road, Belfast BT9 5AG, UK
3
Endocrinology Unit, BHF Centre for Cardiovascular Science, The Queen's Medical Research Institute, University of Edinburgh, 47 Little France Crescent, Edinburgh EH16 4TJ, UK
4
Laboratory of Molecular Neurobiology, Department of Medical Biochemistry and Biophysics, Karolinska Institutet, SE-17177 Stockholm, Sweden
*
Author to whom correspondence should be addressed.
Received: 6 March 2019 / Revised: 28 March 2019 / Accepted: 2 April 2019 / Published: 13 April 2019
(This article belongs to the Special Issue
Lipidomics
)
Abstract
Deficiency in cytochrome P450 (CYP) 7B1, also known as oxysterol 7α-hydroxylase, in humans leads to hereditary spastic paraplegia type 5 (SPG5) and in some cases in infants to liver disease. SPG5 is medically characterized by loss of motor neurons in the corticospinal tract. In an effort to gain a better understanding of the fundamental biochemistry of this disorder, we have extended our previous profiling of the oxysterol content of brain and plasma of
Cyp7b1
knockout (-/-) mice to include, amongst other sterols, 25-hydroxylated cholesterol metabolites. Although brain cholesterol levels do not differ between wild-type (wt) and knockout mice, we find, using a charge-tagging methodology in combination with liquid chromatography–mass spectrometry (LC–MS) and multistage fragmentation (MS
n
), that there is a build-up of the CYP7B1 substrate 25-hydroxycholesterol (25-HC) in
Cyp7b1-/-
mouse brain and plasma. As reported earlier, levels of (25R)26-hydroxycholesterol (26-HC), 3β-hydroxycholest-5-en-(25R)26-oic acid and 24S,25-epoxycholesterol (24S,25-EC) are similarly elevated in brain and plasma. Side-chain oxysterols including 25-HC, 26-HC and 24S,25-EC are known to bind to INSIG (insulin-induced gene) and inhibit the processing of SREBP-2 (sterol regulatory element-binding protein-2) to its active form as a master regulator of cholesterol biosynthesis. We suggest the concentration of cholesterol in brain of the
Cyp7b1-/-
mouse is maintained by balancing reduced metabolism, as a consequence of a loss in CYP7B1, with reduced biosynthesis. The
Cyp7b1-/-
mouse does not show a motor defect; whether the defect in humans is a consequence of less efficient homeostasis of cholesterol in brain has yet to be uncovered.
View Full-Text
►

▼

Figures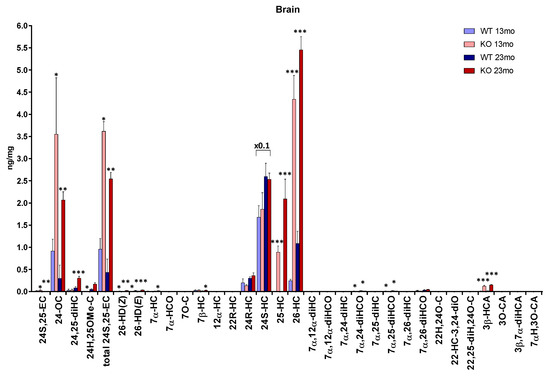 Figure 1
This is an open access article distributed under the
Creative Commons Attribution License
which permits unrestricted use, distribution, and reproduction in any medium, provided the original work is properly cited (CC BY 4.0).

Share & Cite This Article
MDPI and ACS Style
Meljon, A.; Crick, P.J.; Yutuc, E.; Yau, J.L.; Seckl, J.R.; Theofilopoulos, S.; Arenas, E.; Wang, Y.; Griffiths, W.J. Mining for Oxysterols in Cyp7b1−/− Mouse Brain and Plasma: Relevance to Spastic Paraplegia Type 5. Biomolecules 2019, 9, 149.
Note that from the first issue of 2016, MDPI journals use article numbers instead of page numbers. See further details here.
Related Articles
Comments
[Return to top]