Matrix Metalloproteinase 9 as a Predictor of Coronary Atherosclerotic Plaque Instability in Stable Coronary Heart Disease Patients with Elevated Lipoprotein(a) Levels
Federal State Budget Institution "National Cardiology Research Center" of Ministry of Health of the Russian Federation; 15A, 3d Cherepkovskaya street, 121552 Moscow, Russia
*
Author to whom correspondence should be addressed.
Received: 6 March 2019 / Revised: 24 March 2019 / Accepted: 26 March 2019 / Published: 29 March 2019
Abstract
We sought to investigate whether levels of matrix metalloproteinases (MMPs) and their inhibitors predict coronary atherosclerotic plaque instability, as assessed by intravascular ultrasound (IVUS) virtual histology during coronary angiography. Blood samples were collected before angiography in 32 subjects (mean age 56 ± 8 years) with stable coronary heart disease (CHD) and elevated lipoprotein(a) (Lp(a), 94 ± 35 mg/dL). Levels of high-sensitivity C-reactive protein (hsCRP), apolipoprotein B100 (apoB100), MMP-7, MMP-9, tissue inhibitor of metalloproteinases (TIMP)-1, and TIMP-2 were determined using commercially available enzyme-linked immunosorbent assay kits. Results. The morphology of a total of sixty coronary lesions was assessed by virtual histology IVUS imaging. Eleven (18%) plaques in nine (28%) patients were classified as plaques with an unstable phenotype or a thin-cap fibroatheroma. Age, low-density lipoprotein cholesterol, apoB100, MMP-7, and MMP-9 levels were positively associated with necrotic core volume. Conversely, there was a negative relationship between MMP-7 and -9 levels and fibrous and fibro-fatty tissue volume. Multivariate regression analysis revealed that MMP-9 is a strong independent predictor of atherosclerotic plaque instability in stable CHD patients. In stable CHD patients with elevated Lp(a), MMP-9 levels are positively associated with the size of the necrotic core of coronary atherosclerotic plaques.
View Full-Text
►

▼

Figures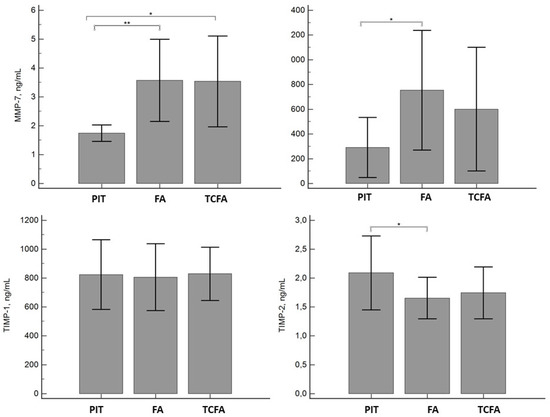 Figure 1
This is an open access article distributed under the
Creative Commons Attribution License
which permits unrestricted use, distribution, and reproduction in any medium, provided the original work is properly cited (CC BY 4.0).

Share & Cite This Article
MDPI and ACS Style
Ezhov, M.; Safarova, M.; Afanasieva, O.; Mitroshkin, M.; Matchin, Y.; Pokrovsky, S. Matrix Metalloproteinase 9 as a Predictor of Coronary Atherosclerotic Plaque Instability in Stable Coronary Heart Disease Patients with Elevated Lipoprotein(a) Levels. Biomolecules 2019, 9, 129.
Note that from the first issue of 2016, MDPI journals use article numbers instead of page numbers. See further details here.
Related Articles
Comments
[Return to top]