Non-Toxic and Ultra-Small Biosilver Nanoclusters Trigger Apoptotic Cell Death in Fluconazole-Resistant
Candida albicans

via Ras Signaling

1

Herbal Nanobiotechnology Lab, Pharmacology Division, CSIR-National Botanical Research Institute, Lucknow 226001, India

2

Centre of Excellence in Materials Science (Nanomaterials), Z.H. College of Engineering and Technology, Aligarh Muslim University, Aligarh 202002, India

3

ERA Chair of Green Chemistry, Department of Chemistry and Biotechnology, Tallinn University of Technology (TUT), 12618 Tallinn, Estonia

4

Plant Ecology and Climate Change Science Division, CSIR-National Botanical Research Institute, Lucknow 226001, India

5

Lichenology Laboratory, Plant Biodiversity and Conservation Biology Division, CSIR-National Botanical Research Institute, Lucknow 226001, India

6

Key Laboratory of Plant Resource Conservation and Sustainable Utilization, South China Botanical Garden, Chinese Academy of Sciences, Guangzhou 510650, China

7

Institute of Bioproduct Development, Universiti Teknologi Malaysia, Johor Bahru 81310, Malaysia

8

Department of Botany and Microbiology, College of Science, King Saud University, P.O. Box 2455, Riyadh 11451, Saudi Arabia

9

Meta-Genome Biotechnology, Genetics Department, Faculty of Agriculture, Assiut University, Assiut 71526, Egypt

*

Authors to whom correspondence should be addressed.

†

Current Address: TERI-Deakin Nanobiotechnology Centre, TERI Gram, The Energy and Resources Institute, Gual Pahari, Gurugram-Faridabad Road, Gurugram, Haryana 122 001, India.

Received: 29 December 2018 / Revised: 23 January 2019 / Accepted: 23 January 2019 / Published: 29 January 2019
Abstract
Silver-based nanostructures are suitable for many biomedical applications, but to be useful therapeutic agents, the high toxicity of these nanomaterials must be eliminated. Here, we biosynthesize nontoxic and ultra-small silver nanoclusters (
[email protected]
) using metabolites of usnioid lichen (a symbiotic association of algae and fungi) that exhibit excellent antimicrobial activity against fluconazole (FCZ)-resistant
Candida albicans
that is many times higher than chemically synthesized silver nanoparticles (AgNPs) and FCZ. The
[email protected]
trigger apoptosis via reactive oxygen species accumulation that leads to the loss of mitochondrial membrane potential, DNA fragmentation, chromosomal condensation, and the activation of metacaspases. The proteomic analysis clearly demonstrates that
[email protected]
exposure significantly alters protein expression. Most remarkable among the down-regulated proteins are those related to glycolysis, metabolism, free radical scavenging, anti-apoptosis, and mitochondrial function. In contrast, proteins involved in plasma membrane function, oxidative stress, cell death, and apoptosis were upregulated. Eventually, we also established that the apoptosis-inducing potential of
[email protected]
is due to the activation of Ras signaling, which confirms their application in combating FCZ-resistant
C
.
albicans
infections.
View Full-Text
►

▼

Figures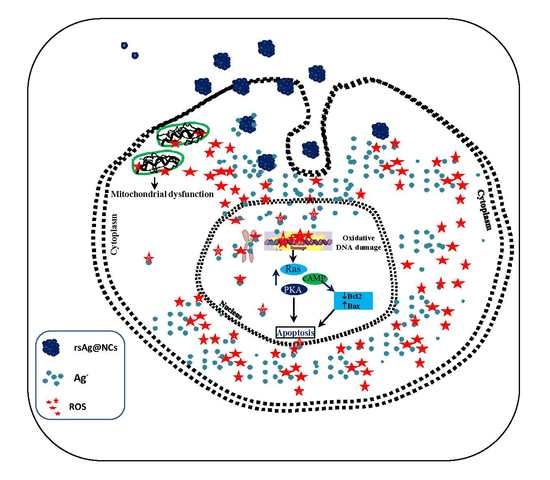 Graphical abstract
This is an open access article distributed under the
Creative Commons Attribution License
which permits unrestricted use, distribution, and reproduction in any medium, provided the original work is properly cited (CC BY 4.0).

Share & Cite This Article
MDPI and ACS Style
Prateeksha; Singh, B.R.; Gupta, V.K.; Deeba, F.; Bajpai, R.; Pandey, V.; Naqvi, A.H.; Upreti, D.K.; Gathergood, N.; Jiang, Y.; El Enshasy, H.A.; Sholkamy, E.N.; Mostafa, A.A.; Hesham, A. .-L.; Singh, B.N. Non-Toxic and Ultra-Small Biosilver Nanoclusters Trigger Apoptotic Cell Death in Fluconazole-Resistant Candida albicans via Ras Signaling. Biomolecules 2019, 9, 47.
Note that from the first issue of 2016, MDPI journals use article numbers instead of page numbers. See further details here.
Related Articles
Comments
[Return to top]