Integrated Transcriptome Analysis Reveals Plant Hormones Jasmonic Acid and Salicylic Acid Coordinate Growth and Defense Responses upon Fungal Infection in Poplar
1
College of Horticulture and Forestry Sciences, Huazhong Agricultural University, Wuhan 430070, China
2
Hubei Engineering Technology Research Center for Forestry Information, Huazhong Agricultural University, Wuhan 430070, China
†
These authors contributed equally to this work.
*
Author to whom correspondence should be addressed.
Received: 18 November 2018 / Revised: 20 December 2018 / Accepted: 21 December 2018 / Published: 2 January 2019
Abstract
Plants have evolved a sophisticated system to respond to various stresses. Fungal attack or infection is one of the most important biotic stresses for most plants. During the defense response to fungal infection, the plant hormones jasmonic acid (JA) and salicylic acid (SA) play critical roles. Here, gene expression data on JA/SA treatments and
Melampsora larici-populina
(MLP) infection were generated. Integrated transcriptome analyses of these data were performed, and 943 genes in total were identified as common responsive genes (CRG). Gene ontology (GO) term analysis revealed that the genes from CRG are generally involved in the processes of stress responses, metabolism, and growth and development. The further cluster analysis of the CRG identified a set of core genes that are involved in the JA/SA-mediated response to fungal defense with distinct gene expression profiles upon JA/SA treatment, which highlighted the different effects of these two hormones on plant fungal defenses. The modifications of several pathways relative to metabolism, biotic stress, and plant hormone signal pathways suggest the possible roles of JA/SA on the regulation of growth and defense responses. Co-expression modules (CMs) were also constructed using the poplar expression data on JA, SA,
M.
larici-populina
,
Septoria musiva
, and
Marssonina brunnea
treatment or infection. A total of 23 CMs were constructed, and different CMs clearly exhibited distinct biological functions, which conformably regulated the concerted processes in response to fungal defense. Furthermore, the GO term analysis of different CMs confirmed the roles of JA and SA in regulating growth and defense responses, and their expression profiles suggested that the growth ability was reduced when poplar deployed defense responses. Several transcription factors (TFs) among the CRG in the co-expression network were proposed as hub genes in regulating these processes. According to this study, our data finely uncovered the possible roles of JA/SA in regulating the balance between growth and defense responses by integrating multiple hormone signaling pathways. We were also able to provide more knowledge on how the plant hormones JA/SA are involved in the regulation of the balance between growth and plant defense.
View Full-Text
►

▼

Figures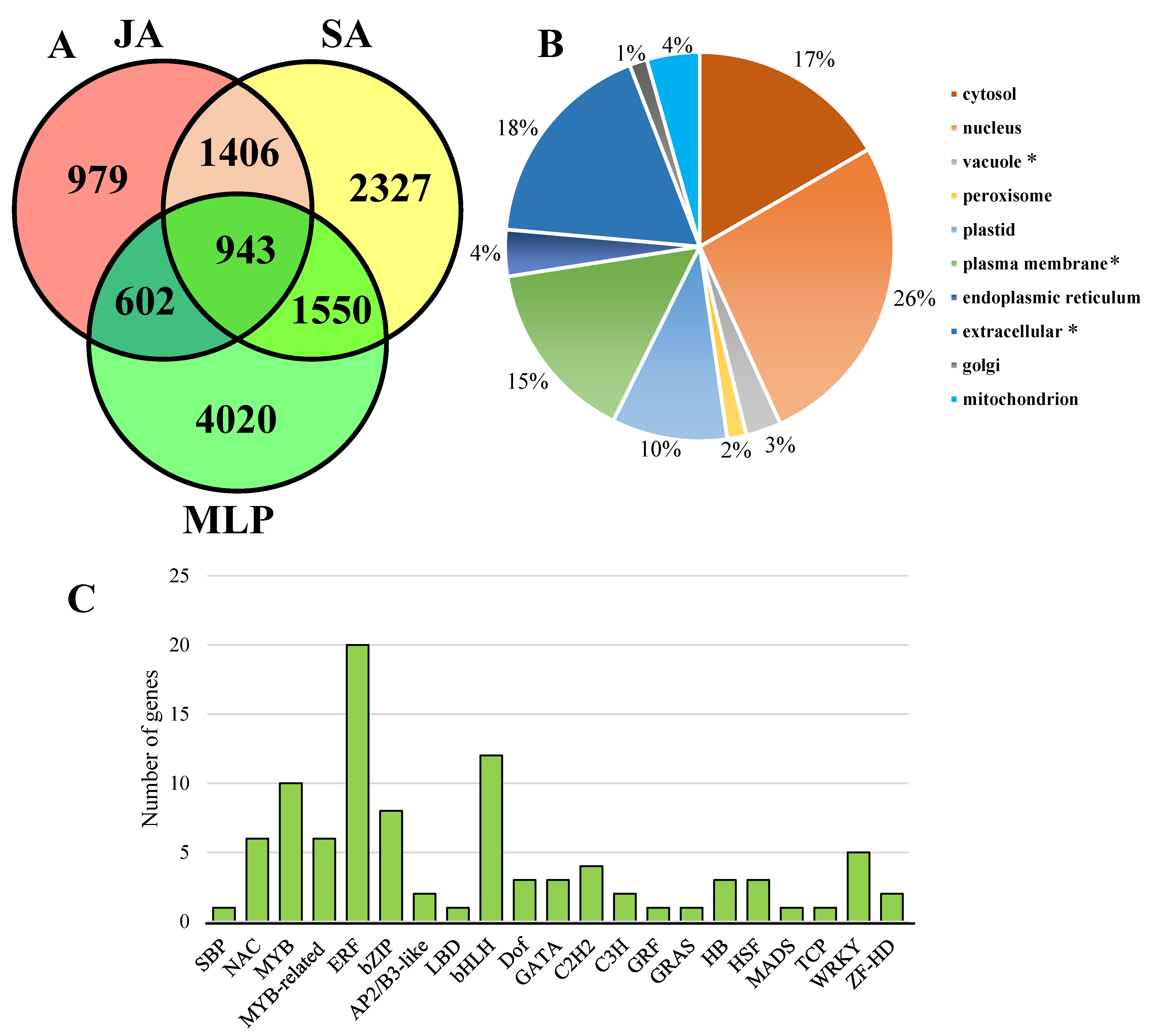 Figure 1
This is an open access article distributed under the
Creative Commons Attribution License
which permits unrestricted use, distribution, and reproduction in any medium, provided the original work is properly cited (CC BY 4.0).

Share & Cite This Article
MDPI and ACS Style
Luo, J.; Xia, W.; Cao, P.; Xiao, Z.; Zhang, Y.; Liu, M.; Zhan, C.; Wang, N. Integrated Transcriptome Analysis Reveals Plant Hormones Jasmonic Acid and Salicylic Acid Coordinate Growth and Defense Responses upon Fungal Infection in Poplar. Biomolecules 2019, 9, 12.
Note that from the first issue of 2016, MDPI journals use article numbers instead of page numbers. See further details here.
Related Articles
Comments
[Return to top]