Cross-Sectional Associations between Homoarginine, Intermediate Phenotypes, and Atrial Fibrillation in the Community—The Gutenberg Health Study
1
Department of General and Interventional Cardiology, University Heart Center Hamburg-Eppendorf, 20251 Hamburg, Germany
2
Deutsches Zentrum für Herz-Kreislauf-Forschung e.V. (DZHK), Partner Site Munich, 80336 Munich, Germany
3
Institute for Cardiovascular Prevention, LMU Munich and Walther-Straub-Institute of Pharmacology and Toxicology, LMU Munich, 80336 Munich, Germany
4
Center for Cardiovascular Research (DZHK), Partner Site Rhein/Main, 55131 Mainz, Germany
5
Institute of Clinical Chemistry and Laboratory Medicine, University Medical Center of the Johannes Gutenberg-University Mainz, 55131 Mainz, Germany
6
Department of Clinical Pharmacology and Toxicology, University Medical Center Hamburg-Eppendorf, Hamburg, 20246 Hamburg, Germany
7
Deutsches Zentrum fuer Herz-Kreislauf-Forschung e.V. (DZHK), Partner Site Hamburg/Kiel/Lübeck, 23538 Lübeck, Germany
8
Center for Cardiology—Cardiology I, University Medical Center of the Johannes Gutenberg-University Mainz, 55131 Mainz, Germany
9
Dept Psychosomat Med & Psychotherapy, University Medical Center of the Johannes Gutenberg-University Mainz, 55131 Mainz, Germany
10
Institute for Medical Biostatistics, Epidemiology and Informatics, University Medical Center of the Johannes Gutenberg-University Mainz, 55131 Mainz, Germany
11
Dept Ophthalmology, University Medical Center of the Johannes Gutenberg-University Mainz, 55131 Mainz, Germany
12
Preventive Cardiology and Preventive Medicine, Center for Cardiology, University Medical Center of the Johannes Gutenberg-University Mainz, 55131 Mainz, Germany
13
Center for Thrombosis and Hemostasis; University Medical Center of the Johannes Gutenberg-University Mainz, 55131 Mainz, Germany
*
Author to whom correspondence should be addressed.
Received: 11 July 2018 / Revised: 26 August 2018 / Accepted: 27 August 2018 / Published: 30 August 2018
Abstract
Homoarginine has come into the focus of interest as a biomarker for cardiovascular disease. Atrial fibrillation (AF) causes a substantial increase in morbidity and mortality. Whether circulating homoarginine is associated with occurrence or persistence of AF and may serve as a new predictive biomarker remains unknown. We measured plasma levels of homoarginine in the population-based Gutenberg health study (3761 patients included, of them 51.7% males), mean age 55.6 ± 10.9 years-old. Associations between homoarginine and intermediate electrocardiographic and echocardiographic phenotypes and manifest AF were examined. Patients with AF (124 patients, of them 73.4% males) had a mean age 64.8 ± 8.6 years-old compared to a mean age of 55.3 ± 10.9 in the population without AF (
p
-value < 0.001) and showed a less beneficial risk factor profile. The median homoarginine levels in individuals with and without AF were 1.9 μmol/L (interquartile range (IQR) 1.5–2.5) and 2.0 μmol/L (IQR 1.5–2.5), respectively,
p
= 0.56. In multivariable-adjusted regression analyses homoarginine was not statistically significantly related to electrocardiographic variables. Among echocardiographic variables beta per standard deviation increase was −0.12 (95% confidence interval (CI) −0.23–(−0.02);
p
= 0.024) for left atrial area and −0.01 (95% CI −0.02–(−0.003);
p
= 0.013) for E/A ratio. The odds ratio between homoarginine and AF was 0.91 (95% CI 0.70–1.16;
p
= 0.45). In our large, population-based cross-sectional study, we did not find statistically significant correlations between lower homoarginine levels and occurrence or persistence of AF or most standard electrocardiographic phenotypes, but some moderate inverse associations with echocardiographic left atrial size and E/A. Homoarginine may not represent a strong biomarker to identify individuals at increased risk for AF. Further investigations will be needed to elucidate the role of homoarginine and cardiac function.
View Full-Text
►

▼

Figures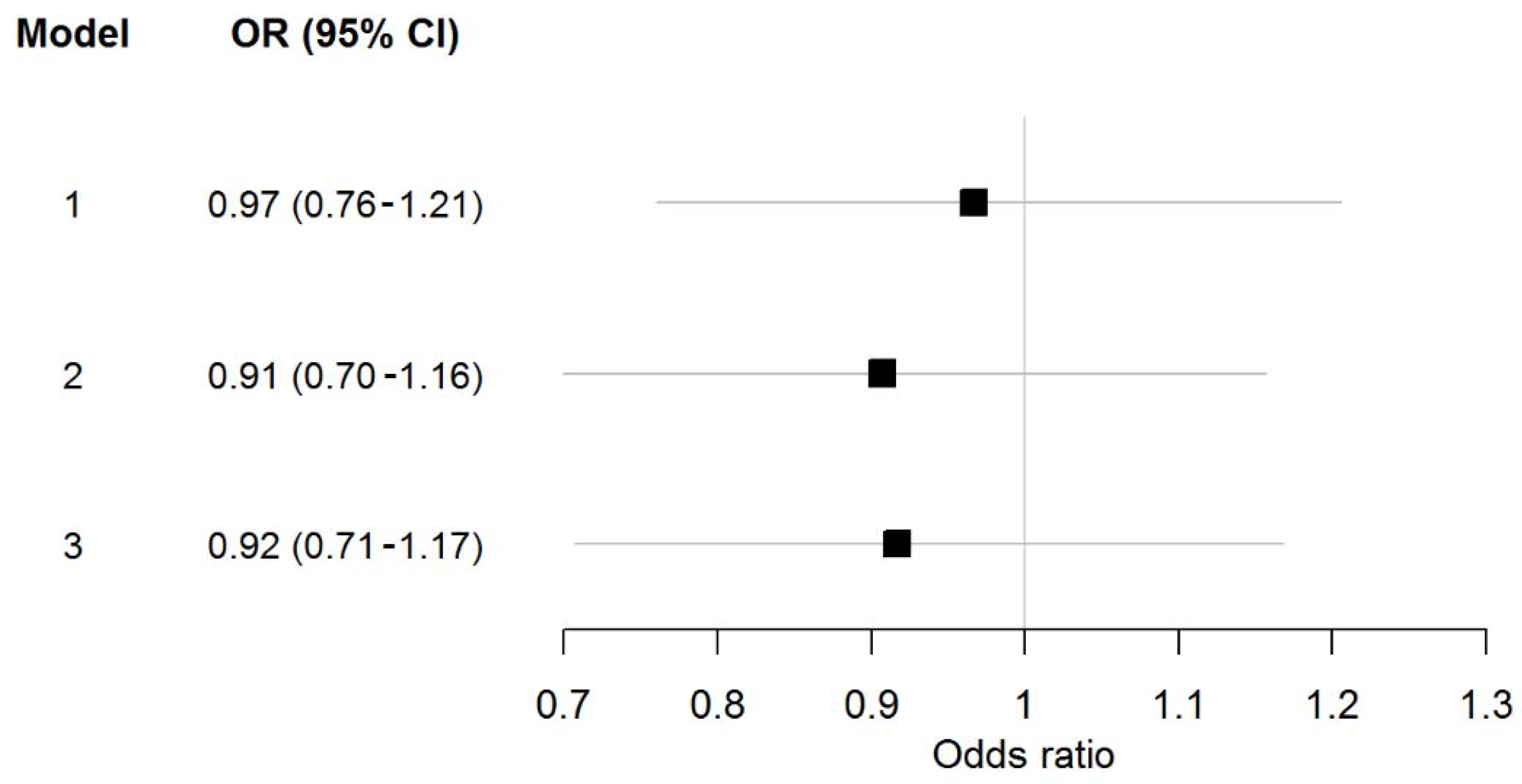 Figure 1
This is an open access article distributed under the
Creative Commons Attribution License
which permits unrestricted use, distribution, and reproduction in any medium, provided the original work is properly cited (CC BY 4.0).

Share & Cite This Article
MDPI and ACS Style
Niekamp, C.; Atzler, D.; Ojeda, F.M.; Sinning, C.R.; Lackner, K.J.; Böger, R.H.; Munzel, T.; Beutel, M.E.; Schmidtmann, I.; Pfeiffer, N.; Leuschner, A.; Blankenberg, S.; Wild, P.S.; Zeller, T.; Schwedhelm, E.; Schnabel, R.B. Cross-Sectional Associations between Homoarginine, Intermediate Phenotypes, and Atrial Fibrillation in the Community—The Gutenberg Health Study. Biomolecules 2018, 8, 86.
Note that from the first issue of 2016, MDPI journals use article numbers instead of page numbers. See further details here.
Related Articles
Comments
[Return to top]