Assessment of the Quorum Sensing Inhibition Activity of a Non-Toxic Chitosan in an
N

-Acyl Homoserine Lactone (AHL)-Based

Escherichia coli

Biosensor

1

Institute of Plant Biology and Biotechnology, University of Münster, Schlossplatz 8, 48143 Münster, Germany

2

Institute of Human Genetics, University Hospital Münster, Vesaliusweg 12-14, 48149 Münster, Germany

3

School of Food Science and Nutrition, University of Leeds, Leeds LS2 9JT, UK

*

Author to whom correspondence should be addressed.

Received: 20 July 2018 / Revised: 21 August 2018 / Accepted: 27 August 2018 / Published: 4 September 2018
Abstract
New approaches to deal with drug-resistant pathogenic bacteria are urgent. We studied the antibacterial effect of chitosans against an
Escherichia coli
quorum sensing biosensor reporter strain and selected a non-toxic chitosan to evaluate its quorum sensing (QS) inhibition activity and its effect on bacterial aggregation. To this end, chitosans of varying degree of acetylation (DA) (12 to 69%) and molecular weight (
Mw
) (29 to 288 kDa) were studied. Only chitosans of low DA (~12%) inhibited bacterial growth, regardless of their
Mw
. A chitosan with medium degree of polymerization (named MDP) DA30, with experimental DA 42% and
Mw
115 kDa was selected for further QS inhibition and scanning electron microscopy (SEM) imaging studies. MDP DA30 chitosan exhibited QS inhibition activity in an inverse dose-dependent manner (≤12.5 µg/mL). SEM images revealed that this chitosan, when added at low concentration (≤30.6 µg/mL), induced substantial bacterial aggregation, whereas at high concentration (234.3 µg/mL), it did not. Aggregation explains the QS inhibition activity as the consequence of retardation of the diffusion of
N
-acylated homoserine lactones (AHLs).
View Full-Text
►

▼

Figures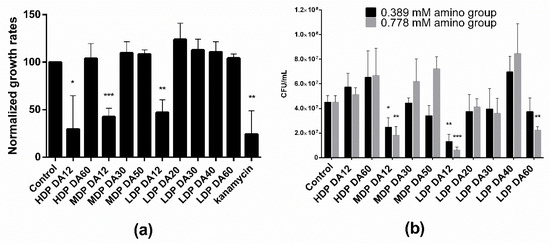 Figure 1
This is an open access article distributed under the
Creative Commons Attribution License
which permits unrestricted use, distribution, and reproduction in any medium, provided the original work is properly cited (CC BY 4.0).

Share & Cite This Article
MDPI and ACS Style
Qin, X.; Emich, J.; Goycoolea, F.M. Assessment of the Quorum Sensing Inhibition Activity of a Non-Toxic Chitosan in an N-Acyl Homoserine Lactone (AHL)-Based Escherichia coli Biosensor. Biomolecules 2018, 8, 87.
Note that from the first issue of 2016, MDPI journals use article numbers instead of page numbers. See further details here.
Related Articles
Comments
[Return to top]