Effects of Immobilizations of rhBMP-2 and/or rhPDGF-BB on Titanium Implant Surfaces on Osseointegration and Bone Regeneration
1
Department of Prosthodontics, Dental Research Institute, Institute of Translational Dental Sciences, BK21 PLUS Project, School of Dentistry, Pusan National University, 49 Pusan University-Ro, Yangsan-Si 50612, Gyeongsangnam-Do, Korea
2
Department of Orthopedic Surgery and Rare Diseases Institute, Korea University Medical College, Guro Hospital, #80, Guro-dong, Guro-gu, Seoul 08308, Korea
*
Author to whom correspondence should be addressed.
†
These authors contributed equally to this work.
Received: 23 November 2017 / Revised: 28 December 2017 / Accepted: 30 December 2017 / Published: 31 December 2017
Abstract
The aim of this study was to examine the effects of immobilizing rhPDGF-BB plus rhBMP-2 on heparinized-Ti implants on in vivo osseointegration and vertical bone regeneration at alveolar ridges. Successful immobilizations of rhPDGF-BB and/or rhBMP-2 onto heparinized-Ti (Hepa/Ti) were confirmed by in vitro analysis, and both growth factors were found to be sustained release. To evaluate bone regeneration, rhPDGF-BB, and/or rhBMP-2-immobilized Hepa/Ti implants were inserted into beagle dogs; implant stability quotients (ISQ), bone mineral densities, bone volumes, osseointegration, and bone formation were assessed by micro CT and histometrically. In vivo study showed that the osseointegration and bone formation were greater in the rhPDGF-BB/rhBMP-2-immobilized Hepa/Ti group than in the rhPDGF-BB-immobilized Hepa/Ti group. The rhPDGF-BB/rhBMP-2 immobilized Hepa/Ti group also showed better implant stability and greater bone volume around defect areas and intra-thread bone density (ITBD) than the rhBMP-2-immobilized Hepa/Ti group. However, no significant differences were observed between these two groups. Through these results, we conclude rhBMP-2 immobilized, heparin-grafted implants appear to offer a suitable delivery system that enhances new bone formation in defect areas around implants. However, we failed to observe the synergetic effects for the rhBMP-2 and rhPDGF-BB combination.
View Full-Text
►

▼

Figures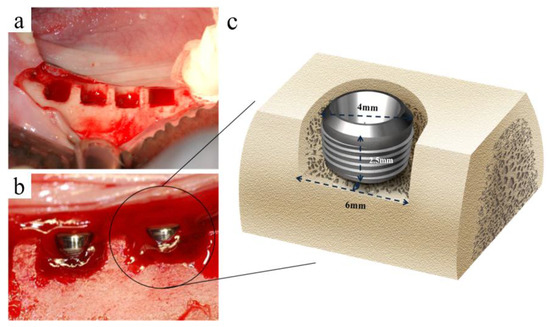 Figure 1
This is an open access article distributed under the
Creative Commons Attribution License
which permits unrestricted use, distribution, and reproduction in any medium, provided the original work is properly cited (CC BY 4.0).

Share & Cite This Article
MDPI and ACS Style
Lee, S.-H.; Bae, E.-B.; Kim, S.-E.; Yun, Y.-P.; Kim, H.-J.; Choi, J.-W.; Lee, J.-J.; Huh, J.-B. Effects of Immobilizations of rhBMP-2 and/or rhPDGF-BB on Titanium Implant Surfaces on Osseointegration and Bone Regeneration. Coatings 2018, 8, 17.
Note that from the first issue of 2016, MDPI journals use article numbers instead of page numbers. See further details here.
Related Articles
Comments
[Return to top]