Surface Free Energy Utilization to Evaluate Wettability of Hydrocolloid Suspension on Different Vegetable Epicarps
1
Department of Food Science and Technology, Universidad de Santiago de Chile, Santiago 9160000, Chile
2
Department of Mechanical Engineering, Universidad Federico Santa María, Santiago 8940000, Chile
3
Department of Food Engineering, Universidad de Córdoba, Montería 230002, Colombia
4
Department of Food Engineering, Universidad del Bío-Bío, Chillán 3800708, Chile
*
Author to whom correspondence should be addressed.
Academic Editor: Isabel Coelhoso
Received: 26 September 2017 / Revised: 19 December 2017 / Accepted: 21 December 2017 / Published: 30 December 2017
Abstract
Surface free energy is an essential physicochemical property of a solid and it greatly influences the interactions between vegetable epicarps and coating suspensions. Wettability is the property of a solid surface to reduce the surface tension of a liquid in contact with it such that it spreads over the surface and wets it, resulting from intermolecular interactions when the two are brought together. The degree of wetting (wettability) is determined by an energy balance between adhesive and cohesive work. The spreading coefficient (
S
cf/food
) is the difference between the work of adhesion and the work of cohesion. Surface wettability is measured by the contact angle, which is formed when a droplet of a liquid is placed on a surface. The objective of this work was to determine the effect of hydroxypropyl methylcellulose (HPMC), κ-carrageenan, glycerol, and cellulose nanofiber (CNF) concentrations on the wettability of edible coatings on banana and eggplant epicarps. Coating suspension wettability on both epicarps were evaluated by contact angle measurements. For the (
S
cf/food
) values obtained, it can be concluded that the surfaces were partially wet by the suspensions.
S
cf/food
on banana surface was influenced mainly by κ-carrageenan concentration, HPMC-glycerol, κ-carrageenan-CNF, and glycerol-CNF interactions. Thus, increasing κ-carrageenan concentrations within the working range led to a 17.7% decrease in
S
cf/banana
values. Furthermore, a HPMC concentration of 3 g/100 g produced a 10.4% increase of the
S
cf/banana
values. Finally,
S
cf/fruit
values for banana epicarps were higher (~10%) than those obtained for eggplant epicarp, indicating that suspensions wetted more the banana than the eggplant surface.
View Full-Text
►

▼

Figures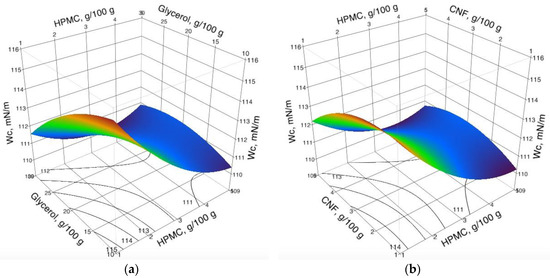 Figure 1
This is an open access article distributed under the
Creative Commons Attribution License
which permits unrestricted use, distribution, and reproduction in any medium, provided the original work is properly cited (CC BY 4.0).

Share & Cite This Article
MDPI and ACS Style
Osorio, F.; Valdés, G.; Skurtys, O.; Andrade, R.; Villalobos-Carvajal, R.; Silva-Weiss, A.; Silva-Vera, W.; Giménez, B.; Zamorano, M.; Lopez, J. Surface Free Energy Utilization to Evaluate Wettability of Hydrocolloid Suspension on Different Vegetable Epicarps. Coatings 2018, 8, 16.
Note that from the first issue of 2016, MDPI journals use article numbers instead of page numbers. See further details here.
Related Articles
Comments
[Return to top]