Ranolazine-Functionalized Copper Nanoparticles as a Colorimetric Sensor for Trace Level Detection of As3+
1
National Centre of Excellence in Analytical Chemistry, University of Sindh, Jamshoro 76080, Pakistan
2
Department of Chemistry, College of Science, King Saud University, Riyadh 11451, Saudi Arabia
3
Department of Chemistry, Faculty of Science, Sohag University, Sohag 82524, Egypt
4
Department of Chemistry, College of Science, Princess Nourah bint Abdulrahman University, Riyadh 11451, Saudi Arabia
5
National Centre of Excellence in Physical Chemistry, University of Peshawar, Peshawar 25120, Pakistan
6
International Centre of Chemical and Biological Science, HEJ Research Institute of Chemistry, University of Karachi, Karachi 75270, Pakistan
7
Department of Metallurgy and Materials Engineering, Mehran University of Engineering & Technology, Jamshoro 76080, Pakistan
8
Dr. MA Kazi Institute of Chemistry, University of Sindh, Jamshoro 76080, Pakistan
9
Centre for Advanced Materials and Industrial Chemistry (CAMIC), School of Applied Sciences, RMIT University, GPO BOX 2476, Melbourne 3001, Australia
*
Authors to whom correspondence should be addressed.
Received: 1 December 2018 / Revised: 3 January 2019 / Accepted: 4 January 2019 / Published: 10 January 2019
Abstract
This study involves environmentally friendly synthesis of copper nanoparticles in aqueous medium without inert gas protection, using ranolazine as a capping material. UV-Visible (UV-Vis) spectrometry showed that ranolazine-derived copper nanoparticles (Rano-Cu NPs) demonstrate a localized surface plasmon resonance (LSPR) band at 573 nm with brick-red color under optimized parameters, including pH, reaction time, and concentrations of copper salt, hydrazine hydrate, and ranolazine. The coating of ranolazine on the surface of Cu NPs was studied via Fourier transform infrared (FTIR) spectroscopy. Scanning electron microscopy (SEM) revealed that Rano-Cu NPs consist of spherical particles. X-ray diffraction (XRD) verified that Rano-Cu NPs are crystalline in nature. Atomic force microscopy (AFM) showed that the average size of Rano-Cu NPs was 40 ± 2 nm in the range of 22–95 nm. Rano-Cu NPs proved to be highly sensitive as a selective colorimetric sensor for As
3+
via color change from brick red to dark green, in the linear range of 3.0 × 10
−7
to 8.3 × 10
−6
M, with an R² value of 0.9979. The developed sensor is simple, cost effective, highly sensitive, and extremely selective for As
3+
detection, showing a low detection limit (LDL) of 1.6 × 10
−8
M. The developed sensor was effectively tested for detection of As
3+
in some water samples.
View Full-Text
►

▼

Figures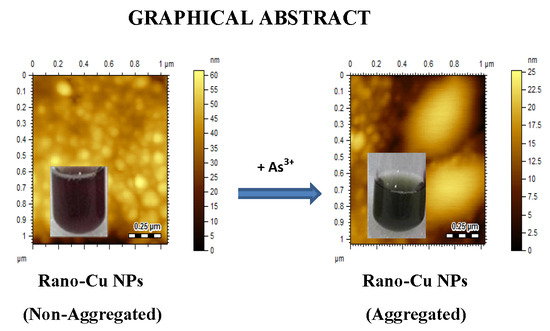 Graphical abstract
This is an open access article distributed under the
Creative Commons Attribution License
which permits unrestricted use, distribution, and reproduction in any medium, provided the original work is properly cited (CC BY 4.0).

Share & Cite This Article
MDPI and ACS Style
Laghari, G.N.; Nafady, A.; Al-Saeedi, S.I.; Sirajuddin; Sherazi, S.T.H.; Nisar, J.; Shah, M.R.; Abro, M.I.; Arain, M.; Bhargava, S.K. Ranolazine-Functionalized Copper Nanoparticles as a Colorimetric Sensor for Trace Level Detection of As3+. Nanomaterials 2019, 9, 83.
Note that from the first issue of 2016, MDPI journals use article numbers instead of page numbers. See further details here.
Related Articles
Comments
[Return to top]