Nano-MnO2 Decoration of TiO2 Microparticles to Promote Gaseous Ethanol Visible Photoremoval
1
Chemistry Department, University of Milan, via Golgi 19, 20133 Milano, Italy
2
Chemical Engineering Department, Ècole Polytechnique Montréal, Pavillon Principal, Centre-Ville, Montréal, QC H3C 3A4, Canada
3
National Consortium for Materials Science and Technology (INSTM), via Giusti 9, 50121 Florence, Italy
4
Chemistry Department & NIS Centre, University of Turin, via Pietro Giuria 7, 10125 Turin, Italy
*
Author to whom correspondence should be addressed.
Received: 11 August 2018 / Revised: 27 August 2018 / Accepted: 31 August 2018 / Published: 3 September 2018
Abstract
TiO
2
-based photocatalysis under visible light is an attractive way to abate air pollutants. Moreover, developing photocatalytic materials on a large-scale requires safe and low-cost precursors. Both high-performance TiO
2
nanopowders and visible-light active noble metals do not match these requirements. Here, we report the design of novel Mn-decorated micrometric TiO
2
particles. Pigmentary TiO
2
replaced unsafe nano-TiO
2
and firmly supported MnO
x
particles. Mn replaced noble metals such as Au or Ag, opening the way for the development of lower cost catalysts. Varying Mn loading or pH during the impregnation affected the final activity, thus giving important information to optimize the synthesis. Photocatalytic activity screening occurred on the gas-phase degradation of ethanol as a reference molecule, both under ultraviolet (UV) (6 h) and Light Emitting Diode (LED) (24 h) irradiation. Mn-doped TiO
2
reached a maximum ethanol degradation of 35% under visible light after 24 h for the sample containing 20% of Mn. Also, we found that an acidic pH increased both ethanol degradation and mineralization to CO
2
, while an alkaline pH drastically slowed down the reaction. A strict correlation between photocatalytic results and physico-chemical characterizations of the synthesized powders were drawn.
View Full-Text
►

▼

Figures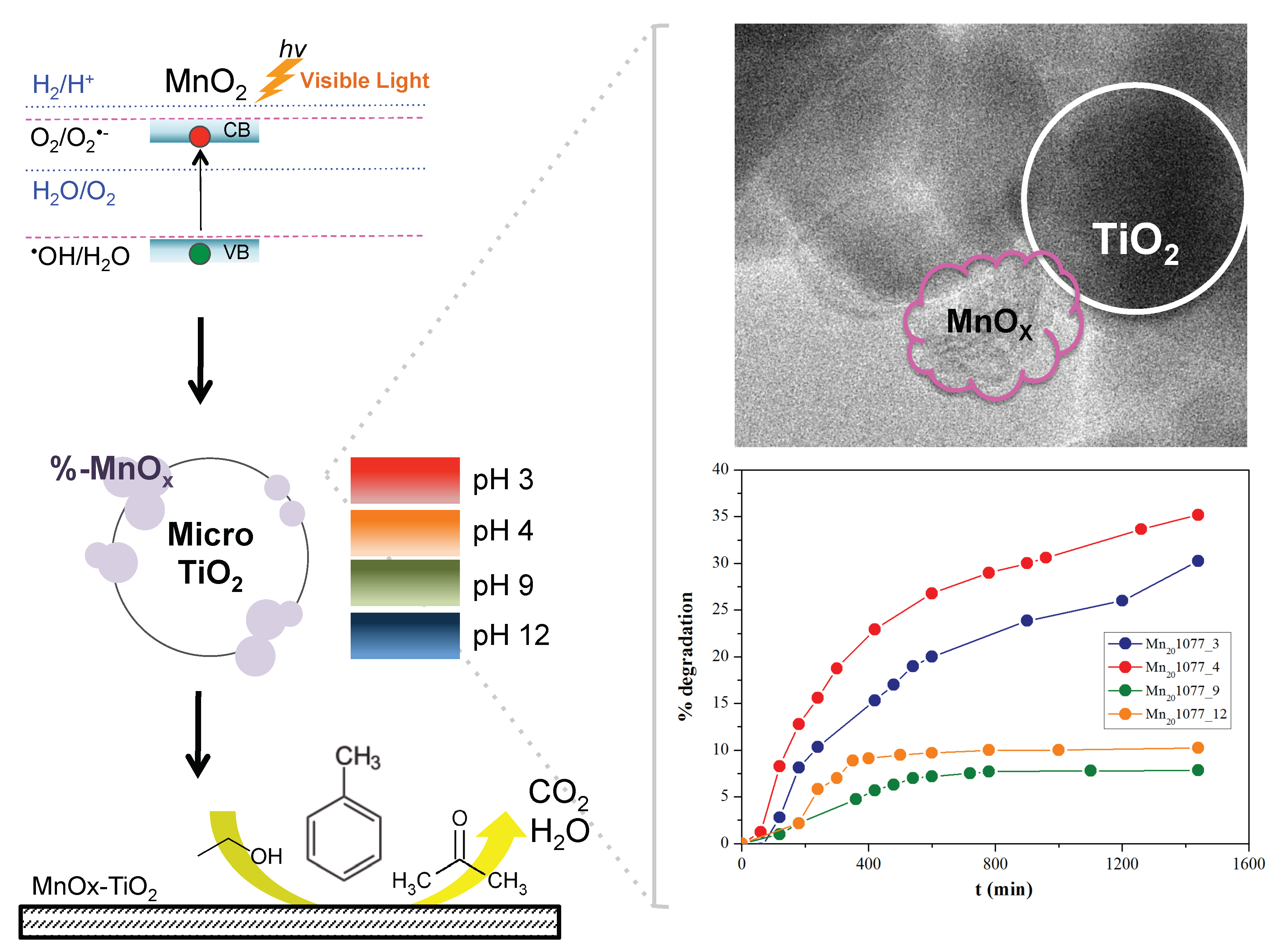 Graphical abstract
This is an open access article distributed under the
Creative Commons Attribution License
which permits unrestricted use, distribution, and reproduction in any medium, provided the original work is properly cited (CC BY 4.0).

Share & Cite This Article
MDPI and ACS Style
Stucchi, M.; Boffito, D.C.; Pargoletti, E.; Cerrato, G.; Bianchi, C.L.; Cappelletti, G. Nano-MnO2 Decoration of TiO2 Microparticles to Promote Gaseous Ethanol Visible Photoremoval. Nanomaterials 2018, 8, 686.
Note that from the first issue of 2016, MDPI journals use article numbers instead of page numbers. See further details here.
Related Articles
Comments
[Return to top]