Periodontal Tissues, Maxillary Jaw Bone, and Tooth Regeneration Approaches: From Animal Models Analyses to Clinical Applications
1
INSERM (French National Institute of Health and Medical Research), UMR 1260, Regenerative NanoMedicine (RNM), FMTS, 67000 Strasbourg, France
2
Faculty of Dentistry, University of Strasbourg (UDS), 8 rue Ste Elisabeth, 67000 Strasbourg, France
3
Departement of Pediatric Dentistry, Pôle de Médecine et Chirurgie Bucco-Dentaires, Hôpitaux Universitaires de Strasbourg (HUS), 1 place de l'Hôpital, 67000 Strasbourg, France
4
Department of Periodontology, Pôle de Médecine et Chirurgie Bucco-Dentaires, Hôpitaux Universitaires de Strasbourg (HUS), 1 place de l'Hôpital, 67000 Strasbourg, France
5
Department of Oral Surgery, Pôle de Médecine et Chirurgie Bucco-Dentaires, Hôpitaux Universitaires de Strasbourg (HUS), 1 place de l'Hôpital, 67000 Strasbourg, France
*
Author to whom correspondence should be addressed.
†
These authors participated equally in this work.
Received: 24 April 2018 / Revised: 14 May 2018 / Accepted: 15 May 2018 / Published: 16 May 2018
Abstract
This review encompasses different pre-clinical bioengineering approaches for periodontal tissues, maxillary jaw bone, and the entire tooth. Moreover, it sheds light on their potential clinical therapeutic applications in the field of regenerative medicine. Herein, the electrospinning method for the synthesis of polycaprolactone (PCL) membranes, that are capable of mimicking the extracellular matrix (ECM), has been described. Furthermore, their functionalization with cyclosporine A (CsA), bone morphogenetic protein-2 (BMP-2), or anti-inflammatory drugs' nanoreservoirs has been demonstrated to induce a localized and targeted action of these molecules after implantation in the maxillary jaw bone. Firstly, periodontal wound healing has been studied in an induced periodontal lesion in mice using an ibuprofen-functionalized PCL membrane. Thereafter, the kinetics of maxillary bone regeneration in a pre-clinical mouse model of surgical bone lesion treated with BMP-2 or BMP-2/Ibuprofen functionalized PCL membranes have been analyzed by histology, immunology, and micro-computed tomography (micro-CT). Furthermore, the achievement of innervation in bioengineered teeth has also been demonstrated after the co-implantation of cultured dental cell reassociations with a trigeminal ganglia (TG) and the cyclosporine A (CsA)-loaded poly(lactic-co-glycolic acid) (PLGA) scaffold in the jaw bone. The prospective clinical applications of these different tissue engineering approaches could be instrumental in the treatment of various periodontal diseases, congenital dental or cranio-facial bone anomalies, and post-surgical complications.
View Full-Text
►

▼

Figures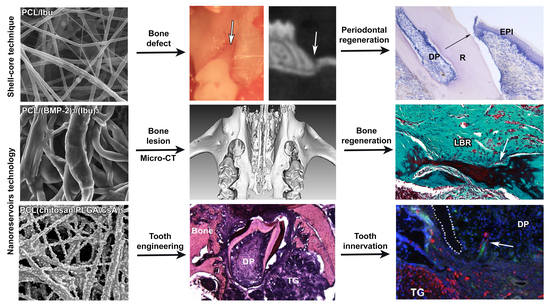 Graphical abstract
This is an open access article distributed under the
Creative Commons Attribution License
which permits unrestricted use, distribution, and reproduction in any medium, provided the original work is properly cited (CC BY 4.0).

Share & Cite This Article
MDPI and ACS Style
Batool, F.; Strub, M.; Petit, C.; Bugueno, I.M.; Bornert, F.; Clauss, F.; Huck, O.; Kuchler-Bopp, S.; Benkirane-Jessel, N. Periodontal Tissues, Maxillary Jaw Bone, and Tooth Regeneration Approaches: From Animal Models Analyses to Clinical Applications. Nanomaterials 2018, 8, 337.
Note that from the first issue of 2016, MDPI journals use article numbers instead of page numbers. See further details here.
Related Articles
Comments
[Return to top]