Comparison of Branched and Linear Perfluoropolyether Chains Functionalization on Hydrophobic, Morphological and Conductive Properties of Multi-Walled Carbon Nanotubes
1
Dipartimento di Chimica, Materiali e Ingegneria Chimica, Politecnico di Milano, via Mancinelli 7, I-20131 Milano, Italy
2
Consorzio Interuniversitario Nazionale per la Scienza e Tecnologia dei Materiali (UdR-PoliMi), via G. Giusti, 9, 50121 Firenze, Italy
3
Dipartimento di Chimica, Università degli Studi di Milano, via Golgi 19, I-20133 Milano, Italy
4
Consorzio Interuniversitario Nazionale per la Scienza e Tecnologia dei Materiali (UdR-UniMi), via G. Giusti, 9, 50121 Firenze, Italy
*
Authors to whom correspondence should be addressed.
Received: 14 February 2018 / Revised: 15 March 2018 / Accepted: 15 March 2018 / Published: 19 March 2018
Abstract
The functionalization of multi-walled carbon nanotubes (MW-CNTs) was obtained by generating reactive perfluoropolyether (PFPE) radicals that can covalently bond to MW-CNTs' surface. Branched and linear PFPE peroxides with equivalent molecular weights of 1275 and 1200 amu, respectively, have been thermally decomposed for the production of PFPE radicals. The functionalization with PFPE chains has changed the wettability of MW-CNTs, which switched their behavior from hydrophilic to super-hydrophobic. The low surface energy properties of PFPEs have been transferred to MW-CNTs surface and branched units with trifluoromethyl groups, CF
3
, have conferred higher hydrophobicity than linear units. Porosimetry discriminated the effects of PFPE functionalization on meso-porosity and macro-porosity. It has been observed that reactive sites located in MW-CNTs mesopores have been intensively functionalized by branched PFPE peroxide due to its low average molecular weight. Conductivity measurements at different applied pressures have showed that the covalent linkage of PFPE chains, branched as well as linear, weakly modified the electrical conductivity of MW-CNTs. The decomposed portions of PFPE residues, the PFPE chains bonded on carbon nanotubes, and the PFPE fluids obtained by homo-coupling side-reactions were evaluated by mass balances. PFPE-modified MW-CNTs have been characterized by X-ray photoelectron spectroscopy (XPS), scanning electron microscopy (SEM), thermogravimetric analysis (TGA), static contact angle (SCA), surface area, and porosity measurements.
View Full-Text
►

▼

Figures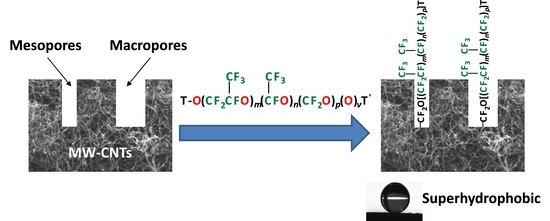 Graphical abstract
This is an open access article distributed under the
Creative Commons Attribution License
which permits unrestricted use, distribution, and reproduction in any medium, provided the original work is properly cited (CC BY 4.0).

Share & Cite This Article
MDPI and ACS Style
Sansotera, M.; Talaeemashhadi, S.; Gambarotti, C.; Pirola, C.; Longhi, M.; Ortenzi, M.A.; Navarrini, W.; Bianchi, C.L. Comparison of Branched and Linear Perfluoropolyether Chains Functionalization on Hydrophobic, Morphological and Conductive Properties of Multi-Walled Carbon Nanotubes. Nanomaterials 2018, 8, 176.
Note that from the first issue of 2016, MDPI journals use article numbers instead of page numbers. See further details here.
Related Articles
Comments
[Return to top]