Polyaspartamide-Based Nanoparticles Loaded with Fluticasone Propionate and the In Vitro Evaluation towards Cigarette Smoke Effects
1
Laboratory of Biocompatible Polymers, Dipartimento di Scienze e Tecnologie, Biologiche, Chimiche e Farmaceutiche (STEBICEF), Università di Palermo, via Archirafi 32, 90123 Palermo, Italy
2
Istituto di Biomedicina e Immunologia Molecolare, Consiglio Nazionale delle Ricerche-via Ugo La Malfa 153, 90146 Palermo, Italy
3
Istituto per lo Studio dei Materiali Nanostrutturati-U.O.S. di Palermo, Consiglio Nazionale delle Ricerche-via Ugo La Malfa 153, 90146 Palermo, Italy
*
Author to whom correspondence should be addressed.
Received: 17 July 2017 / Revised: 4 August 2017 / Accepted: 10 August 2017 / Published: 13 August 2017
Abstract
This paper describes the evaluation of polymeric nanoparticles (NPs) as a potential carrier for lung administration of fluticasone propionate (FP). The chosen polymeric material to produce NPs was a copolymer based on α,β-poly(
N
-2-hydroxyethyl)-
d
,
l
-aspartamide (PHEA) whose backbone was derivatised with different molecules, such as poly(lactic acid) (PLA) and polyethylenglycol (PEG). The chosen method to produce NPs from PHEA-PLA-PEG
2000
was the method based on high-pressure homogenization and subsequent solvent evaporation by adding Pluronic F68 during the process and trehalose before lyophilisation. Obtained colloidal FP-loaded NPs showed a slightly negative surface charge and nanometric dimensions that are maintained after storage for one year at −20 °C and 5 °C. The FP loading was about 2.9 wt % and the drug was slowly released in simulated lung fluid. Moreover, the obtained NPs, containing the drug or not, were biocompatible and did not induce cell necrosis and cell apoptosis on bronchial epithelial cells (16-HBE). Further in vitro testing on cigarette smoke extract (CSE)-stimulated 16-HBE revealed that FP-loaded NPs were able to reduce the survivin expression, while either free FP or empty NPs were not able to significantly reduce this effect.
View Full-Text
►

▼

Figures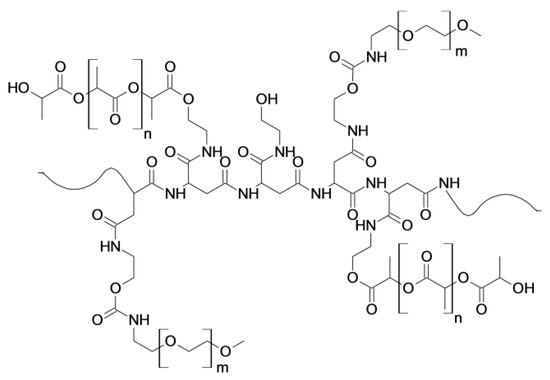 Figure 1
This is an open access article distributed under the
Creative Commons Attribution License
which permits unrestricted use, distribution, and reproduction in any medium, provided the original work is properly cited (CC BY 4.0).

Share & Cite This Article
MDPI and ACS Style
Craparo, E.F.; Ferraro, M.; Pace, E.; Bondì, M.L.; Giammona, G.; Cavallaro, G. Polyaspartamide-Based Nanoparticles Loaded with Fluticasone Propionate and the In Vitro Evaluation towards Cigarette Smoke Effects. Nanomaterials 2017, 7, 222.
Note that from the first issue of 2016, MDPI journals use article numbers instead of page numbers. See further details here.
Related Articles
Comments
[Return to top]