AuPd Bimetallic Nanocrystals Embedded in Magnetic Halloysite Nanotubes: Facile Synthesis and Catalytic Reduction of Nitroaromatic Compounds
1
School of Chemistry and Chemical Engineering, Henan Polytechnic University, Jiaozuo 454000, China
2
Collaborative Innovation Center of Coal Work Safety, Jiaozuo 454000, China
3
School of Chemistry and Engineering, Heze University, Heze 274015, China
*
Author to whom correspondence should be addressed.
Received: 28 September 2017 / Revised: 13 October 2017 / Accepted: 13 October 2017 / Published: 17 October 2017
Abstract
In this research, a facile and effective approach was developed for the preparation of well-designed AuPd alloyed catalysts supported on magnetic halloysite nanotubes (
[email protected]
3
O
4
@AuPd). The microstructure and the magnetic properties of
[email protected]
3
O
4
@AuPd were confirmed by transmission electron microscopy (TEM), high resolution TEM (HRTEM), energy-dispersive X-ray spectroscopy (EDS), and vibrating sample magnetometry (VSM) analyses. The catalysts, fabricated by a cheap, environmentally friendly, and simple surfactant-free formation process, exhibited high activities during the reduction of 4-nitrophenol and various other nitroaromatic compounds. Moreover, the catalytic activities of the
[email protected]
3
O
4
@AuPd nanocatalysts were tunable via adjusting the atomic ratio of AuPd during the synthesis. As compared with the monometallic nanocatalysts (
[email protected]
3
O
4
@Au and
[email protected]
3
O
4
@Pd), the bimetallic alloyed
[email protected]
3
O
4
@AuPd nanocatalysts exhibited excellent catalytic activities toward the reduction of 4-nitrophenol (4-NP) to 4-aminophenol. Furthermore, the as-obtained
[email protected]
3
O
4
@AuPd can be recycled several times, while retaining its functionality due to the stability and magnetic separation property.
View Full-Text
►

▼

Figures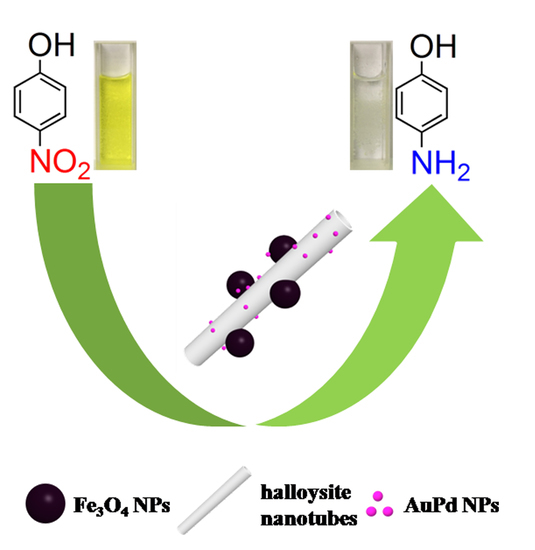 Graphical abstract
This is an open access article distributed under the
Creative Commons Attribution License
which permits unrestricted use, distribution, and reproduction in any medium, provided the original work is properly cited (CC BY 4.0).

Share & Cite This Article
MDPI and ACS Style
Jia, L.; Zhou, T.; Xu, J.; Li, F.; Xu, Z.; Zhang, B.; Guo, S.; Shen, X.; Zhang, W. AuPd Bimetallic Nanocrystals Embedded in Magnetic Halloysite Nanotubes: Facile Synthesis and Catalytic Reduction of Nitroaromatic Compounds. Nanomaterials 2017, 7, 333.
Note that from the first issue of 2016, MDPI journals use article numbers instead of page numbers. See further details here.
Related Articles
Comments
[Return to top]