γ-Glutamyltransferase Variability and the Risk of Mortality, Myocardial Infarction, and Stroke: A Nationwide Population-Based Cohort Study
1
Division of Endocrinology and Metabolism, Department of Internal Medicine, Kangnam Sacred Heart Hospital, College of Medicine, Hallym University, #1, Singil-ro, Yeongdeungpo-gu, Seoul 07441, Korea
2
Clinical Research Center, Asan Medical Center, College of Medicine, Ulsan University, #88, Olympic-ro 43-gil, Songpa-gu, Seoul 05505, Korea
3
Division of Endocrinology and Metabolism, Department of Internal Medicine, Korea University Guro Hospital, College of Medicine, Korea University, 80 Guro-Dong, Guro-Gu, Seoul 08308, Korea
4
Division of Endocrinology and Metabolism, Department of Internal Medicine, Korea University Ansan Hospital, College of Medicine, Korea University, #123, Jeokgeum-ro, Danwon-gu, Ansan-si 15355, Korea
5
Division of Endocrinology and Metabolism, Department of Internal Medicine, Korea University Anam Hospital, College of Medicine, Korea University, #145, Anam-ro, Seongbuk-gu, Seoul 02841, Korea
*
Author to whom correspondence should be addressed.
†
These authors contributed equally to this work.
Received: 31 March 2019 / Revised: 8 June 2019 / Accepted: 11 June 2019 / Published: 12 June 2019
Abstract
Although it has been suggested that the γ-glutamyltransferase (GGT) level is an indicator of cardiometabolic disorders, there is no previous study to evaluate the implication of GGT variability on the development of myocardial infarction (MI), stroke, all-cause mortality, and cardiovascular disease (CVD)-related mortality. GGT variability was measured as the coefficient variance (GGT-CV), standard deviation (GGT-SD), and variability independent of the mean (GGT-VIM). Using the population-based Korean National Health Insurance Service-Health Screening Cohort, we followed 158,736 Korean adults over a median duration of 8.4 years. In multivariable Cox proportional hazard analysis, the risk of mortality, MI, and stroke showed a stepwise increase according to the quartiles of GGT-CV, GGT-SD or GGT-VIM. In the highest quartile of GGT-CV compared to the lowest quartile after adjusting for confounding variables including mean GGT, the hazard ratios (HRs) for incident MI, stroke, mortality, and CVD-related mortality were 1.19 (95% confidence interval (CI), 1.06–1.34;
p
< 0.001), 1.20 (95% CI, 1.10–1.32;
p
< 0.001), 1.41 (95% CI, 1.33–1.51;
p
< 0.001), and 1.52 (95% CI, 1.30–1.78;
p
< 0.001), respectively, which were similar or even higher compared with those associated with total cholesterol variability. This is the first study to demonstrate that high GGT variability is associated with increased risk of MI, stroke, all-cause mortality, and CVD-related mortality in the general population.
View Full-Text
►

▼

Figures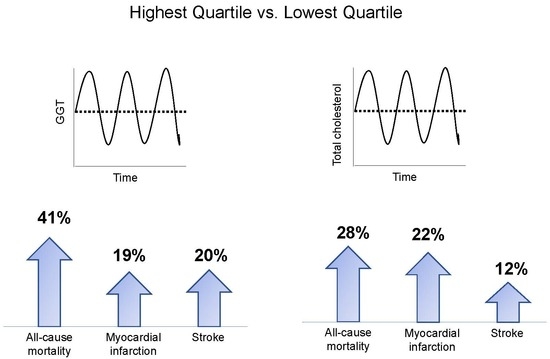 Graphical abstract
This is an open access article distributed under the
Creative Commons Attribution License
which permits unrestricted use, distribution, and reproduction in any medium, provided the original work is properly cited (CC BY 4.0).

Share & Cite This Article
MDPI and ACS Style
Chung, H.S.; Lee, J.S.; Kim, J.A.; Roh, E.; Lee, Y.B.; Hong, S.H.; Yoo, H.J.; Baik, S.H.; Kim, N.H.; Seo, J.A.; Kim, S.G.; Kim, N.H.; Choi, K.M. γ-Glutamyltransferase Variability and the Risk of Mortality, Myocardial Infarction, and Stroke: A Nationwide Population-Based Cohort Study. J. Clin. Med. 2019, 8, 832.
Note that from the first issue of 2016, MDPI journals use article numbers instead of page numbers. See further details here.
Related Articles
Comments
[Return to top]