The Effect of Aspirin on Preventing Vascular Access Dysfunction in Incident Hemodialysis Patients: A Prospective Cohort Study in Korean Clinical Research Centers for End-Stage Renal Disease (CRC for ESRD)
1
Department of Internal Medicine, International St, Mary's Hospital, Catholic Kwandong University College of Medicine, Incheon 22711, Korea
2
Ewha Institute of Convergence Medicine, Ewha Womans University Mokdong Hospital, Seoul 07985, Korea
3
Department of Internal Medicine, Seoul National University of Medicine, Seoul 03080, Korea
4
Department of Internal Medicine, Kyungpook National University School of Medicine, Daegu 41944, Korea
5
Department of Internal Medicine, Gachon University Gil Medical Center, Gachon University School of Medicine, Namdong Gu, Incheon 21565, Korea
6
Department of Internal Medicine, School of Medicine, Ewha Womans University, Seoul 07985, Korea
7
Tissue Injury Defense Research Center, Ewha Womans University, Seoul 07985, Korea
*
Authors to whom correspondence should be addressed.
†
Chan Ho Kim and Hyung Jung Oh contributed to this manuscript equally.
Received: 4 May 2019 / Revised: 9 May 2019 / Accepted: 13 May 2019 / Published: 14 May 2019
Abstract
Background:
Aspirin is often prescribed empirically to improve the patency of hemodialysis (HD) vascular access. Therefore, this study aimed to investigate the impact of aspirin on the survival of vascular access in incident HD patients with arteriovenous fistula (AVF) or arteriovenous graft (AVG).
Methods:
A prospective cohort of 881 incident HD patients was enrolled between 2009 and 2014. The primary outcome was defined as the first AVF/AVG intervention or salvage procedure, including percutaneous transluminal angioplasty or surgery for vascular access failure. Cox analyses were performed to determine the association between aspirin usage and the occurrence of the primary outcome.
Results:
The mean age of the patient group was 57.9 ± 13.4, and 63.8% of the patients were male. Aspirin was prescribed in 241 (27.4%) patients, and the median follow-up duration was 30 months. During follow-up, 180 (20.4%) patients experienced the primary outcome event. Univariate analysis showed that age, gender, presence of diabetes mellitus (DM), preexisting peripheral arterial disease, and the type of vascular access used (AVG versus AVF) were significantly associated with the development of the primary outcome. However, aspirin usage from the baseline was not significantly associated with primary outcome events (hazard ratio (HR): 1.16; 95% confidence interval (CI): 0.84–1.60;
p
= 0.378). Multivariate analysis showed that gender, the presence of DM, and the type of vascular access were still significantly associated with the occurrence of the primary outcome. Moreover, we did not observe the protective effect of taking aspirin on primary vascular access failure, even in subgroup analyses stratified according to gender, the presence of DM, and the type of vascular access.
Conclusion:
Physicians should carefully consider when they prescribe aspirin for the prevention of primary vascular access failure in Korean incident HD patients. In addition, larger prospective interventional studies are needed to elucidate the effect of aspirin on vascular access failure.
View Full-Text
►

▼

Figures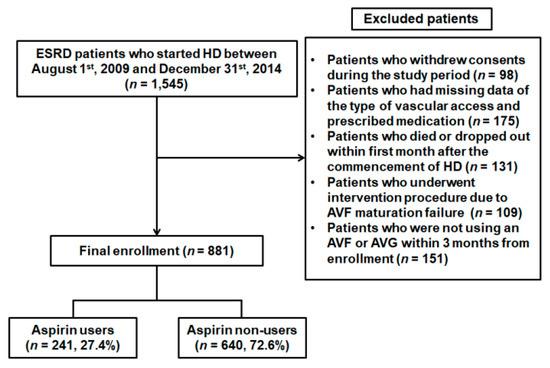 Figure 1
This is an open access article distributed under the
Creative Commons Attribution License
which permits unrestricted use, distribution, and reproduction in any medium, provided the original work is properly cited (CC BY 4.0).

Share & Cite This Article
MDPI and ACS Style
Kim, C.H.; Oh, H.J.; Kim, Y.S.; Kim, Y.-L.; Chang, J.H.; Ryu, D.-R. The Effect of Aspirin on Preventing Vascular Access Dysfunction in Incident Hemodialysis Patients: A Prospective Cohort Study in Korean Clinical Research Centers for End-Stage Renal Disease (CRC for ESRD). J. Clin. Med. 2019, 8, 677.
Note that from the first issue of 2016, MDPI journals use article numbers instead of page numbers. See further details here.
Related Articles
Comments
[Return to top]