Analysis of a Sardinian Multiplex Family with Autism Spectrum Disorder Points to Post-Synaptic Density Gene Variants and Identifies
CAPG

as a Functionally Relevant Candidate Gene

1

Department of Pharmacy and Biotechnology, University of Bologna, 40126 Bologna, Italy

2

Department of Biomedical Sciences, Unit of Biology and Genetics, University of Cagliari, 09042 Cagliari, Italy

3

Department of Medical and Surgical Sciences, DIMEC, St. Orsola-Malpighi Hospital, University of Bologna, 40138 Bologna, Italy

4

Department of Biomedical Sciences, Unit of Oncology and Molecular Pathology, University of Cagliari, 09124 Cagliari, Italy

5

Department of Pedagogy, Psychology, Philosophy, University of Cagliari, 09123 Cagliari, Italy

6

Center for Pervasive Developmental Disorders, AO Brotzu, 09134 Cagliari, Italy

*

Authors to whom correspondence should be addressed.

†

These authors contributed equally to this work.

Received: 15 January 2019 / Revised: 4 February 2019 / Accepted: 5 February 2019 / Published: 7 February 2019
Abstract
Autism spectrum disorders (ASDs) are a group of neurodevelopmental disorders with high heritability, although their underlying genetic factors are still largely unknown. Here we present a comprehensive genetic characterization of two ASD siblings from Sardinia by genome-wide copy number variation analysis and whole exome sequencing (WES), to identify novel genetic alterations associated with this disorder. Single nucleotide polymorphism (SNP) array data revealed a rare microdeletion involving
CAPG
,
ELMOD3,
and
SH2D6
genes, in both siblings.
CAPG
encodes for a postsynaptic density (PSD) protein known to regulate spine morphogenesis and synaptic formation. The reduced
CAPG
mRNA and protein expression levels in ASD patients, in the presence of hemizygosity or a particular genetic and/or epigenetic background, highlighted the functional relevance of
CAPG
as a candidate gene for ASD. WES analysis led to the identification in both affected siblings of a rare frameshift mutation in
VDAC3
, a gene intolerant to loss of function mutation, encoding for a voltage-dependent anion channel localized on PSD. Moreover, four missense damaging variants were identified in genes intolerant to loss of function variation encoding for PSD proteins:
PLXNA2
,
KCTD16
,
ARHGAP21,
and
SLC4A1
. This study identifies
CAPG
and
VDAC3
as candidate genes and provides additional support for genes encoding PSD proteins in ASD susceptibility.
View Full-Text
►

▼

Figures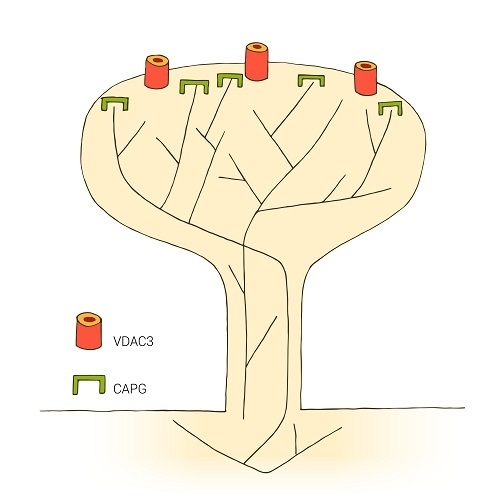 Graphical abstract
This is an open access article distributed under the
Creative Commons Attribution License
which permits unrestricted use, distribution, and reproduction in any medium, provided the original work is properly cited (CC BY 4.0).

Share & Cite This Article
MDPI and ACS Style
Bacchelli, E.; Loi, E.; Cameli, C.; Moi, L.; Benedetti, A.F.V.; Blois, S.; Fadda, A.; Bonora, E.; Mattu, S.; Fadda, R.; Chessa, R.; Maestrini, E.; Doneddu, G.; Zavattari, P. Analysis of a Sardinian Multiplex Family with Autism Spectrum Disorder Points to Post-Synaptic Density Gene Variants and Identifies CAPG as a Functionally Relevant Candidate Gene. J. Clin. Med. 2019, 8, 212.
Note that from the first issue of 2016, MDPI journals use article numbers instead of page numbers. See further details here.
Related Articles
Comments
[Return to top]