Effects of 462 nm Light-Emitting Diode on the Inactivation of
Escherichia coli

and a Multidrug-Resistant by Tetracycline Photoreaction

1

Department of Science Education and Application, National Taichung University of Education, Taichung 40306, Taiwan

2

Department of Biotechnology, Ming-Chuan University, Gui-Shan 33343, Taiwan

3

Division of Infection, Department of Internal Medicine, National Cheng Kung University Hospital, Department of Medicine, College of Medicine, National Cheng Kung University, Tainan 70101, Taiwan

4

Tea Research and Extension Station, Taoyuan 32654, Taiwan

5

Department of Dermatology, National Cheng Kung University Hospital, Department of Biochemistry and Molecular Biology, College of Medicine, Center of Applied Nanomedicine, National Cheng Kung University, Tainan 70101, Taiwan

*

Authors to whom correspondence should be addressed.

Received: 13 August 2018 / Revised: 6 September 2018 / Accepted: 10 September 2018 / Published: 12 September 2018
Abstract
The adaptability of bacterial resistance to antibiotics contributes to its high efficiency during evolution. Tetracycline (TC) is a broad-spectrum antimicrobial agent. Chromatographic analyses and mass spectrometry were used to study the effects of the light illumination of a 462 nm light-emitting diode (LED) on the conformational changes of TC in a phosphate buffer solution (PBS, pH 7.8). Especially, the inactivation of superoxide anion radicals (O
2
•
−
) and
Escherichia coli
(
E. coli
), including that of a multidrug-resistant
E. coli
(
MDR E. coli
), were investigated during the photolysis of TC. A photolysis product of TC (PPT) was generated in an alkaline solution after the illumination of a blue light. The mass spectra of PPT had characteristic ion signals in m/z 459, 445, and 249.1 Da. The PPT has the molecular formula of C
22
H
22
N
2
O
9
, and the exact mass is 458.44 g/mol. The inactivation of
MDR E. coli
is not significant with TC treatment. The drug-resistant ability of
MDR E. coli
has a less significant effect on PPT, and the changed conformation of TC retained the inactivation ability of
MDR E. coli
upon blue light photoreaction. With TC, illuminated by a blue light in a pH 7.8 PBS, O
2
•
−
was generated from TC photolysis, which enhanced the inactivation of
E. coli
and
MDR E. coli
. A 96.6% inactivation rate of
MDR E. coli
was reached with TC under 2.0 mW/cm
2
blue light illumination at 25 ± 3 °C for 120 min, and the effects of the TC-treated photoreaction on
MDR E. coli
viability repressed the growth of
MDR E. coli
by 4 to 5 logs. The present study of the blue light photoreaction of TC offers a new approach to the inactivation of
MDR E. coli.
View Full-Text
►

▼

Figures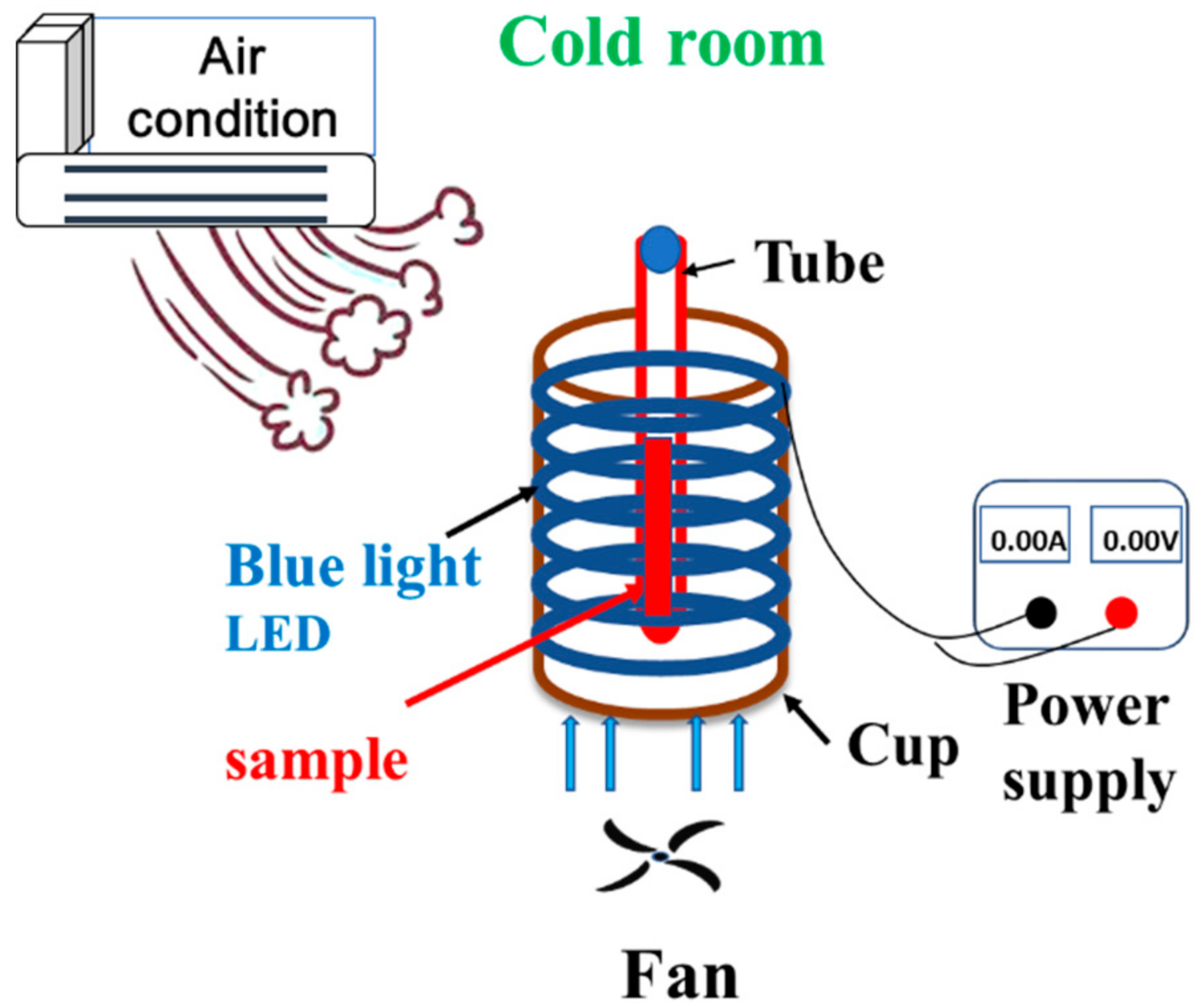 Figure 1
This is an open access article distributed under the
Creative Commons Attribution License
which permits unrestricted use, distribution, and reproduction in any medium, provided the original work is properly cited (CC BY 4.0).

Share & Cite This Article
MDPI and ACS Style
Huang, S.-T.; Wu, C.-Y.; Lee, N.; Cheng, C.-W.; Yang, M.-J.; Hung, Y.-A.; Wong, T.-W.; Liang, J.-Y. Effects of 462 nm Light-Emitting Diode on the Inactivation of Escherichia coli and a Multidrug-Resistant by Tetracycline Photoreaction. J. Clin. Med. 2018, 7, 278.
Note that from the first issue of 2016, MDPI journals use article numbers instead of page numbers. See further details here.
Related Articles
Comments
[Return to top]