Thoracic, Lumbar, and Sacral Pedicle Screw Placement Using Stryker-Ziehm Virtual Screw Technology and Navigated Stryker Cordless Driver 3: Technical Note
1
Division of Neurosurgery, Department of Surgery and Perioperative Care, Dell Medical School, University of Texas at Austin, Austin, TX 78712, USA
2
Department of Neurosurgery, University of Pittsburgh, Pittsburgh, PA 15213, USA
3
Department of Neurosurgery, Seton Brain and Spine Institute, Austin, TX 78712, USA
*
Author to whom correspondence should be addressed.
Received: 5 April 2018 / Revised: 13 April 2018 / Accepted: 13 April 2018 / Published: 17 April 2018
Abstract
Object. Utilization of pedicle screws (PS) for spine stabilization is common in spinal surgery. With reliance on visual inspection of anatomical landmarks prior to screw placement, the free-hand technique requires a high level of surgeon skill and precision. Three-dimensional (3D), computer-assisted virtual neuronavigation improves the precision of PS placement and minimization steps. Methods. Twenty-three patients with degenerative, traumatic, or neoplastic pathologies received treatment via a novel three-step PS technique that utilizes a navigated power driver in combination with virtual screw technology. (1) Following visualization of neuroanatomy using intraoperative CT, a navigated 3-mm match stick drill bit was inserted at an anatomical entry point with a screen projection showing a virtual screw. (2) A Navigated Stryker Cordless Driver with an appropriate tap was used to access the vertebral body through a pedicle with a screen projection again showing a virtual screw. (3) A Navigated Stryker Cordless Driver with an actual screw was used with a screen projection showing the same virtual screw. One hundred and forty-four consecutive screws were inserted using this three-step, navigated driver, virtual screw technique. Results. Only 1 screw needed intraoperative revision after insertion using the three-step, navigated driver, virtual PS technique. This amounts to a 0.69% revision rate. One hundred percent of patients had intraoperative CT reconstructed images taken to confirm hardware placement. Conclusions. Pedicle screw placement utilizing the Stryker-Ziehm neuronavigation virtual screw technology with a three step, navigated power drill technique is safe and effective.
View Full-Text
►

▼

Figures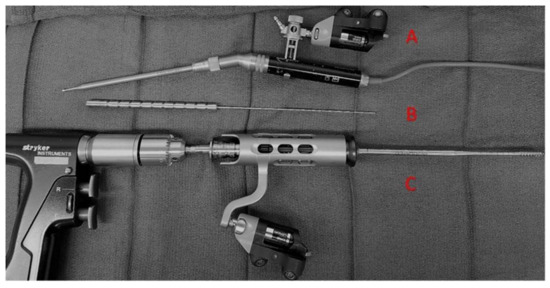 Figure 1
This is an open access article distributed under the
Creative Commons Attribution License
which permits unrestricted use, distribution, and reproduction in any medium, provided the original work is properly cited (CC BY 4.0).

Share & Cite This Article
MDPI and ACS Style
Satarasinghe, P.; Hamilton, K.D.; Tarver, M.J.; Buchanan, R.J.; Koltz, M.T. Thoracic, Lumbar, and Sacral Pedicle Screw Placement Using Stryker-Ziehm Virtual Screw Technology and Navigated Stryker Cordless Driver 3: Technical Note. J. Clin. Med. 2018, 7, 84.
Note that from the first issue of 2016, MDPI journals use article numbers instead of page numbers. See further details here.
Related Articles
Comments
[Return to top]