Tarsal Tunnel Mechanosensitivity Is Increased in Patients with Asthma: A Case-Control Study
1
Nursing and Physical Therapy Department, Institute of Biomedicine (IBIOMED), Faculty of Health Sciences, Universidad de León, 24401 León, Spain
2
Research, Health and Podiatry Unit, Department of Health Sciences. Faculty of Nursing and Podiatry, Universidade da Coruña, 15403 Ferrol, Spain
3
Departament of Allergology, Complexo Hospitalario Universitario de Ferrol, 15405 Ferrol, Spain
4
Facultad de Enfermería, Fisioterapia y Podología, Universidad Complutense de Madrid, 28670 Madrid, Spain
5
Faculty of Health Sciences, Universidad Rey Juan Carlos, 28670 Alcorcón, Spain
6
Department of Nursing, University Center of Plasencia, University of Extremadura, 10600 Plasencia, Spain
*
Author to whom correspondence should be addressed.
Received: 11 November 2018 / Revised: 23 November 2018 / Accepted: 10 December 2018 / Published: 12 December 2018
Abstract
Background:
Based on changes in lung function and musculoskeletal disorders in patients with asthma, this study aimed to compare the tarsal tunnel and fibular bone pressure pain thresholds (PPTs) of patients with asthma and healthy matched-paired controls.
Methods:
A case-control study was performed. One hundred participants were recruited: 50 asthma patients and 50 healthy matched-paired controls. Bilaterally, tarsal tunnel and fibula bone PPTs were registered.
Results:
Statistically significant differences (
p
< 0.01) were shown bilaterally for tarsal tunnel PPT. With the exception of fibula PPT (
p
> 0.05), asthma patients presented less tarsal tunnel PPT than healthy participants. Statistically significant differences (
p
< 0.05) were shown for two linear regression prediction models of the right (
R
2
= 0.279) and left (
R
2
= 0.249) tarsal tunnels PPTs as dependent variables, and based on sex, group, contralateral tarsal tunnel PPT and ipsilateral fibula PPT as independent variables.
Conclusions:
The study findings showed that a bilateral tarsal tunnel mechanosensitivity increase is exhibited in patients diagnosed with asthma. The presence of asthma may bilaterally predict the PPT of tarsal tunnel. These findings may suggest the presence of central sensitization in asthma patients, which could clinically predispose them to musculoskeletal disorders, such as tarsal tunnel syndrome.
View Full-Text
►

▼

Figures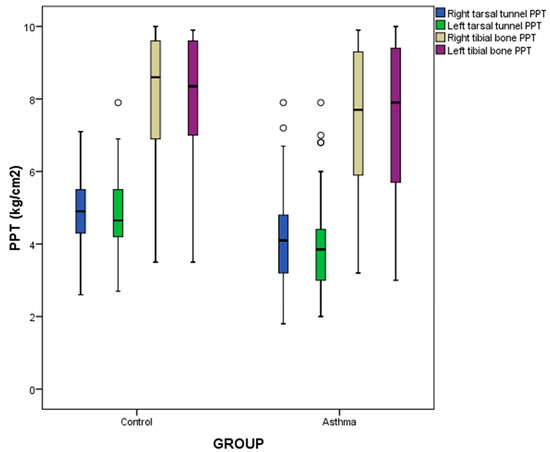 Figure 1
This is an open access article distributed under the
Creative Commons Attribution License
which permits unrestricted use, distribution, and reproduction in any medium, provided the original work is properly cited (CC BY 4.0).

Share & Cite This Article
MDPI and ACS Style
Calvo-Lobo, C.; Painceira-Villar, R.; López-López, D.; García-Paz, V.; Becerro-de-Bengoa-Vallejo, R.; Losa-Iglesias, M.E.; Palomo-López, P. Tarsal Tunnel Mechanosensitivity Is Increased in Patients with Asthma: A Case-Control Study. J. Clin. Med. 2018, 7, 541.
Note that from the first issue of 2016, MDPI journals use article numbers instead of page numbers. See further details here.
Related Articles
Comments
[Return to top]