Identifying Risk of Viral Failure in Treated HIV-Infected Patients Using Different Measures of Adherence: The Antiretroviral Therapy Cohort Collaboration
1
Population Health Sciences, Bristol Medical School, University of Bristol, Bristol BS8 2PS, UK
2
Clinical Epidemiology and Health Services Research Core, Center for AIDS Research, University of Washington, WA 98104, USA
3
Swiss Tropical and Public Health Institute, CH-4002 Basel, Switzerland
4
British Columbia Centre for Excellence in HIV/AIDS, Vancouver, BC V6Z 1Y6, Canada
5
Division of Infectious Diseases, University of Calgary, Calgary, AB T2N 4N1, Canada
6
Southern Alberta Clinic, Calgary, AB T2R 0X7, Canada
7
Istituto Nazionale Malattie Infettive "L. Spallanzani", IRCCS, 00149 Rome, Italy
8
Division of Infectious Disease, Department of Medicine, University of Alabama, Birmingham, AL 35294, USA
9
Yale University School of Medicine, West Haven, CT 06510, USA
10
HIV Atlanta VA Cohort Study (HAVACS), Rollins School of Public Health at Emory University, Atlanta, GA 30322, USA
*
Author to whom correspondence should be addressed.
Received: 14 August 2018 / Revised: 25 September 2018 / Accepted: 28 September 2018 / Published: 5 October 2018
Abstract
Adherence to antiretroviral therapy (ART) is critical for successful treatment of Human Immunodeficiency Virus (HIV), but comparisons across settings are difficult because adherence is measured in different ways. We examined utility of different adherence measures for identification of patients at risk of viral failure (VF). Eight cohorts in the ART Cohort Collaboration contributed data from pharmacy refills or self-report questionnaires collected between 1996 and 2013 (
N
= 11689). For pharmacy data (
N
= 7156), we examined associations of percentage adherence during the 1st year of ART with VF (>500 copies/mL) at 1 year. For self-report data (
N
= 4533), we examined 28-day adherence with VF based on closest viral load measure within 6 months after questionnaire date. Since adherence differed markedly by measurement type, we defined different cut-off points for pharmacy (lower <45%, medium 45–99%, higher 100%) and self-report (lower ≤95%, medium 96–99%, higher 100%) data. Adjusted odds ratios (ORs) for VF in lower and medium, compared to higher adherence groups, were 23.04 (95% CI: 18.44–28.78) and 3.84 (3.36–4.39) for pharmacy data. For self-report data, they were 3.19 (2.31–4.40) and 1.08 (0.80–1.46). Both types of measure were strongly associated with VF. Although adherence measurements over longer time-frames are preferable for prediction, they are less useful for intervention.
View Full-Text
►

▼

Figures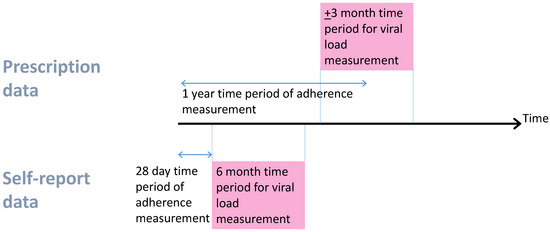 Figure 1
This is an open access article distributed under the
Creative Commons Attribution License
which permits unrestricted use, distribution, and reproduction in any medium, provided the original work is properly cited (CC BY 4.0).

Share & Cite This Article
MDPI and ACS Style
Ingle, S.M.; Crane, H.M.; Glass, T.R.; Yip, B.; Lima, V.D.; Gill, M.J.; Hanhoff, N.; Ammassari, A.; Mugavero, M.J.; Tate, J.P.; Guest, J.; Turner, N.L.; May, M.T.; Sterne, J.A.C. Identifying Risk of Viral Failure in Treated HIV-Infected Patients Using Different Measures of Adherence: The Antiretroviral Therapy Cohort Collaboration. J. Clin. Med. 2018, 7, 328.
Note that from the first issue of 2016, MDPI journals use article numbers instead of page numbers. See further details here.
Related Articles
Comments
[Return to top]