Endophenotypes for Age-Related Macular Degeneration: Extending Our Reach into the Preclinical Stages of Disease
1
Department of Ophthalmology, David Geffen School of Medicine—UCLA, Stein Eye Institute, Los Angeles, CA 90095, USA
2
Departments of Human Genetics and Biostatistics, Graduate School of Public Health, University of Pittsburgh, Pittsburgh, PA 15261, USA
3
Department of Human Genetics, Graduate School of Public Health, University of Pittsburgh, Pittsburgh, PA 15261, USA
4
Department of Health Promotion, School of Nursing, University of Pittsburgh, Pittsburgh, PA 15213, USA
*
Author to whom correspondence should be addressed.
Received: 4 September 2014 / Revised: 7 November 2014 / Accepted: 12 November 2014 / Published: 28 November 2014
Abstract
The key to reducing the individual and societal burden of age-related macular degeneration (AMD)-related vision loss, is to be able to initiate therapies that slow or halt the progression at a point that will yield the maximum benefit while minimizing personal risk and cost. There is a critical need to find clinical markers that, when combined with the specificity of genetic testing, will identify individuals at the earliest stages of AMD who would benefit from preventive therapies. These clinical markers are endophenotypes for AMD, present in those who are likely to develop AMD, as well as in those who have clinical evidence of AMD. Clinical characteristics associated with AMD may also be possible endophenotypes if they can be detected before or at the earliest stages of the condition, but we and others have shown that this may not always be valid. Several studies have suggested that dynamic changes in rhodopsin regeneration (dark adaptation kinetics and/or critical flicker fusion frequencies) may be more subtle indicators of AMD-associated early retinal dysfunction. One can test for the relevance of these measures using genetic risk profiles based on known genetic risk variants. These functional measures may improve the sensitivity and specificity of predictive models for AMD and may also serve to delineate clinical subtypes of AMD that may differ with respect to prognosis and treatment.
View Full-Text
►

▼

Figures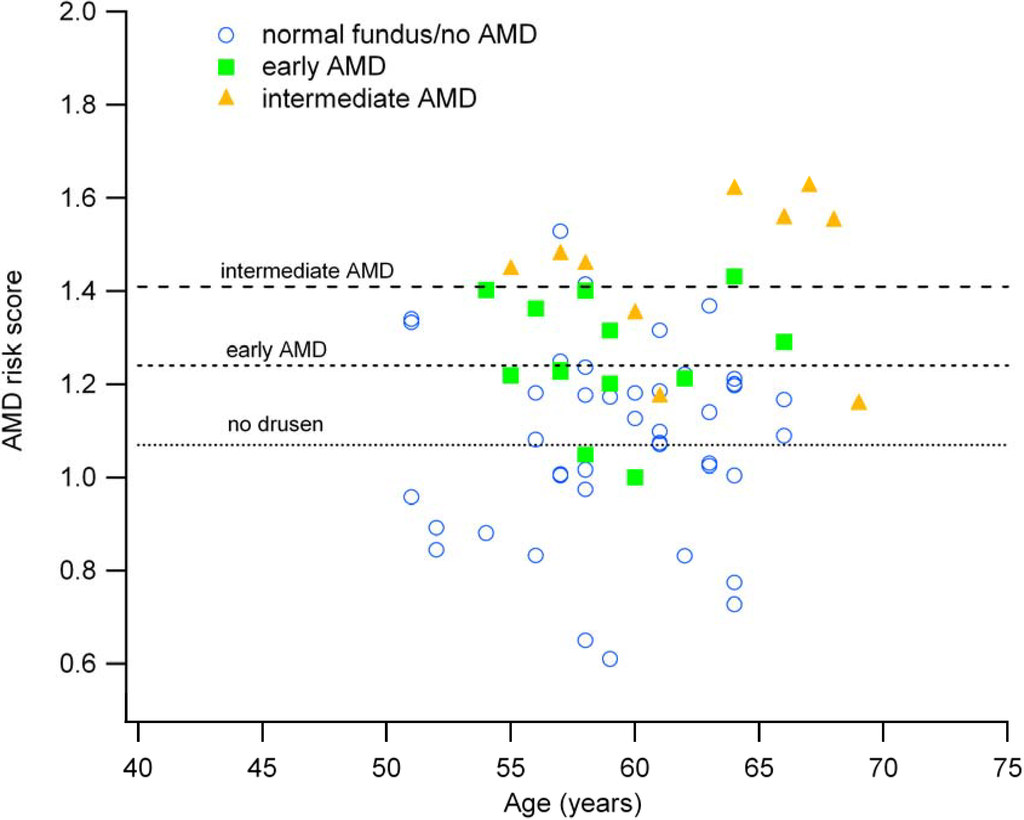 Figure 1
This is an open access article distributed under the
Creative Commons Attribution License
which permits unrestricted use, distribution, and reproduction in any medium, provided the original work is properly cited (CC BY 4.0).

Share & Cite This Article
MDPI and ACS Style
Gorin, M.B.; Weeks, D.E.; Baron, R.V.; Conley, Y.P.; Ortube, M.C.; Nusinowitz, S. Endophenotypes for Age-Related Macular Degeneration: Extending Our Reach into the Preclinical Stages of Disease. J. Clin. Med. 2014, 3, 1335-1356.
Related Articles
Comments
[Return to top]