Open Access This article is
freely available
re-usable
Review
Bioactive Components in
Moringa Oleifera
Leaves Protect against Chronic Disease
1
Department of Nutrition, Universidad Autonoma de Sinaloa, Culiacan 80019, Mexico
2
Department of Nutritional Sciences, University of Connecticut, Storrs, CT 06269, USA
*
Author to whom correspondence should be addressed.
Received: 20 October 2017 / Accepted: 15 November 2017 / Published: 16 November 2017
Abstract
:
Moringa Oleifera
(
MO
), a plant from the family Moringacea is a major crop in Asia and Africa.
MO
has been studied for its health properties, attributed to the numerous bioactive components, including vitamins, phenolic acids, flavonoids, isothiocyanates, tannins and saponins, which are present in significant amounts in various components of the plant.
Moringa Oleifera
leaves are the most widely studied and they have shown to be beneficial in several chronic conditions, including hypercholesterolemia, high blood pressure, diabetes, insulin resistance, non-alcoholic liver disease, cancer and overall inflammation. In this review, we present information on the beneficial results that have been reported on the prevention and alleviation of these chronic conditions in various animal models and in cell studies. The existing limited information on human studies and
Moringa Oleifera
leaves is also presented. Overall, it has been well documented that
Moringa Oleifera
leaves are a good strategic for various conditions associated with heart disease, diabetes, cancer and fatty liver.
Keywords:
Moringa Oleifera
; bioactive components; hepatic steatosis; heart disease; diabetes; cancer
Author Contributions
Marcela Vergara-Jimenez searched the literature, provided a number of references and the input in the final version of the paper; Manal Mused Almatrafi contributed substantially to the writing of the paper; Maria Luz Fernandez reviewed all articles, did a summary of the most relevant literature, put together all the information, produced the final version of this manuscript and created the Table and the Figure.
Conflicts of Interest
The authors declare no conflict of interest.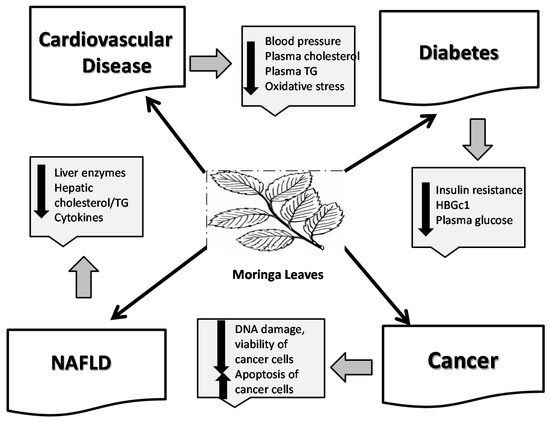 Figure 1.
Protective effects of
MO
leaves against chronic diseases:
cardiovascular disease
, by lowering plasma lipids including triglycerides (TG) [
45
,
60
] decreasing blood pressure [
92
] and reducing oxidative stress [
73
];
diabetes
, by lowering plasma glucose [
61
], reducing insulin resistance [
89
] and increasing β cell function [
90
];
NAFLD
, by reducing hepatic lipids [
82
,
87
], reducing liver enzymes [
82
,
83
,
88
] and decreasing hepatic inflammation [
88
] and
cancer
, by reducing DNA damage [
97
], viability of cancer cells [
99
,
100
] and increasing apoptosis [
104
,
105
].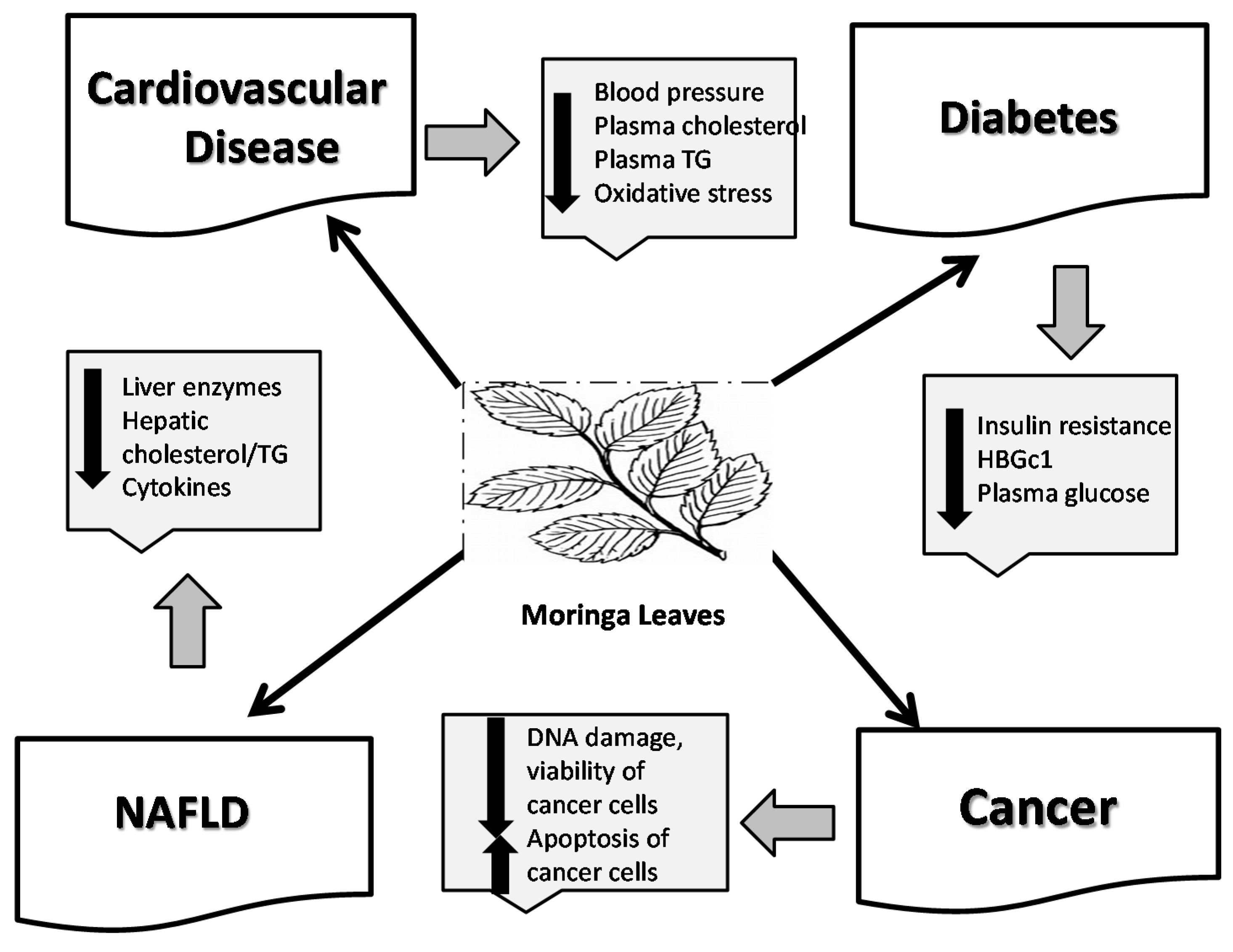 Compounds
Postulated Function
Model Used
Disease Protection
References
Flavonoids: Quercitin
Hypolipidemic and anti-diabetic properties
Zucker rat
Diabetes
[36]
Lower hyperlipidemia
Rabbits
Atherosclerosis
[37,38]
Decrease expression of DGAT
Guinea Pigs
NAFLD
[80]
Inhibition of cholesterol esterase and α-glucosidase
In vitro study
Cardiovascular disease and Diabetes
[60]
Inhibits activation of NF-kB
High fat fed Mice
Cardiovascular disease
[74]
Chlorogenic Acid
Glucose lowering effect
Diabetic rats
Diabetes
[45]
Cholesterol lowering in plasma and liver
Zucker rat
Cardiovascular disease
[46]
Decrease expression of CD68, SERBP1c
Guinea pigs
NAFLD
[87]
Anti-obesity properties
High-fat induced obesity rats
Obesity
[49]
Inhibit enzymes linked to T2D
Diabetes
[90]
Alkaloids
Cardioprotection
Cardiotoxic-induced rats
Cardiovascular disease
[49]
Tannins
Anti-inflammatory
Rats
Cardiovascular/Cancer
[54]
Isothiocyanates
Decreased expression of inflammatory markers
RAW Macrophages
Cardiovascular disease
[76]
Reduction in insulin resistance
Mice
Diabetes
[88]
Inhibition of NF-kB signaling
Cancer breast cells
Cancer
[99]
Β-Sitosterol
Decrease cholesterol absorption
High-fat fed rats
Cardiovascular disease
[18]
Abbreviations used: CD68: cluster of differentiation 68; DGAT: diacyl glycerol transferase; NF-kB: nuclear factor-kB; SRBP1c: sterol regulatory binding protein 1c; T2D: type 2 diabetes; NAFLD: non-alcoholic fatty liver disease.

© 2017 by the authors. Licensee MDPI, Basel, Switzerland. This article is an open access article distributed under the terms and conditions of the Creative Commons Attribution (CC BY) license (http://creativecommons.org/licenses/by/4.0/).