Synthesis of Poly(methyl methacrylate) Grafted Multiwalled Carbon Nanotubes via a Combination of RAFT and Alkyne-Azide Click Reaction
1
Jiangsu Key Laboratory of Environmentally Friendly Polymeric Materials, School of Materials Science and Engineering, Jiangsu Collaborative Innovation Center of Photovoltaic Science and Engineering, Changzhou University, Changzhou 213164, Jiangsu, China
2
Jiangsu Key Laboratory of Advanced Catalytic Materials and Technology, School of Petrochemical Engineering, Changzhou University, Changzhou 213164, Jiangsu, China
*
Author to whom correspondence should be addressed.
Received: 28 December 2018 / Revised: 3 February 2019 / Accepted: 4 February 2019 / Published: 12 February 2019
Abstract
An efficient synthesis route was developed for the preparation of multiwalled carbon nanotube (MWCNT) nanohybrids using azide-terminated poly(methyl methacrylate) (PMMA) via a combination of reversible addition fragmentation chain transfer (RAFT) and the click reaction. A novel azido-functionalized chain transfer agent (DMP-N
3
) was prepared and subsequently employed to mediate the RAFT polymerizations of methyl methacrylate (MMA). The RAFT polymerizations exhibited first-order kinetics and a linear molecular weight dependence with the conversion. The kinetic results show that the grafting percentage of PMMA on the MWCNTs surface grows along with the increase of the reaction time. Even at 50 °C, the grafting rate of azide-terminated PMMA is comparatively fast in the course of the click reaction, with the alkyne groups adhered to MWCNTs in less than 24 h. The successful functionalization of PMMA onto MWCNT was proved by FTIR, while TGA was employed to calculate the grafting degree of PMMA chains (the highest GP = 21.9%). Compared with the pristine MWCNTs, a thicker diameter of the MWCNTs-
g
-PMMA was observed by TEM, which confirmed the grafted PMMA chain to the surface of nanotubes. Therefore, the MWCNTs-
g
-PMMA could be dispersed and stably suspended in water.
View Full-Text
►

▼

Figures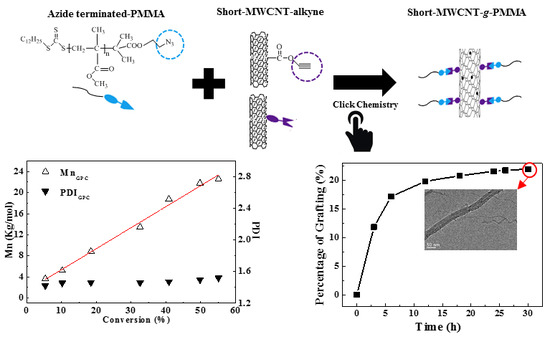 Graphical abstract
This is an open access article distributed under the
Creative Commons Attribution License
which permits unrestricted use, distribution, and reproduction in any medium, provided the original work is properly cited (CC BY 4.0).

Share & Cite This Article
MDPI and ACS Style
Ma, W.; Zhao, Y.; Zhu, Z.; Guo, L.; Cao, Z.; Xia, Y.; Yang, H.; Gong, F.; Zhong, J. Synthesis of Poly(methyl methacrylate) Grafted Multiwalled Carbon Nanotubes via a Combination of RAFT and Alkyne-Azide Click Reaction. Appl. Sci. 2019, 9, 603.
Note that from the first issue of 2016, MDPI journals use article numbers instead of page numbers. See further details here.
Related Articles
Comments
[Return to top]