Oxidative Degradation of Tannic Acid in Aqueous Solution by UV/S2O82− and UV/H2O2/Fe2+ Processes: A Comparative Study
1
Department of Chemistry, Faculty of Sciences of Gabes, University of Gabes, Gabes 6072, Tunisia
2
Department of Chemistry and Earth Sciences, College of Arts and Sciences, Qatar University, Doha 2713, Qatar
3
Materials Science and Technology Program, College of Arts and Sciences, Qatar University, Doha 2713, Qatar
*
Author to whom correspondence should be addressed.
Received: 13 December 2018 / Revised: 24 December 2018 / Accepted: 28 December 2018 / Published: 4 January 2019
Abstract
Tannic acid (TA) is a major pollutant present in the wastewater generated from vegetable tanneries process and food processing. This work studied TA degradation by two advanced oxidation processes (APOs): UV irradiation at the wavelength of 254 nm in the presence of hydrogen peroxide (H
2
O
2
) and ferrous iron (photo-Fenton) and in the presence of potassium persulfate. The influence of certain experimental parameters such as K
2
S
2
O
8
, H
2
O
2
, Fe
2+
, and TA concentrations, initial pH and temperature was evaluated in order to obtain the highest efficiency in terms of aromatics (decay in UV absorbance at 276 nm) and TOC removals. Chemical oxidation of TA (0.1 mM) by UV/persulfate achieved 96.32% of aromatics removal and 54.41% of TOC removal under optimized conditions of pH = 9 and 53.10 mM of K
2
S
2
O
8
after 60 min. The treatment of TA by photo-Fenton process successfully led to almost complete aromatics removal (99.32%) and high TOC removal (94.27%) from aqueous solutions containing 0.1 mM of TA at natural pH = 3 using 29.4 mM of H
2
O
2
and 0.18 mM of Fe
2+
at 25 °C after 120 min. More efficient degradation of TA by photo-Fenton process than UV/persulfate was obtained, which confirms that hydroxyl radicals are more powerful oxidants than sulfate radicals. The complete removal of organic pollution from natural waters can be accomplished by direct chemical oxidation via hydroxyl radicals generated from photocatalytic decomposition of H
2
O
2
.
View Full-Text
►

▼

Figures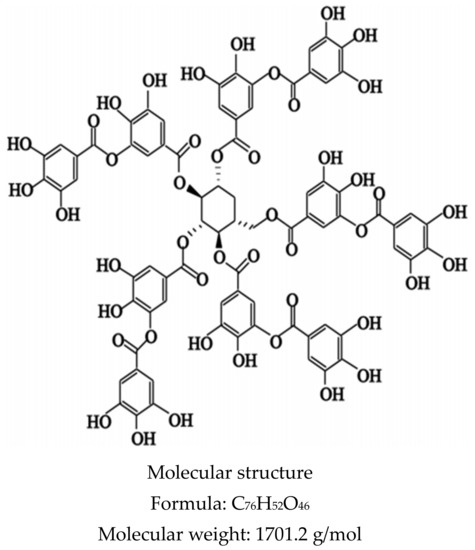 Figure 1
This is an open access article distributed under the
Creative Commons Attribution License
which permits unrestricted use, distribution, and reproduction in any medium, provided the original work is properly cited (CC BY 4.0).

Share & Cite This Article
MDPI and ACS Style
Dbira, S.; Bensalah, N.; Zagho, M.M.; Ennahaoui, M.; Bedoui, A. Oxidative Degradation of Tannic Acid in Aqueous Solution by UV/S2O82− and UV/H2O2/Fe2+ Processes: A Comparative Study. Appl. Sci. 2019, 9, 156.
Note that from the first issue of 2016, MDPI journals use article numbers instead of page numbers. See further details here.
Related Articles
Comments
[Return to top]