Assessing the Validity of Negative High Field Strength-Element Anomalies as a Proxy for Archaean Subduction: Evidence from the Ben Strome Complex, NW Scotland
1
School of Earth and Ocean Sciences, Cardiff University, Cardiff CF10 3AT, UK
2
Camborne School of Mines, Tremough Campus, University of Exeter, Penryn TR10 9EZ, UK
3
School of Geosciences, University of the Witwatersrand, Wits 2050 Johannesburg, South Africa
4
Helvetica Exploration Services GmbH, CH-8053 Zürich, Switzerland
5
British Geological Survey, Lyell Centre, Edinburgh EH14 4AP, UK
6
School of Geographical and Earth Sciences, Gregory Building, University of Glasgow, Glasgow G12 8QQ, UK
7
Hunterian Museum, University of Glasgow, Glasgow G12 8QQ, UK
*
Author to whom correspondence should be addressed.
Received: 26 July 2018 / Revised: 31 August 2018 / Accepted: 6 September 2018 / Published: 8 September 2018
Abstract
The relative depletion of high field strength elements (HFSE), such as Nb, Ta and Ti, on normalised trace-element plots is a geochemical proxy routinely used to fingerprint magmatic processes linked to Phanerozoic subduction. This proxy has increasingly been applied to ultramafic-mafic units in Archaean cratons, but as these assemblages have commonly been affected by high-grade metamorphism and hydrothermal alteration/metasomatism, the likelihood of element mobility is high relative to Phanerozoic examples. To assess the validity of HFSE anomalies as a reliable proxy for Archaean subduction, we here investigate their origin in ultramafic rocks from the Ben Strome Complex, which is a 7 km
2
ultramafic-mafic complex in the Lewisian Gneiss Complex of NW Scotland. Recently interpreted as a deformed layered intrusion, the Ben Strome Complex has been subject to multiple phases of high-grade metamorphism, including separate granulite- and amphibolite-facies deformation events. Additional to bulk-rock geochemistry, we present detailed petrography, and major- and trace-element mineral chemistry for 35 ultramafic samples, of which 15 display negative HFSE anomalies. Our data indicate that the magnitude of HFSE anomalies in the Ben Strome Complex are correlated with light rare earth-element (LREE) enrichment likely generated during interaction with H
2
O and CO
2
-rich hydrothermal fluids associated with amphibolitisation, rather than primary magmatic (subduction-related) processes. Consequently, we consider bulk-rock HFSE anomalies alone to be an unreliable proxy for Archaean subduction in Archaean terranes that have experienced multiple phases of high-grade metamorphism, with a comprehensive assessment of element mobility and petrography a minimum requirement prior to assigning geodynamic interpretations to bulk-rock geochemical data.
View Full-Text
►

▼

Figures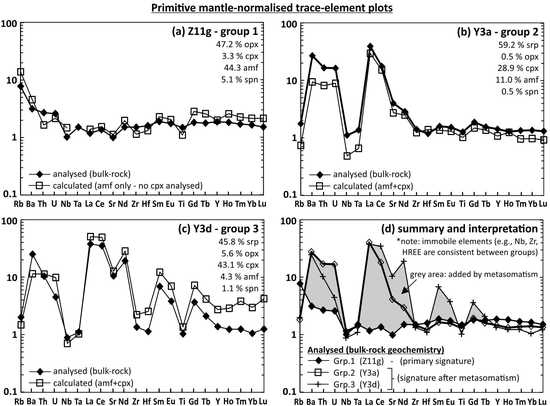 Graphical abstract
This is an open access article distributed under the
Creative Commons Attribution License
which permits unrestricted use, distribution, and reproduction in any medium, provided the original work is properly cited (CC BY 4.0).

Share & Cite This Article
MDPI and ACS Style
Guice, G.L.; McDonald, I.; Hughes, H.S.R.; Schlatter, D.M.; Goodenough, K.M.; MacDonald, J.M.; Faithfull, J.W. Assessing the Validity of Negative High Field Strength-Element Anomalies as a Proxy for Archaean Subduction: Evidence from the Ben Strome Complex, NW Scotland. Geosciences 2018, 8, 338.
Note that from the first issue of 2016, MDPI journals use article numbers instead of page numbers. See further details here.
Related Articles
Comments
[Return to top]