A Primitive Trait in Two Breeds of
Equus Caballus

Revealed by Comparative Anatomy of the Distal Limb

1

Canine and Equine Research Group, University of New England, Armidale, NSW 2351, Australia

2

Equine Studies, 41157 LN Asch, The Netherlands

*

Author to whom correspondence should be addressed.

Received: 7 April 2019 / Revised: 31 May 2019 / Accepted: 4 June 2019 / Published: 14 June 2019
Simple Summary
Understanding the complexities and evolutionary links between extinct and extant equids has been vital to genetic conservation and preservation of primitive traits. As domestication of the equid expanded, the loss of primitive traits that ensured survival in a wild environment has not been documented. In this study, the presence of functional interosseous muscle II and IV in the distal limb has been reported, and yet its existence could only be confirmed in relatives and two closely bred descendants of the extinct Tarpan. The morphology described was ligamentous in structure displaying clear longitudinal fibres with a skeletal origin and soft tissue insertion into the medial and lateral branches of the interosseous muscle III (suspensory ligament) dorsal to the sesamoids, similar in orientation to the flexor digitorum profundus ligamentum accessorium (inferior check ligament). Hence, providing a functional medial and lateral stability to the metacarpophalangeal joint (fetlock joint), which equates to one of the functions of the medial and lateral digits in the Mesohippus and Merychippus. The comparable anatomic links between species of the same family that experienced geographical isolation yet display structural conformity appears to be in response to a specific environment. Surmising this potential remnant of functional evolution is a primitive trait and not a breed anomaly.
The 55-million-year history of equine phylogeny has been well-documented from the skeletal record; however, this is less true for the soft tissue structures that are now vestigial in modern horse. A recent study reported that two ligamentous structures resembling functional interosseous muscle II and IV were evident in Dutch Konik horses. The current study investigates this finding and compares it to members of the genus
Equus
to identify either a breed anomaly or functional primitive trait. Distal limbs (
n
= 574) were dissected from four species of
Equus
;
E. caballus
,
E. asinus
,
E. przewalskii
and
E. quagga boehmi
.
E. caballus
is represented by 18 breeds of horse, including the primitive Dutch Konik'. The interosseous muscle II and IV were evident in all four species, but only two breeds of
E. caballus
expressed this trait-the Dutch Konik and Bosnian Mountain Horse. These two breeds were the only close descendants of the extinct
Equus ferus ferus
(Tarpan) represented in this study. In conclusion, the interosseous muscle II and IV originated from the distal nodule of metacarpal II and IV, respectively, and inserted into the corresponding branches of interosseous muscle III proximal to the sesamoids. This suggests a functional role in medial and lateral joint stability and a primitive trait in modern equids.
View Full-Text
►

▼

Show Figures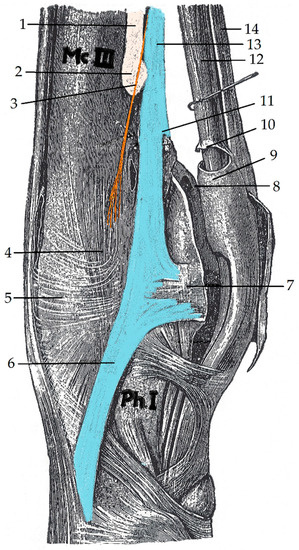 Figure 1
This is an open access article distributed under the
Creative Commons Attribution License
which permits unrestricted use, distribution, and reproduction in any medium, provided the original work is properly cited

Note that from the first issue of 2016, MDPI journals use article numbers instead of page numbers. See further details
here
.