Replacing Fish Meal with Defatted Insect Meal (Yellow Mealworm
Tenebrio molitor

) Improves the Growth and Immunity of Pacific White Shrimp (

Litopenaeus vannamei

)

1

Ÿnsect, R&D Department, Genopole, 91058 Evry, France

2

Hellenic Centre for Marine Research, Institute of Molecular Biology, Biotechnology and Aquaculture, Agios Kosmas, 16777 Helliniko, Greece

3

Department of Aquaculture, Faculty of Fisheries, Kasetsart University, Bangkok 10900, Thailand

*

Authors to whom correspondence should be addressed.

Received: 12 April 2019 / Revised: 13 May 2019 / Accepted: 15 May 2019 / Published: 21 May 2019
Simple Summary
Globally, Pacific white shrimp is one of the most commonly commercialized marine species in aquaculture. In recent years, the commercial production of this shrimp has experienced major challenges, including the availability and cost of fish meal—the main protein source of commercial shrimp—as well as frequent outbreaks of early mortality syndrome (EMS) among shrimp stock. In the present study, we investigated whether substituting fish meal with a defatted yellow mealworm meal could overcome these challenges. Our results from a series of feeding trials show that it is possible to partially or completely replace fish meal with this insect meal in isoproteic and isoenergetic diets. The insect meal improved growth and feed conversion performances of shrimp; optimum performances were achieved at 50% of fish meal replacement. Furthermore, shrimp that were fed the insect meal and then challenged with the pathogenic bacteria that cause EMS (Vibrio parahaemolyticus) had significantly improved survival rates and reduced immunosuppression. We conclude that an insect meal comprised of Tenebrio molitor mealworm, is a suitable alternative to fish meal in the commercial production of shrimp because of the meal's high protein value and the presence of chitin/other bioactive substances that counter pathogen infection.
Recently, ecological and economic issues have affected fish meal (FM) supply, the main source of protein for shrimp. This triggered a search for alternative dietary protein sources for shrimp production. We studied the consequences of replacing FM with a defatted insect meal, ŸnMeal
TM
(YM), comprised of yellow mealworm (
Tenebrio molitor
). Growth and immune parameters of juvenile Pacific white shrimp (
Litopenaeus vannanmei
) were compared after an eight-week feeding trial. Shrimp were kept in aquaria with densities of 60 and 40 shrimp/m
2
and fed one of five diets in which a proportion of FM was replaced by YM. All diets were isoproteic, isoenergetic, and balanced in lysine and methionine. After the feeding trial, shrimp were challenged with pathogenic bacteria (
Vibrio parahaemolyticus
). Growth and feed conversion parameters improved when YM was included in shrimp diets; with the highest weight gain and best food conversion ratio (FCR) achieved when 50% of FM was replaced by YM versus the control diet that contained no YM (initial weight: 1.60 g/shrimp; growth: 5.27 vs. 3.94 g/shrimp; FCR 1.20 vs. 1.59). In challenged shrimp, mortality rates were significantly less among groups that received YM, with a 76.9% lower mortality rate in the 50% FM replacement group versus the control.
View Full-Text
►

▼

Show Figures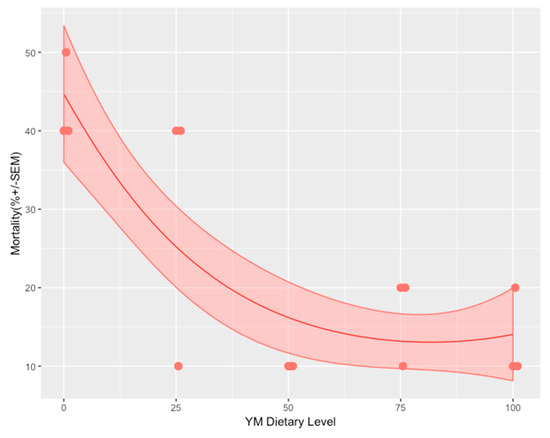 Figure 1
This is an open access article distributed under the
Creative Commons Attribution License
which permits unrestricted use, distribution, and reproduction in any medium, provided the original work is properly cited

MDPI and ACS Style
Motte, C.; Rios, A.; Lefebvre, T.; Do, H.; Henry, M.; Jintasataporn, O. Replacing Fish Meal with Defatted Insect Meal (Yellow Mealworm Tenebrio molitor) Improves the Growth and Immunity of Pacific White Shrimp (Litopenaeus vannamei). Animals 2019, 9, 258.
Show more citation formats
Show less citations formats
Note that from the first issue of 2016, MDPI journals use article numbers instead of page numbers. See further details
here
.